Ronde Barber's unique journey to the Pro Football Hall of Fame was special
By Jerry Ratcliffe
Ronde Barber stood on the stage at the Pro Football Hall of Fame in Canton on Saturday, about to be inducted alongside the greatest to ever play. As he looked out among the assembled fans, including his family and more than 400 invited guests, Barber's thoughts wandered back to a less glorious time in his fabled career.
"I stand here amongst these legends of the game remembering a time when I never imagined to be a pro football hall of famer my rookie year, my second year in the league," Barber said. "I was literally just hoping (coach) Rich McKay wasn't going to cut me."
To watch and listen to Barber's complete Hall of Fame induction speech, see the attached video of Saturday's ceremony below.
An undersized star coming out of George Welsh's football program at the University of Virginia, there were questions about Barber even though he was a three-time, All-ACC player for the Cavaliers. As his presenter, twin brother Tiki Barber, revealed to the audience, there was a knock on Ronde that he was uncoachable.
Barber wasn't a shoo-in as a shining prospect early on until Tampa Bay assistant coach Mike Tomlin — yes, that Mike Tomlin — saw something in the young Virginian. Tomlin, now the illustrious coach of the Pittsburgh Steelers, told Barber he had something special.
"Early in my career I was just an ordinary guy," Barber said. "By the time I finished my fourth year, I was a middle-of-the-road free agent with little to no interest and only one place to go and stay put with a new defensive backs coach, and that was Mike Tomlin.
"Mike's not here (Tomlin had to return to Steelers training camp), but he gave me my gold jacket yesterday. Before he ran me through my first drill, he told me 'Ronde, you're different,' and that he had seen me do what no one else was doing. He told me, 'You're going to be a 20-20 guy,' so we set our sights on that."
Twelve years later, Barber ended his Hall of Fame career as a 45-25 guy. That's 45 interceptions, 25 sacks, the only player in NFL history to reach those lofty numbers.
Tomlin, by the way, made mention Saturday at Steelers camp about his trip to Canton to see Barber.
"I missed (camp) last night," Tomlin said. "I was in Canton and I had the unbelievable honor of putting a gold jacket on Ronde Barber, a former player and really close friend of mine. Words can't even describe it. Thank you, Ronde, for including me in your magical night. So proud of you."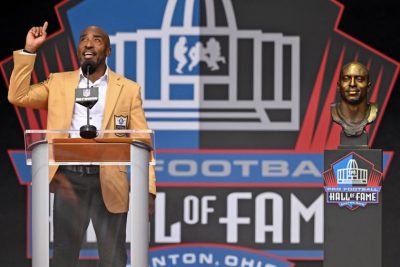 For all of Barber's remarkable numbers, see a related story on this site and a podcast interview where he talks about his incredible careers at both Tampa Bay and UVA.
Barber played 16 years for the Bucs, played an NFL-record (for a defensive back) 224 consecutive games and redefined how his position — cornerback/safety/nickelback — was played in the league.
"You helped me change one little corner of the game that would define me," Barber said to Tomlin. "Before I could, you gave me the air to breathe it into existence. Thanks for the empowerment, dude."
Barber thanked everyone who helped him along the way from his peewee football and high school coaches in Roanoke to his position coach at UVA (Art Markos) to all the coaches that helped him at Tampa, special shoutouts to Monte Kiffin and Tony Dungy. He thanked his wife, Claudia, his daughters, mother Geraldine, other family members and friends, and of course, his identical twin brother, Tiki, who helped him reveal his Canton bust, which included a light beard, which he joked helped people tell him from his twin.
Barber was part of an incredibly strong Bucs defense that boasts four members now in the Hall of Fame, including John Lynch (2021), Derrick Brooks (2014) and Warren Sapp (2013).
Tiki, who starred as a running back at UVA and with the New York Giants, spoke highly of his brother.
"He's one of the most accomplished cornerbacks in NFL history and that's a testament to him," Tiki said. "His playing style was very aggressive and opportunistic. The things he did felt sudden and it felt like it came out of nowhere, but it was all because of how he prepared."
Ronde said he wouldn't be standing in Canton if it had not been for Tiki, always there supporting him, inspiring him, pushing him toward greatness.
"I'm here because I refused to just be a guy," Ronde said. "Ordinary was not an option. I learned something along the way in the NFL. It's a special place, man. No matter where you come from, no matter where your journey started, no one gets to define you. This is one of the most humbling moments in my life."