Scattershooting: Tiki Barber in Kinky Boots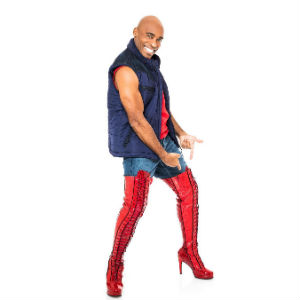 By Jerry Ratcliffe
Scattershooting around the ACC, while wishing all our readers Merry Christmas and a Happy New Year …
If you're a Wahoo fan, you're more than familiar with seeing former Virginia running back Tiki Barber in football cleats. But how about high heel, thigh-high, sparkly red boots?
Barber, who went on to fame with the NFL's New York Giants, announced recently that he will be playing on Broadway in the production of "Kinky Boots," which in April will become the 25th-longest running production in Broadway history.
In a recent appearance on "The Jerry Ratcliffe Show," Saturday's at 9 a.m. on ESPN Charlottesville 102.9 FM, Barber said he will playing the role of Don, a factory foreman, a role originated by Daniel Stewart Sherman. The play is an adaptation of the 2005 British film about a young man who turns to a drag queen for inspiration to save his family's struggling shoe factory.
Yes, it is a musical, and yes, Tiki will sing in the production.
"Briefly," Barber chuckled.
Tiki will join the play on Jan. 21 through March 3.
It will be a busy stretch for Barber, who will continue to work on his national sports talk radio/TV show, "Tiki and Tierney" on CBS Sports networks. He said he will do his daily show from 3 until 6 p.m., then rush up the street for curtain call at 7 p.m.
You can catch the full Tiki interview, which also includes UVa football, on the podcast, which can be found on this website under "Archives," search for podcast and click. You will also find interviews with Ralph Sampson, Shawn Moore, John Crotty and Jason Williford there, along with an interview with South Carolina sports talk legend Paul Kornblut about the Gamecocks vs. Cavaliers Belk Bowl matchup.
Catching up around the ACC
Here's all the latest ACC football program news of the postseason, presented in quick hitter form…
Wake Forest defeated Memphis in the Birmingham Bowl, just as myself and Greg DePalma called in on the ACC Show on Ourlads Network last week. By the way, Wake's great playmaker/receiver Greg Dortch announced he will turn pro and not return to Winston-Salem.
Miami, which will play in the Pinstripe Bowl, Dec. 27, got good news in that its defensive coordinator, Manny Diaz, who has been hired as the new head coach at Temple, will stay on to coach the Hurricanes in the bowl game. After Diaz leaves, Mark Richt has promoted two of his assistant coaches _ Ephraim Banda and Jonathan Patke _ to co-defensive coordinators. Both are good recruiters. By the way, Temple's job came open when Geoff Collins resigned to take the head coaching job at Georgia Tech.
Boston College, which will play in the First Responders Bowl in Dallas on Dec. 26 (vs. Boise State), thought it had a replacement for offensive coordinator Scott Loeffler, who resigned to become head coach at Bowling Green. BC reportedly agreed to a two-year contract with Liam Coen, wide receivers coach of the L.A. Rams. However, Coen apparently backed out of the deal and so Loeffler agreed to stay on through the bowl only.
Florida State also had a challenging time to hire an offensive coordinator after Walt Bell left to become head coach at UMass. Finally, Willie Taggart has reportedly hired Kendal Briles for the job. Briles was offensive coordinator at Houston and is the son of former Baylor coach Art Briles.
Meanwhile, FSU is trying to figure out its quarterbacking future now that Deondre Francois graduated a week ago and is said to be exploring his options. James Blackmon supposedly is returning to the program. FSU lost high-profile QB recruit Sam Howell from Monroe, N.C., who flipped and signed with Mack Brown at North Carolina. Howell has been compared to a young Baker Mayfield. Also, the Seminoles are said to be interested in current Alabama backup QB Jalen Hurts should Hurts lead the Tide as a graduate transfer.
N.C. State has lost offensive coordinator Ed Drinkwitz, who took over head coaching duties at Appalachian State when Jeff Satterfield took the head coaching job at Louisville. The Wolfpack has elevated two assistant coaches to co-offensive coordinators, wide receivers coach George McDonald (who called some offense once upon a time at Syracuse) and running backs coach Des Kitchings, who has been on the N.C. State staff since the Tom O'Brien days in 2012.
Big Jump Wahoos
Studying the 247 Sports national recruiting rankings, it appeared that Virginia made the largest jump in the ratings, from 60-something to the No. 35 class in the country and the sixth-best class in the ACC. Never hurts when you sign three players that were all offered by Alabama.
Here is 247's ACC rankings in order, and (X) indicates national ranking:
(5) Clemson; (14) FSU; (26) N.C. State; (29) Virginia Tech; (33) Miami; (35) Virginia; (39) North Carolina; (42) Duke; (46) Wake; (50) Pitt … somewhat surprising for the Coastal Division champions; (53) Georgia Tech; (55) Boston College; (59) Syracuse, not so great for a nine-win team; and lastly, (132) Louisville, which finished five spots behind Yale.
Comments