Scattershooting: Wahoos' recruiting footprint, UVA hoops moves up in poll, Virginia baseball No. 14 in preseason national rankings + more …
By Jerry Ratcliffe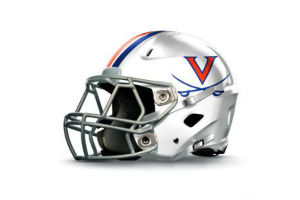 Scattershooting around the ACC, while noting that the fertile recruiting ground of Georgia has become a hot spot for Bronco Mendenhall and his staff …
It was no mistake that Virginia targeted the Peach State to land its best recruiting class in years, the highest-ranked class of Mendenhall's 16 years as a head coach. The Cavaliers were ranked 25th nationally by two of the major recruiting services.
UVA signed five players from Georgia in this 24-man class.
"[Georgia] has become a point of emphasis because of the quality of football and the number of players, and then the proximity," Mendenhall said.
Anyone familiar with Mendenhall knows that he's a coach who is into analytics, and the numbers point to the Peach State. One recent study that identified "Elite recruits per capita" ranked all 50 states plus the District of Columbia in that category.
D.C. was No. 1, Louisiana No. 2, Georgia No. 3.
Certainly UVA has a presence in the D.C. area, has gained a few recruits from Louisiana in recent years, and has gone heavy on Georgia. There were already seven Georgians on the Cavaliers roster prior to this recruiting class.
"It doesn't mean I won't look nationally, which we will," Mendenhall said of his recruiting geographic footprint. "We'll always look for referrals, but we're increasingly aware that there are plenty of players within our footprint. If you say footprint, let's just define that as maybe five hours of driving, or one plane flight, which is maybe an eight-hour drive.
"So if it's one plane flight, which is an hour, you know from like Atlanta to here, or five hours that's pretty doable for any family to see any game they want in the ACC. If you start saying, OK, you go outside of that footprint because there might be a special need, or you might have a special tie or there might be something else."
Mendenhall said the Georgia area where the five new signees hail from, fits all the criteria. Really good players, close enough.
"Could be a magical college experience in terms of family access, and for whatever reason has worked for us, but I think those are the influencers of maybe why it's worked," the coach closed.
Quick hitters …
Two Virginia basketball alumni were cut by their respective NBA teams in the last two days, London Perrentes by the Spurs and Justin Anderson by the Sixers.
William & Mary is coming to town for a Tuesday matinee basketball game with Virginia. Game time is 2 p.m. at John Paul Jones Arena. Just a note: the last time W&M beat Virginia in Charlottesville was in 1977. UVA has moved up in the AP Top 25 poll, one spot to No. 16.
Speaking of UVA hoops, Tony Bennett will be emphasizing defense. This Cavaliers team, which has made a tradition out of being the best defensive squad in the ACC, if not the entire nation, is presently ranked No. 172 in the country by Kenpom.com. Ouch!
In case you missed it, there wasn't a single Cavalier named to the All-ACC football first team, and only one Wahoo on the second team: linebacker Charles Snowden, who has declared that he will not return to the team, but rather enter the NFL Draft next spring. Snowden is recovering from a broken ankle suffered late in the season against Abilene Christian.
The surprise of the All-ACC selections? How about Clemson running back Travis Etienne, the two-time ACC Offensive Player of the Year, not making first team? Etienne was relegated to second team in favor of first-teamer Javonte Williams of North Carolina.
Oh, and by the way, Notre Dame, competing in the ACC on a one-year deal, had five first-teamers and four second-teamers. So if you're wondering why your favorite team had fewer than expected players making all-conference, that's why. Also, ACC Coach of the Year went to Brian Kelly.
Brooklyn Nets teammate Kyrie Irving, who played with Virginia's Joe Harris years ago on the Cleveland Cavaliers' roster: "When we first got Joe in Cleveland, he was just regular Joe. Now he's got a tattoo, long hair, and he's shooting the crap out of the ball." Harris showed up for preseason with a brand new tattoo on his arm with portraits of his mom and grandmom.
How good is Virginia freshman Lavel Davis Jr.? He was the only player in the nation, and just the fifth FBS player since 2000, to have 500+ receiving yards on 20 or fewer catches in one season. Again, he was only a freshman.
A few UVA football players have entered the NCAA Transfer Portal over the past few days, but none of them were projected to make an impact. Wide receiver Jalen Harrison, defensive back Shawn Smith, defensive back Darnell Pratt, and junior kicker Alex Mejia, all have entered the portal.
Collegiate Baseball has ranked the nation for the 2021 preseason, and Brian O'Connor's UVA team came in No. 14. Florida was No. 1 in the country. The rest of the ACC looked like this: 6 Miami; 11 Louisville; 13 NC State; 25 Clemson.
A water leak has caused a quarter of a million dollars in damages to PNC Arena when NC State plays hoops.
Miami football has lost both starting defensive ends for the upcoming Cheez-It Bowl. Cheez-It? Really? What happened to the great bowl names, Gator, Liberty, Bluebonnet, etc? Anyways, junior Jaelan Phillips and Quincy Roche have both opted out to prepare for the NFL Draft.
Clemson coach Dabo Swinney gave upcoming Sugar Bowl opponent Ohio State plenty of bulletin board material when he picked the Buckeyes No. 11 on his USA Today Coaches Poll Top 25 ballot. Swinney had Ohio State ranked one spot behind Coastal Carolina. The Buckeyes ended up No. 3 in the poll.
In the "Tell Me It Ain't So" department, did you see that South Carolina, with a 2-8 record (that's not a typo) accepted an invitation to play Alabama-Birmingham in the Gasparilla Bowl? Yikes.
A lot of Pitt fans were wondering what would happen with Kenny Pickett moving on to the NFL, but the Panthers QB surprised everyone by announcing he was coming back for another year. Pickett took advantage of the NCAA's blanket waiver for another year of eligibility. Said Pickett to Pitt coach Pat Narduzzi: "Coach, I love Pittsburgh. I love this team. I'm coming back to finish what I started."

Comments