Scoreless in first half, Kihei Clark rides to No. 9 Virginia's rescue in second halt at Georgia Tech
By Jerry Ratcliffe
Kihei Clark haters are eating a big ol' bowl of crow this morning after the diminutive point guard saved Virginia's bacon Wednesday night in Atlanta.
Upset-minded Georgia Tech, still stinging from blowing an 11-point lead and losing at Virginia by a bucket on Jan. 23, had a different ploy in mind for the rematch. Coach Josh Pastner's game plan was as simple as cornbread: take away the Cavaliers' top two scorers, Sam Hauser and Jay Huff. Make everyone else beat you.
The strategy nearly worked until Clark shook off his first half woes and lit up the Yellow Jackets with a career-high four 3-pointers and 14 points _ all in the second half _ to help UVA mount yet another come-from-behind effort to beat Tech, 57-49.
Georgia Tech was smothering Hauser and Huff, meanwhile daring Clark to shoot, somewhat of a disrespect. Clark kept firing away but couldn't have hit water if he had fallen out of a boat in the first half. Pastner's strategy was working.
Nobody in the locker room gave up on Clark, although Wahoo fans around the country were filling social media with all sorts of #$%&#@!
"I tried to wind up our guys at halftime, saying 'Throw caution to the wind, but be sound, but be aggressive,' UVA coach Tony Bennett said. "You've got to get into the paint, and Kihei shoot it. If they go onto the screen, let it ride and shoot it.' And he did that."
Indeed he did.
Down 26-20 at the break, Clark's first bucket of the game was a 3-pointer amidst a 9-0 Wahoo run that put them in the lead for the first time since early in the game (29-26). That was just the beginning as the 5-9 guard turned McCamish Pavilion into his personal shooting gallery the final 20 minutes.
Even an air-ball around the 11:33 mark didn't cause Clark to blink.
"He air-balled one, and I said good shot," Bennett said he told Clark. "He kept shooting them, made 'em. Those of us who have watched him know he's got that heart. He's kind of fearless.
"We need it. He took care of the ball … I think he had only one turnover tonight against pretty extreme pressure. [Tech] purposely took Jay and Sam out of it and other guys had to step up and make some plays."
Some of those guys included Trey Murphy III who scored Virginia's first seven points of the game and finished with a team-high 18 (matching his ACC career high) on 7 of 11 shooting. Hauser finished with 8, but added 10 rebounds and five assists, while Reece Beekman added 7 points.
The MVP of this one was Clark, who indeed only had one of Virginia's 17 turnovers against a ferocious Georgia Tech defense. Clark also had six assists and played solid defense against his Tech counterpart, Jose Alvarado, who finished with 18 points, two assists four turnovers. It was Alvarado who blanketed Hauser the entire night, using his quickness to negate the Virginia forward's size advantage.
Clark's most impactful stretch came after the air ball, drilling a 3-pointer in the waning seconds of the shot clock to draw UVA within 42-41 with 7:38 to play. Then he followed a Hauser jump shot with back-to-back buckets, a jumper and a 3-pointer that kick-started the Cavaliers boltaway.
Virginia reeled off 12 unanswered points to go up 53-45 with 3:15 showing and never looked back.
Huff and Hauser got the last laugh as Huff scored on a thundering dunk and Hauser gained an easy layup on an inbounds from Clark as Alvarado was boxed out.
Game, set, match as Virginia beat the Yellow Jackets for the eighth consecutive time and ended Tech's 11-game home ACC winning streak. UVA was the last team to beat the Jackets at home.
"Got to give Virginia credit, they hit some really tough shots," Pastner said. "Hauser hit that tough shot over Jose off that pin-down screen action, and Clark, he's a good player. He's a winner. He hit big shots for them."
According to Bennett, Clark had no choice but lift his team to its 10th win in 11 ACC outings this season (14-3 overall).
"He had to, and he did and he wasn't afraid to," Bennett said. "That's the thing with his experience, you think of the big shots, big plays he made as a first year in big settings. Last year it was almost at times too much on his plate, but I feel like that has prepared him for these moments."
Murphy said that no one was down on Clark at halftime, rather quite the opposite.
"When we went in at halftime, everybody was talking [to Clark], and I talked to Kihei as well," Murphy said. "I told him, 'Look, they're going to go in, shoot the ball.' We've been working all summer, offseason, as well as preseason on his jump shot and he was knocking it down very consistently.
"I had confidence in Kihei, and we had to make sure that he knew that. Coach Bennett, he came back after he spoke at halftime and told Kihei he likes those shots and he really wanted him to shoot the ball and it paid. It was great for us in the second half."
Clark, who is a man of few words, always refuses to take much credit and this time was no different.
"I had to make my shots," Clark said in relation to the defensive strategy Tech used. "It feels good to see the ball through the rim.
"[His teammates] stayed in my corner through the whole game and just told me to keep shooting with confidence. I made some shots and it felt good to pull that one out."
Oh, and that crow? Do you prefer salt, pepper, maybe some Worcestershire …
Team Notes
Virginia (14-3, 10-1 ACC) has won 10 or more ACC games for the ninth consecutive season
The Cavaliers improved to 5-1 on the road (all in ACC action)
UVA outscored Georgia Tech 37-23 in the second half
UVA started the second half on a 9-0 run
UVA had 10 turnovers in the first half and trailed 26-20
The 20 first-half points marked a season low (24 vs. San Francisco)
UVA held its third opponent to fewer than 50 points (3-0)
Series Notes
Virginia is 45-40 all-time vs. Georgia Tech, including a 15-24 record in Atlanta, in the series that dates back to 1947-48
UVA defeated Georgia Tech 64-62 earlier this season
The Cavaliers have an eight-game winning streak in the series
Virginia is 16-2 in its last 18 games against Georgia Tech, including a 15-2 mark under head coach Tony Bennett
Player Notes
Double Figure Scorers: Trey Murphy III (18), Kihei Clark (14)
Clark scored all of his 14 points in the second half
Clark matched a career high with four 3-pointers
Murphy III scored UVA's first seven points and 13 in the first half
Murphy III's 18 points matched his ACC high
Sam Hauser (8 points) had a game-high 10 rebounds
Hauser's first field goal attempt came at 6:37 of the first half
Reece Beekman matched a career high with five rebounds
Huff (4 blocks) recorded his 12th multi-block game (39th career)
Kadin Shedrick (2 minutes) returned to action after missing eight games with an illness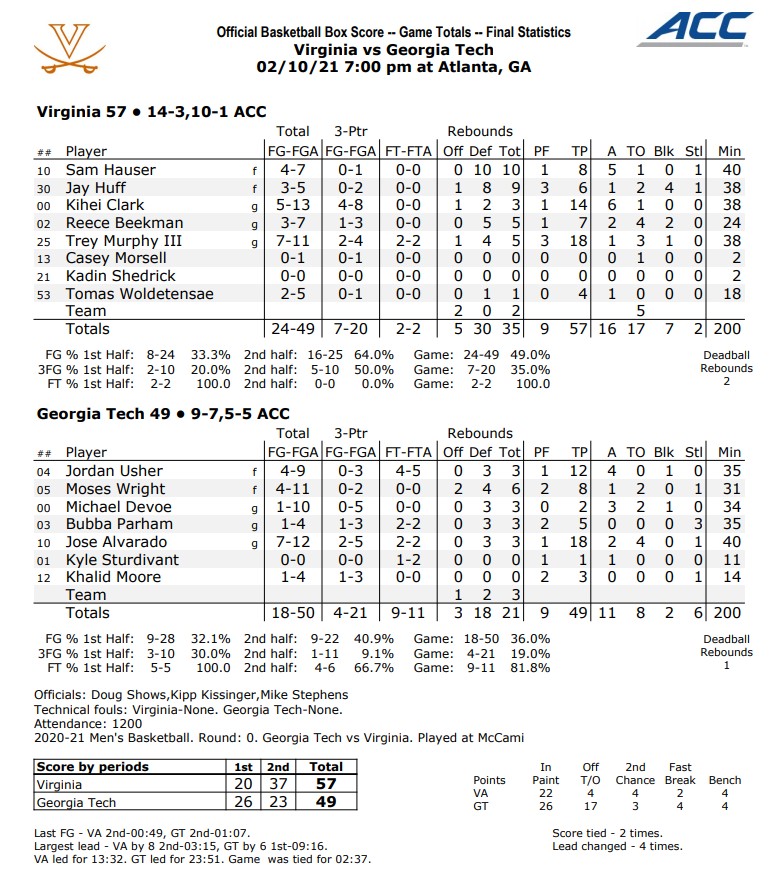 Comments