Southpaw Early was in full command in shutting down Duke's bats, ties UVA record
By Jerry Ratcliffe
Connelly Early's pitch count was climbing by the sixth inning of Saturday's game when Duke and the Blue Devils were trying to fight their way back into the game, trailing host Virginia 10-3.
On the safe side, the Cavaliers had relievers warming up in the bullpen as Duke put runners on first and second with one out. Early would have no part of that notion.
"He just looked at the dugout and pounded his chest," UVA coach Brian O'Connor shared with media after the Cavaliers went on to win, 14-4, setting up Sunday's deciding third game. "Not only did he finish that inning, he went out there and went one more, which I though was really key for us."
No way Early, a junior southpaw from James River High School in Midlothian, was coming out of the game. He finished a full seven innings, giving up three runs (none of them earned) off nine hits, struck out eight and didn't walk any of the 31 batters he faced, throwing 107 pitches.
He pitched into the seventh in back-to-back games for the first time this season.
The only real trouble he faced came in the bottom of the fourth when Duke scored three times, cutting Virginia's lead to one run. He was touched up for a single, followed by back-to-back doubles by Luke Storm and Damon Lux.
"Connelly was outstanding again," O'Connor said of his starter, who was MVP of last weekend's Charlottesville Regional against East Carolina and Early's old team, Army. "Duke had a lot of opportunities there, but he buckled down and made the big pitches.
"[Duke] did a nice job getting to him and getting those three runs, and we responded in the fifth (a four-run Virginia outburst for an 8-3 lead)."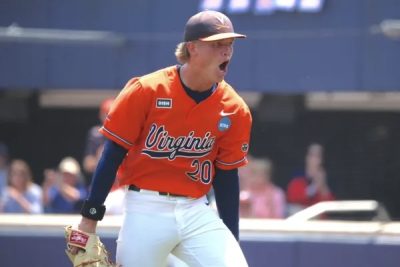 Early, who transferred in from the U.S. Military Academy, pitched his way into Wahoo history in the game, improving his record to 12-2 on the season, which tied him with Danny Hultzen (2011) and Seth Greisinger (1996) for the most wins in a season by a UVA hurler.
"Give him credit, he was throwing four pitches for strikes, and when you're doing that, you're really tough to beat," said Duke centerfielder Giovanni DiGiacomo, who went 1 for 3 in the game. "He did that really well throughout the whole game."
Early agreed.
"Yeah, I felt like I had pretty good command of my stuff today," the left-hander said. "Just trying to get ahead of batters is the biggest thing.
O'Connor loves coaching players who have been part of one of the nation's service academies because of the rigorous and challenging lifestyles they must maintain. Early is certainly an example of that discipline.
"He's made a little bit different," the UVA coach said. "He's a very competitive, determined kid that has taken a different journey than anybody else on our ballclub. I don't care what anybody says, you go to West Point for two years, I have huge admiration for you.
"I'm sure what he learned in his two years there was big," O'Connor said, which likely helped Early dig down deep each time he got into a jam, like the sixth inning the coach mentioned, when his pitcher pounded on his chest, to essentially say, 'Coach, I've got this.'
"I wasn't going to take the ball out of his hands," O'Connor grinned.
Nor should he have.