Spring Football: Armstrong should be even more lethal in new offense
By Jerry Ratcliffe
Taylor Lamb hasn't been a quarterbacks coach for long, but there's one thing he already knew coming in – allow the QB to do what he does best.
In Virginia's case, "Let Brennan be Brennan." That's Brennan as in Brennan Armstrong, who is the top returning quarterback in the nation in terms of passing yards and total yards per game.
Lamb is Tony Elliott's new quarterbacks coach, and what a luxury it is for Lamb to inherit a player like Armstrong, who passed for 4,449 yards and 31 touchdowns last season, plus was the team's leading rusher with 486 yards (minus 235 in sacks yardage) and nine more TDs in 11 games.
Because the southpaw QB is a grad student, he has less of a load in the classroom and has more time to study football, which has made his transition to a new staff, new philosophy and new terminology easier to grasp.
"He's in our meetings voluntarily, and if he likes out-breaking routes, well, let's do out-breaking routes," Lamb said. "If he likes this play, let's throw this play. It doesn't matter what we like as coaches, right? If the trigger man does not like it, it's probably not going to work, so let's find things that he likes, that he's good at, and let's get the best we can out of that."
Lamb, like Armstrong in that he was a dual-threat quarterback who crushed the records at Appalachian State and the Sun Belt Conference, has a great understanding of what Armstrong's strengths are and aims to take advantage of those.
The two hit it off immediately once Lamb came in. They got together for a bite to eat and got to know the non-football side of their lives. On the field, Lamb has learned about his quarterback's leadership, emotions, temperament, poise outside of the physical aspect.

Certainly, Lamb has liked what he's seen. Having left college only five years ago, he's young enough to relate well to Armstrong, noting that it's almost like they're teammates.
Because Armstrong is such a quick study, the transition hasn't been that difficult in most areas.
"I feel like a lot of my learning is more individual, like we're in the gun a lot, so i'm learning a lot of stuff," Armstrong said. "I'm learning under-center things (he has played out of the shotgun in previous seasons), in-gun stuff. I feel like I'm adding to my skill set.
"I've always said this: I think football is football. There's only so many patterns you can run. It's just however you want to say it to the player."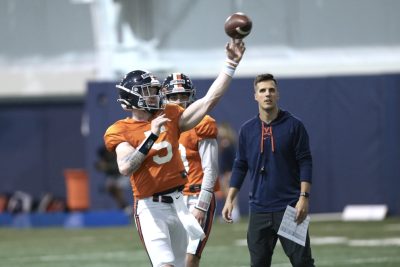 Armstrong loves the new offense, which he describes as diverse, a collaboration of all the offensive staff, directed by Elliott, who called the offense for Clemson's greatest teams over the past decade. Armstrong has grown a strong relationship with offensive coordinator Des Kitchings as well.
"This offense gives us more ability to take our shots, take what the defense gives us," Armstrong said. "I have the ability to really control and manage the game. It's just a fun, unique offense."
Taking more shots is potentially bad news for the opposition because Armstrong's deep-passing skills have been lethal the past two seasons with the likes of Dontayvion Wicks and Lavel Davis Jr., among others, in UVA's throwing attack. Wicks led the nation last season in deep catches, while Davis was sensational in that department two seasons ago as a freshman. Davis missed last season with a knee injury, but now he and Wicks combine as a terrifying duo.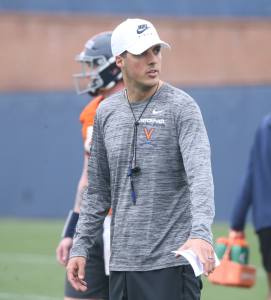 Plus, Armstrong should be even more effective this season because Kitchings will allow him to check off a play call and go to something else. All of the added responsibility keeps Armstrong in the film room as he adds to his repertoire.
Lamb has been impressed with how Armstrong has brought what he's learned from the classroom and film room to the field.
"We don't need a LeBron James or Kobe Bryant," Lamb said. "We need Brennan to be a Rajon Rondo, a Steve Nash in order to get it to our guys in space where they can make plays, where they can be the big-time guys. It's been surprising to me how quickly he gets the ball out and how quickly he's picked it up on the field."
When Lamb first met Armstrong, he was surprised that the UVA quarterback was so physically built at 6-foot-2, 212 pounds, and by his quick release, which Lamb had seen on film, but said was even more impressive in person. Plus the accuracy by the southpaw has been eye-popping.
"The accuracy, from throw to throw, and I'm talking about five-yard outs, 40-yard posts, he's very accurate, which is something I like as a quarterback," Lamb said. "As a wideout, you've got to love it, too. He can put his foot in the ground, get it out."