St. Anne's-Belfield's Raleigh Foster to join big sis on UVA women's lacrosse team
By Jerry Ratcliffe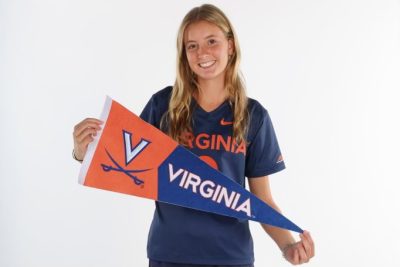 Some athletes have a difficult time deciding on where they want to play collegiately, but that wasn't the case at all with Raleigh Foster, a junior on St. Anne's-Belfield's girls lacrosse team. For Raleigh, it was almost automatic.
Raleigh has committed to play for new Virginia women's lacrosse coach Sonia Lamonica, who replaced legendary Julie Myers. Myers stepped down after guiding the Cavaliers for 28 years.
"Ever since my sister (Addi Foster) committed, I knew that I always wanted to play with her, and ever since I was little, I've always wanted to go to UVA," Raleigh said this week. "Addi going there just made the decision a lot easier."
Addi will be a freshman midfielder on this spring's Virginia team, the first for Lamonica, who is assisted by her husband, Michael. The new coaches were also a factor in Raleigh's decision. She had grown comfortable with Myers, whom she had known for years.
"When the coaching changed, I was kind of scared at first because I didn't know who the new coaches were going to be, and if they would see me play over this past summer, but once I found out who they were and I met them, that made the decision a lot easier," Raleigh said.
The new UVA coaching staff even reminded Raleigh of her St. Anne's coach, Carrington King.
Not many athletes get the opportunity to play with their siblings in college, a treat for Raleigh and Addi, with the bonus of playing in their hometown and having grown up in the shadows of UVA. The two sisters played on the same team during Raleigh's eighth-grade, freshman and sophomore years at STAB.
Now, they'll be reunited once Raleigh matriculates after the next two seasons of high school lacrosse.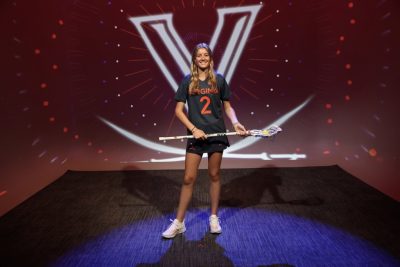 "This will actually be the first year that I'm not playing with her, so it means so much to eventually be on the same team again," Raleigh said. "Last year was the first time we were really connecting on a lot of levels. I'm just excited to see how that goes at UVA."
While Addi is a midfielder, Raleigh plays attack, an off-ball player, which works so well together. Addi passes the ball off and Raleigh scores. Raleigh was one of the top four scorers last season, earning first-team LIS and second-team all-state honors for a Saints team that was runner-up in the state championship for its division after winning it all the year before. All of the St. Anne's team returns this spring except for big sis Addi, who has moved on to Virginia.
"The culture at St. Anne's is so cool and we have a great team because Nate Rullman is one of our coaches," Raleigh said. "I've worked with him for a while and he is our offensive coach and he really knows offense."
What was cool for Raleigh was getting to hang out with her sister on her official visit. After the visit concluded, the two met for lunch and big hugs were exchanged.
"Addi's roommate was with her, and I've gotten to know a lot of her teammates, so I'm excited to play with some of them down the road," Raleigh said. "Some of them also come in to help coach my travel team. They come to some of the practices, so they help me."
Travel lacrosse is a big deal these days, just like travel basketball, baseball and some other sports. Her Charlottesville travel team has gone as far away as Texas for games, but usually plays regionally for tournaments in Pennsylvania, Maryland and Delaware. There's a trip planned for Florida this summer.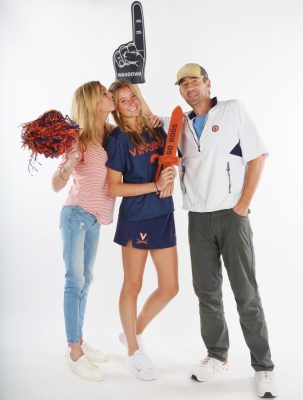 The benefits of playing essentially an extra season against high-level competition is obvious.
"You kind of just learn to adapt to a new role and be a leader for that team, because in high school, you're playing with older players who are also leaders," Raleigh said. "You learn new roles because you don't always play the same role as in high school. It's also important for college because of all the views you get over the summer from college coaches. It's really good exposure."
Virginia's coaches liked what they saw in the young St. Anne's player.
"They're trying to implement 'two-men' into their offense and that's what I'm really good at, so they told me they like my 'two-men' skills and my ability to pick for other people, and so creating for myself and other people on the field," Raleigh said. "That's really important."
Another memorable aspect of Raleigh's official visit to UVA was the family meeting with the Cavaliers' coaching staff.
"My mom started crying," Raleigh said. "She's very excited. She has put a lot of time and effort into my lacrosse. She used to coach my team when I was little and some in our rec league, too, so she's been a big part of that."
Her Dad, Shane, has also been supportive as the parents have shuffled the girls around various sporting events for years. Raleigh also plays field hockey and basketball.