State's largest putting green gives Birdwood all sorts of options
EDITOR'S NOTE: In our series about the newly-designed Birdwood Golf Course by Davis Love III & Company, we take a look at the massive new putting green with PGA Director of Golf Martin Winters. Make sure you catch the video as well.
By Jerry Ratcliffe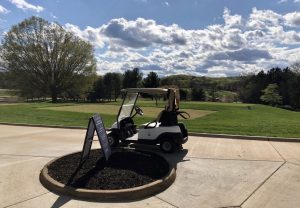 Modeled after some of the mega golf resorts such as Pinehurst and Bandon Dunes, the Davis Love III Design team has added a giant putting green at Birdwood Golf Course.
The putting green, which can be used as a putting course, is almost an acre in size and located behind the clubhouse where the former practice green was situated only much larger.
"The cool thing, and what I think was very clever from the Love Design team, are the mounds and contours of the practice green actually match the Blue Ridge Mountains," said Birdwood's PGA director of golf Martin Winters. "So if you sit on our back patio, you can see where the undulations and the slopes match the ridge lines."
Winters said the designers are going to add some fescue islands that break up the massive green a bit, so that it's not just one giant green. He said he believes those islands will add a little more character so golfers can putt around them. It's possible that the putting green can become an 18-hole putting course.
A portion of the green will be designated for golfers warming up for their round.
Meanwhile, Winters envisions members coming out with their family, having dinner or drinks and then having a little friendly competition on the green. He also believes corporate groups using the huge putting facility for outings and team-building activities with music and a bar at their disposal.
"We can also use it for our junior program and possibly The First Tee, all sorts of different options," the longtime Birdwood chief said. "We can have all sorts of different competitions and incorporate it in some of our own tournaments and larger events. I think it's a tremendous asset to our golf course."
Winters added that guests of Boar's Head Resort can come over for an hour and putt and have fun if they don't have time to play golf.
The new putting green isn't open at the moment but as soon as it's ready, we will notify golfers.
Birdwood is now accepting memberships for its new golf course.
"There has been unbelievable amounts of enthusiasm for our new design," Winters said. "We have an assortment of membership packages now available to the public: family, individual, non-resident. We have comprehensive memberships that include the Boar's Head Sports Club and the Birdwood Golf Course, and those can either be done separately, but it's very advantageous to do them together."
Interested golfers should contact Samantha Strong, membership manager, for options. She can be reached at (434) 972-6031 or via email at sstrong@boarsheadresort.com.
Next in the series: Birdwood's par-3 course will cater to all sorts of golfers.

Comments