Sweet Seasons: My Quest For The Promised Land
(EDITOR'S NOTE: I have known Tom Baker since the Ralph Sampson days and he bleeds orange & blue. He has been a good friend all these years, from team manager to working in the UVA athletic department, to becoming SID at VCU, and into the private business world. This is his story of passion for Virginia basketball and his life-long goal of making it to the Big Dance.)
By Tom Baker
My love affair with Virginia basketball began nearly 50 years ago, when the 'Hoos upset North Carolina and Tar Heels' All-American Charley Scott in the 1970 ACC Tournament.
The next season marked the arrival of all-time great Barry Parkhill to Charlottesville, which changed UVA history. With BP running the show, Bill Gibson's "Amazin' Cavaliers" recorded an epic win over No. 2 ranked South Carolina and cracked the national rankings for the first time in history.
The Pennsylvania pipeline that brought Parkhill from State College also yielded stars Jim Hobgood, Gus Gerard, and Wally Walker. After competitive but middling seasons in '73 and '74, Gibson left Charlottesville, and UVA athletic director Gene Corrigan hired a young Davidson coach by the name of Terry Holland.
Meanwhile in Richmond I was carving out a pedestrian high school career. I attended Hoos games occasionally with my dad, but our first love was the Virginia Squires with future Hall of Famers Charley Scott (yes a Tar Heel, but he averaged 34 ppg one year!), Julius Erving, and George Gervin.
I entered The University in 1975 and attended every home game my first year.  I did leave the Virginia Tech overtime win a bit early, but not totally be design. When the Hoos sealed the win and Bobby Stokes was dribbling out the clock, this over-wrought maniac threw a rubber chicken at Hokie head coach Don Devoe and missed him by an inch. As the chicken landed at mid-court and the crowd exploded, I saw an usher headed my way and high-tailed it out of U-Hall.
In March, "Wonderful Wally" Walker and the Hoos pulled off The Miracle in Landover and won the 1976 ACC Tournament by beating nationally-ranked NC State, Maryland, and North Carolina.  
I was sitting on the front row of the student section underneath the basket.  My two favorite memories were chanting "YOU'LL LOVE THE NIT!!" at devastated Terps fans who came to cheer for UNC in the final (conferences were limited to two NCAA bids), and meeting a very elated Terry Holland in the wee hours. Jimmy and Rachel Graves, owners of Graves Mountain Lodge, fed me some bourbon during the title game to rally me and later told Coach Holland that I was a good luck charm.  Unfortunately our first quest for the Final Four ended well short with an opening-round loss to DePaul in Charlotte the next week.
A few weeks later this aspiring sports writer for the U's The Declaration landed a feature interview with Wally Walker. We met outside his Lawn room on Friday morning after we both had burned the candle pretty hard the night before. Wally was Wally – friendly, humble, genuine – and he put me at ease.
As we finished talking, I was relaxed enough to ask him what the basketball managers were like. "Are they part of the team or do the players give them a hard time?" I queried. "Oh, they're definitely part of the team. Frank Birckhead is a classmate and one of my best friends. Why?" he responded.
I told him I had played in high school, and had seen an ad in the Cavalier Daily for a men's basketball manager.  I explained I had applied but was unsure if I would be a good fit.
"Oh, they would love to have someone who played high school", he said. "They can use you in drills when they need extra bodies". That Monday I got a call from the basketball office and went to meet Coach Holland. I got the job – I am sure because of a rare Wally assist!
So I succeeded Birckhead and served as a manager for three years.
One day before my first season started, I was sitting in Holland's office. Suddenly a man appeared at the door, pointed at me, and yelled, "That's him T, that's him! The good luck charm!" It was Jimmy Graves, who proceeded to remind the Big Whistle that I was the fellow who had been with him at the ACC Tournament that he had plied with Virginia Gentleman (I was underage of course but Holland let it pass – probably because he was incredibly superstitious).
While Frank had been a meticulous manager (he became a successful Charlottesville CPA), I was a little less so. During Christmas vacation second year we came back early to get ready for January ACC play. One morning I got a call from the basketball office, asking me to show up early to see Holland. I assumed he wanted to discuss setting up for practice, but when I saw him I knew something was up.
He had received my grades. Somehow I had managed to pull a 1.6 GPA after posting a 3.4 first year. During his tirade Coach reminded me that part of my job was to help the team GPA, not pull it down, and he said I had the lowest GPA in my class. At that moment I uttered some of the dumbest words of my life. "Well (Steve) Castellan is in Engineering, (Bobby) Stokes is Pre-med, and Otis (Fulton) is a genius!" I stammered. "Yes, and I recruited those guys. I can get another one of you in thirty seconds!" he bellowed.
That moment turned my academic career around, although Holland said I was the only manager he ever had to chew out about his grades.  He also never told my parents about my myriad transgressions. Each year he would find them at the ACC Tournament and thank them for letting me be a part of the team (even after I drove Jeff Lamp the wrong way going to practice at the Tournament in Greensboro and was 15 minutes late for our allotted time slot).
We had some success during my tenure and nearly beat UNC in the '77 ACC title rematch, yet we never made the Dance. But we had some notable stars (Lamp, Lee Raker, Jeff Jones), and I remain friends with my classmates, fellow managers David Cooke and Phil Beeson, and teammates Mark Newlen, Terry Gates, Jeff Klein, and Garland Jefferson to this day. Now I bring my players beers at basketball reunions instead of water.
I received another career/life assist during my managing tenure. Virginia Sports Information Director Todd Turner knew I had written for The Declaration and asked if I wanted to be a student intern in his office (as part of the team I could not write for student papers). I gladly accepted and wrote game program features and press releases. That experience paid off royally when Todd's successor, Doug Elgin, hired me in the Spring of 1981 to be his Graduate Assistant for the 1981-82 season.
The good news was that I started the week the Wahoos went to Philadelphia for our first Final Four. The bad news was that I was the new kid on the block and the current GA Bob Tufts went to Philly while I covered baseball.
My year with Doug was incredible. We were ranked #1 for much of that 30-4 season, and I met nearly every national college basketball media person. The highlight was working the Super Bowl telecast at Louisville seated next to Dick Enberg and Al McGuire on press row and conversing with them during timeouts.  
Unfortunately that Final Four quest ended when we were the last team in NCAA tournament history to play an opponent on their home floor. Alabama-Birmingham's Blazers roughed up Ralph all night and prevailed 68-66.
We still might have prevailed if assistant Jim Larranaga hadn't jumped up, stomped, and yelled "THAT'S A F'IN FOUL !!!!" about five feet from me and two feet from Pac-10 official Booker Turner late in the game. Turner promptly teed him up.
That evening, some media members took me to a strip club to ease my sorrows. The next morning Ralph, Dan Merrifield, and Jimmy Miller heard I was under the weather and threw my hung-over rear end in the green water of the hotel pool. Thanks guys!
I had two more shots at the Final Four in 1983 and 1984 when I was Sports Information Director at VCU. In 1983 we lost to Georgia – which took out UNC and made the Final Four. In 1984 we lost to Syracuse in the second round at the Meadowlands after beating Boston University, and Jim Calhoun, at the buzzer. But Virginia was there too, and I had the great satisfaction of seeing Rick Carlisle hit the game winner over Arkansas directly in front of my baseline seat on press row. The Hoos made it to Seattle by beating Indiana in a thriller. Unfortunately I was unable to follow my beloved team because of my duties at VCU.
I left the Rams after two great seasons and became a fundraiser at my prep alma mater, St. Christopher's, in Richmond. I was hired to work at the Virginia Student Aid Foundation (now VAF) as assistant to Joe Mark in 1989. During my time back in Charlottesville, Holland took us to the edge of Canaan one last time when we stunned Oklahoma in Rupp Arena, only to run out of gas against Glen Rice-led Michigan in the regional final.
After the following season, Terry left to become the Athletic Director at Davidson and we hired Jeff Jones. Soon thereafter I left college athletics for good and moved back to my hometown of Richmond to raise my family.
Over the years, Frank Birckhead and I developed a special friendship. The atmosphere that led Coach Holland to leave the University upset both of us. Later we worked tirelessly behind the scenes to ensure his return as UVA's athletic director. During the next decade, Virginia basketball hit an extended down cycle of NCAA success. Jeff left, Terry left, and Frank and I often despaired that we would ever get that elusive shot at the ring again.  
But when Coach Bennett arrived we sensed another opportunity. Living in Seattle, Wally had observed him at Washington State and recommended him highly. Sure enough, the guys started playing real Holland-Jones type defense. They were disciplined, and after the first two years the progress was palpable.
In early 2015, Coach Holland's long-time nemesis Dean Smith died. A few weeks later, I got a call from Frank. "Baker, we have to do something for Coach Holland. We need to get everyone (players, managers, coaches, staff) together while he can still enjoy it. We can't wait until something happens to him!" Frank recruited Wally, Ralph, Jimmy Miller and me to help get other folks on board.
That September I took Frank to lunch for his birthday.  A few weeks later the unthinkable happened. On Saturday of the Notre Dame football game, Frank collapsed and was gone.
The next Spring, after the crushing Elite Eight Syracuse loss, the four remaining volunteers re-committed to honor coach Holland as Frank wanted us to. In September 2016, we pulled it off with help from VAF's Dirk Katstra, AD Craig Littlepage, and of course Coach Bennett, who sent the entire team to meet and mingle with the alumni after practice. It was a very bittersweet weekend.
Last season we lost three games – all to teams that were quicker on the perimeter and hit some open threes. And for the third year in a row, a key player was hurt for the title run.
This year Kihei Clark arrived as a dogged-on ball defender. The team stayed healthy. The offense was tweaked and improved. After Mamadi's miracle Purdue buzzer beater and the OT win, I finally had a chance to go to the Final Four.
I looked over at my wife Catherine. She had already opened her laptop and was looking for a plane ticket (she knew I needed to do this alone). I lined up game tickets through a friend – the same one I had contacted three years ago. As we started looking for hotel rooms I got a text from a Sweet Briar gal I dated at Virginia, who now lives in Minneapolis.
"Get your butt out here! You can stay with us!" After being told that her husband, Jim, was not only cool with it but wanted to hear if all her fun college stories were true, I called my boss and was cleared to go! I left an out-of-office message that said "I am out of the office chasing a dream at the Final Four."
I landed in Minneapolis Friday morning and got to drive Amy's car from the airport when a airport arrivals cop told her that her license was invalid and took her keys (nice welcome — her license is fine, thank you). Friday evening I connected with classmate Steve Castellan and our fly-in group hit a nice steak place in Eden Prairie, a Minneapolis suburb. We then went downtown for the Alumni Association party at the Mansion at Uptown, a madhouse absolutely packed with Hoos of all ages. I had a couple of pops and took an Uber home at an appropriate hour.
Saturday I got up early, made sure to get in a game day workout (superstition thanks to Coach Holland), and headed downtown to meet about 10 friends for lunch. From there I walked through the Final Four-decorated downtown and stopped at the ESPN College Gameday set in the middle of Nicollet Mall. After failing to get a "Duke's not here!" chant going, I walked to the packed Alumni Association party across the Mississippi River where a DJ set the mood with some Earth Wind and Fire and the lines at the cash bar were long.
Then it was off to the game, where I was joined by Amy's husband Jim, a student of the game and a steadying force. Thanks to my friend Mike, we had good seats about 40 rows up behind the bench. It was amazing to see so many thousands of Hoos there – more than the JPJ would hold – among a crowd of 70,000 plus. I took a photo from my seat and posted on Facebook – "Dream come true. Turning phone off."
We all know what happened against Auburn. The Tigers were a carbon copy of the teams we had trouble with last year – but better. As they sliced through our 10-point lead late, dread literally made me nauseous. When Kyle missed from the corner I sank into my chair in despair. But as I looked up, everyone hesitated. Auburn fouled the wrong Guy (yes it was a foul, delivered ironically by a kid who left VCU), and my dread turned to unspeakable joy. A second successive miracle left me fried.
Thank goodness I was there with my host Jim. We walked off our shock for about a mile to his office, and he drove us home where we met Amy, ordered a pizza, and watched Texas Tech eviscerate our March nemesis Michigan State.
On Sunday morning I rose early and did another Holland four-mile jog around Lake Harriett, showered, and headed to a nearby Episcopal Church to give thanks.  After relaxing with my hosts I headed downtown to meet friends at the Marquette Hotel, the UVA "headquarters" during the tournament.
I had a beverage with my old sports information director, Missouri Valley Commissioner Doug Elgin, and Teresa Rennoe Irish who succeeded me as Doug's intern. Then I got to visit with Terry and Ann Holland, Dave and Lyn Odom, former managers Paula Hicks Moradian and Audra Hicks, St. Christopher's teammate Scott Andrews, and hundreds of other 'Hoos.
I met Ricky Stokes, Castellan, Roger Mason, and several other hoops alums at a local watering hole called "The Loon" for some beverages and game analysis. Afterwards I Ubered to meet my fraternity brother Jim Dwyer, who lives in Minneapolis, and reconnected after 40 years. Then I joined Amy and Jim, Steve Castellan, his son Aaron, and fellow manager Dave Cooke II for a great dinner.
The Championship Day workout was a four-mile slog along Minnehaha Creek (Minneapolis is a beautiful city), followed by a delicious lunch, telecommuting, and a brief nap. Amy gave me a lift downtown where we met the basketball folks at "The Loon" again.
There was a big crowd – Jeff Jones, Doug Smith, Norman Nolan, Terry Gates, Colin Ducharme, and Brett Bair to name a few. Then it was off to meet my dear friend KC Crane Graham, who was able to fly in and use my son's ticket when he could not get in from New York. Dave Chalfant, another classmate who lives in Minneapolis, directed us to his son's condominium practically across from U.S. Bank Stadium. After a beverage, we walked over to our seats, and our destiny, early.
The atmosphere on Monday night was electric. My phone had been blowing up for two days with people who were coming in, and it seemed like the Wahoo faithful population nearly doubled.
The game started like the defensive slugfest the pundits predicted. Then the Hoos threw the first punches and the Raiders called a 30-second timeout after a Key dunk put us up 9-3. The game see-sawed back and forth until a Jerome trey at :02 provided a 32-29 spread.
At halftime I had a long visit with Coach Holland. It was very special to be with a man who has been a friend and mentor just six days after he turned 77. Holland and Bennett are similar in so many important ways – defense first, class and honor above all else, low-key in public but intense in practice – it was fitting that he was there for the Shining Moment.
During the second half and OT, the Virginia faithful screamed themselves silly. While I worried at times, I never despaired. I just knew it was going to happen, especially when I saw Ty drive to the hole. As soon as De'Andre's man closed on Jerome, I stood up and said "HERE IT COMES!" and he drained the three to tie it. And then we finally closed it out.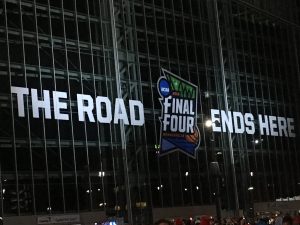 Afterwards I waited until they cut down the net, thanked Mike, hugged KC, and walked up the steps to leave. At the top step to my left, standing alone just taking it in, was Wally. We embraced and enjoyed the moment.
Then I said what didn't really need to be said, "This one's for Frank." Wally just smiled and nodded. He was missing Frank Birckhead too. I walked out and got halfway over the pedestrian bridge. I turned and took one last look at U.S. Bank Stadium.  There in the dark, the sign said it all.
THE ROAD ENDS HERE.
Yes, Virginia, my long and winding road of 49 years did end in Minneapolis. After so many failures, the tears that night were the tears of joy. The Hoos made it to the Promised Land.
And after three miracles, Wally and I both knew who took us over the top. I pointed to Heaven and said, "Thanks, Frank!" Then I walked to meet Chalfant for a ride back to Amy's.  But the song in my head was not from the Beatles, it was Carole King's "Sweet Seasons".
Sometimes you win, sometimes you lose
And sometimes the blues just get a hold of you
Oh, just when you thought you had made it
All around the block people will talk
I wanna give it all that I've got
I just don't want, I don't wanna waste it
Talkin' 'bout sweet seasons on my mind
Sure does appeal to me
You know you we can get there easily
Just like a sailboat sailin' on the sea
Talkin' 'bout sweet seasons….. Talkin' 'bout sweet seasons
Comments