Tale Of The Tape: Columbia at No. 9 Virginia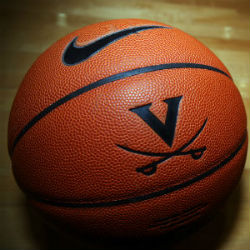 No. 9 Virginia continues its initial homestand of the season at John Paul Jones Arena Saturday afternoon against Columbia (12 p.m. tipoff, ACC Network). The Cavaliers (2-0, 1-0 ACC) look to make it three straight wins to start a season for the fourth year in a row under Tony Bennett.
Senior forward Mamadi Diakite is coming off of his first double-double, with career highs of 19 points and 13 rebounds, against James Madison over the weekend, and looks to build on his strong start to the season.
The Lions (1-2, 0-0 Ivy League) dropped a couple of close ones on the road to start the 2019-20 campaign, but claimed their first victory against Binghamton earlier this week. Columbia fell by the same score (65-63) in its losses at Lafayette and Wake Forest before knocking off the Bearcats by a dozen, 75-63. Senior point guard Mike Smith is second in the Ivy League in scoring with 21.3 points per game, while also tied with a league-best 5.7 assists a contest.
The last time the Wahoos went up against Columbia, Billy Idol's Mony Mony topped the Billboard charts, Arnold Schwarzenegger's The Running Man was the No. 1 movie in theaters, and a gallon of gas cost just 96 cents. It was nearly 32 years ago, November of 1987, in the days of John Johnson, John Crotty, Richard Morgan and Mel Kennedy, and the 'Hoos came away with a big win.
Saturday, it'll be the new group of Cavaliers led by Diakite, fellow senior Braxton Key (who also registered his first double-double against JMU with 14 and 10 boards), Kihei Clark and Jay Huff, who have held each of their first two opponents to a mere 34 points (23-percent shooting) the first time a Virginia team has achieved that feat (keeping a pair of foes under 40 consecutively) since the 1943-44 season.
UVA will be gunning for its 19th straight home win over non-ACC opponents Saturday against the Lions, a "campus game" that is a part of the Air Force Reserve Basketball Hall of Fame Tip-Off tournament.
The 'Hoos will turn around and host Vermont Tuesday night at 7 (also a "campus game") before traveling to Mohegan Sun Arena next weekend in Uncasville, Conn., for the conclusion of the tournament. The Cavaliers will face UMass at noon next Saturday, and will take on either Arizona State or St. John's Sunday afternoon.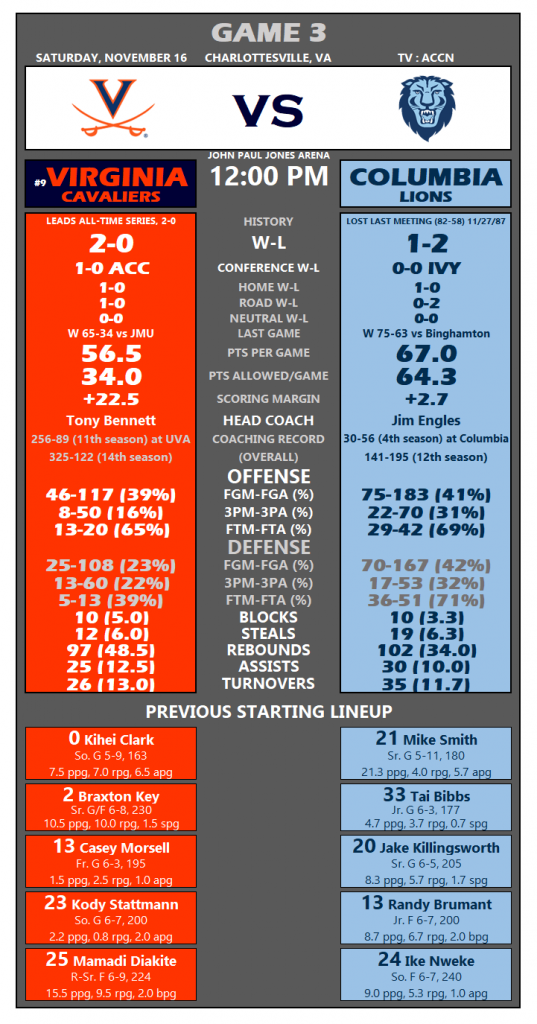 Comments