Tale Of The Tape: Maine at No. 7 Virginia
The Cavaliers return to John Paul Jones Arena to close out the month of November with a Wednesday afternoon matchup against Maine, looking to extend their home win streak against non-conference opponents to 21 games. Tip-off is set for 4 p.m., and the game is being televised by ACC Network.
Virginia, ranked in the top 10 for 34 of the last 35 weeks, stayed put at No. 7 in the latest AP Top 25 poll (6th in the Coaches' poll), and added another item to the trophy case after winning the Air Force Reserve Hall of Fame Tip-Off Tournament in Connecticut over the weekend.
Freshman guard Casey Morsell had his best game as a Wahoo by far, leading the team with a career-high 19 points — including the game-winning 3-pointer — as UVA topped Arizona State, 48-45, in the championship game Sunday.
Morsell and senior forward Mamadi Diakite were named to the All-Tournament team as the 'Hoos won their seventh consecutive holiday tournament.
The Cavaliers (6-0, 1-0 ACC) will be facing the Black Bears (2-3, 0-0 American East) for the first time Wednesday. A win would give Virginia its 32nd straight victory in the month of November, which is the longest active streak in the country.
The 'Hoos, currently a 29-point favorite against Maine, announced on social media Tuesday that they'll be heading to Southern California around this time next year to play in the Paycom Wooden Legacy tournament. The field will include Kansas, Georgetown and UCLA.
Join us next Thanksgiving in Southern California for some 🏀🦃☀️🌴 #GoHoos pic.twitter.com/6FXQczt6jg

— Virginia Men's Basketball (@UVAMensHoops) November 26, 2019
Virginia currently leads all NCAA Division I programs in scoring defense (42.7 ppg), field-goal percentage defense (30.2 percent) and fewest fouls per game (10.8). UVA is ranked fourth overall in the nation by KenPom.com (1st AdjO, 61st AdjD), while Maine checks in at No. 315 (306th AdjO, 317th AdjD) out of 353 D-I schools.
The Black Bears are led by senior Andrew Fleming, who puts up 20 points a contest to go with a 6.6 rebounding average. The 6-foot-7 forward is coming off a 10-for-11, 23-point, 10-rebound performance on Sunday and will obviously be the focal point of the Pack-Line defense.
Maine's roster is full of international flavor, with players hailing from all over the globe — Canada, Denmark, England, Latvia, Serbia, Sweden, Turkey and Ukraine.
Senior Sergio El Darwich (12.6 ppg) dishes out 4.8 assists a night from the point-guard position, while redshirt-junior forward Nedeljko Prijovic (11.2 ppg) leads the team with 7.6 boards a game.
Richard Barron is in his second year coaching the Maine men's team after six seasons at the helm of the Black Bears' women's program from 2011-17. Barron's Bears struggled to a 5-win campaign in his first year.
This season, Maine has posted victories against Merrimack College (a 20-point win in the season opener) and Maine Maritime Academy (a 90-50 drubbing on Sunday), while dropping contests against Harvard (67-46), Portland (71-62) and Washington (72-53), all on the road.
UVA will be back in action next Wednesday at Purdue for the ACC/Big Ten Challenge at 7:15 p.m. ET (ESPN or ESPN2).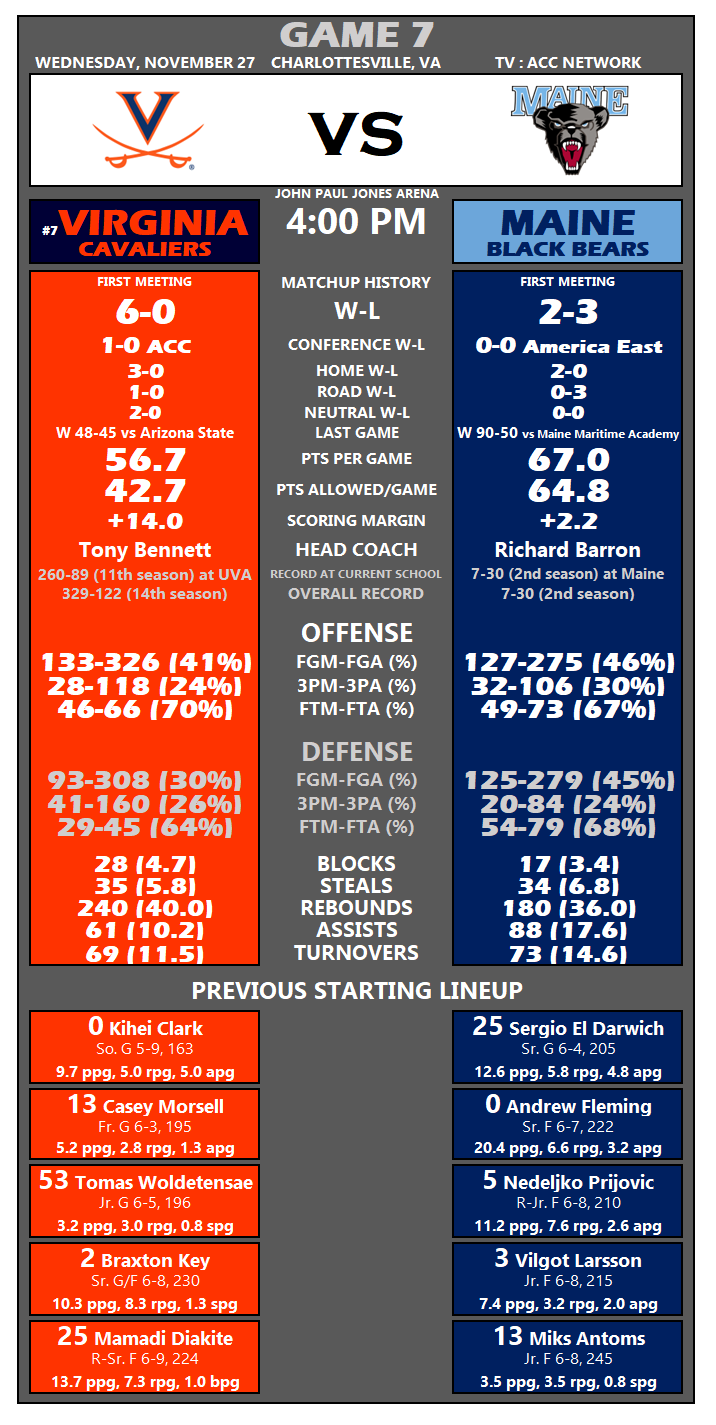 Comments