Tale of the Tape: No. 18 Virginia at Boston College
Virginia will play its first game away from home in over a month Tuesday night when the 18th-ranked Cavaliers travel north to face Boston College (7 p.m., ACC Network).
The Wahoos (11-2, 3-0 ACC) played their last road game in early December at Purdue, falling by 29 points to the Boilermakers, and went 4-1 over the recent home stand. The 'Hoos will be on the ACC road for three of their next four contests, and four of the next six.
Virginia has won six in a row and eight of the last nine against the Eagles (8-6, 2-1). BC's only win during that span was a 53-52 squeaker in Chestnut Hill in 2013.
UVA enters tonight's tilt at No. 25 overall according to the latest KenPom ratings (1st AdjD, 185th AdjO), while the Eagles are currently ranked 145th (81st AdjD, 247th AdjO).
Kihei Clark set a new career high with 18 points in Virginia's 65-39 victory against rival Virginia Tech on Saturday, with senior Braxton Key adding 18 of his own. The Cavaliers got contributions from up and down the roster as it appears the newcomers are coming along and the team is beginning to gel more.
Mamadi Diakite had a monster first half last year against the Eagles at Conte Forum (7 of 10 for 14 points), and looks to top that performance this evening.
The 'Hoos shouldn't have much of a problem getting past the Eagles tonight as an 8½-point favorite, but it's a road game in the ACC, which has been about as unpredictable as it gets so far this season.
BC won its first two conference games — a 7-point triumph over Wake Forest at home in the season opener and a buzzer-beating one-point win at Notre Dame a month ago — but got blown out at Duke a week ago, 88-49. The Eagles have had a week to lick their wounds and get ready for the defending national champs.
Boston College lost five out of six contests during an early stretch of the season, including home losses to Belmont, DePaul, Saint Louis and Northwestern, but won four straight before the loss in Durham last week.
The name Derryck Thornton may ring a bell for ACC hoops fans, as the BC graduate transfer guard from Southern Cal actually began his collegiate career at Duke. Thornton, who leads the Eagles in scoring (13.3 a game) and assists (3.4 a game), played his freshman season with the Blue Devils before returning to his hometown of Los Angeles to play for the Trojans.
Junior big man Steffon Mitchell does a little of everything for Jim Christian's squad, including leading the conference with 2.4 steals per contest. He's also best in the ACC with 3.6 offensive rebounds a night (he's tied for fourth in the league in overall boards with 8.7 a game), so the 'Hoos will have to put extra focus on boxing him out.
Ky Bowman and Jordan Chatman — along with Wynston Tabbs, who was lost for the 2019-20 season with a knee injury — accounted for over 70 percent of the team's 3-point production a year ago, but none of them will be on the floor tonight. Bowman and Chatman are now playing professionally.
Freshman guard Jay Heath (12 ppg) is one of several Eagles who can get hot from 3-point land, along with the Hamilton brothers — Jairus and Jared — and another newcomer, Julian Rishwain.
Senior forward Nik Popovic is BC's only other player averaging double figures (11.8 ppg), but has missed the last five games with a back injury. Popovic led the Eagles with 16 points in last year's lopsided 83-56 loss to the Cavaliers on the same floor.
The two teams will meet again for a rematch at JPJ on Feb. 19.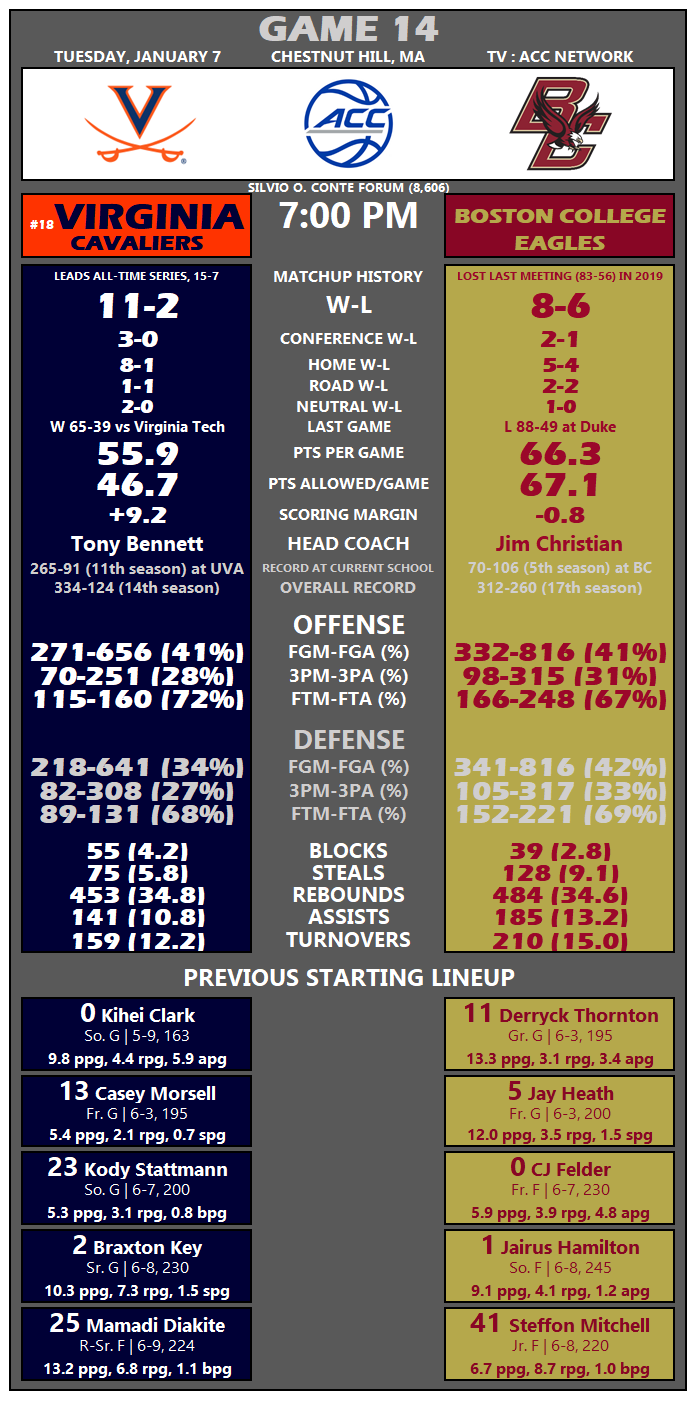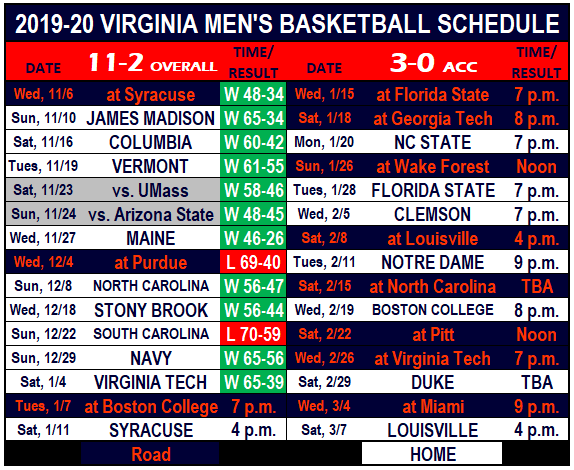 Comments