Tale of the Tape: Syracuse at No. 18 Virginia
Virginia will go for the season sweep — an odd statement for not even halfway through January — against ACC foe Syracuse this afternoon, with tip-off scheduled for 4 p.m. in Charlottesville. The game will be televised nationally on ESPN.
The 18th-ranked 'Hoos will also be hoping to avoid their first losing streak in three seasons after falling on the road Tuesday against a shorthanded Boston College team. As a result, UVA (11-3, 3-1 ACC) dropped its first regular-season conference loss since Zion Williamson and Duke won at John Paul Jones Arena last season.
Braxton Key continued his stellar play since returning from wrist surgery, but had a scary moment in the closing seconds in Chestnut Hill, breaking his fall with the same wrist on a loose-ball scramble. He walked off the floor for the last few seconds of action, but is expected to be in uniform today against the Orange.
In his last three games, Key is averaging 16.3 points, 7.3 rebounds and 2.3 steals per contest.
Kihei Clark has also put up double figures in his last three games (and four of the last five), and his offensive contributions will continue to pay dividends for this mostly still-inexperienced Wahoo squad.
After a rough start, sophomore guard Kody Stattmann has picked up his play of late as well, setting new career highs in the scoring category in each of his last two games, while also helping out on the glass. Stattmann had 10 points and 8 rebounds against Virginia Tech last weekend and then posted 11 and 7 against the Eagles Tuesday. Tony Bennett would love nothing more than to see Stattmann's play continue to improve.
Virginia, which has won four in a row and seven of the eight ACC meetings against Syracuse, enters Saturday's game ranked 35th overall by KenPom (1st AdjD, 204th AdjO), while the Orange are 69th overall (34th AdjO, 124th AdjD).
Syracuse (8-7, 1-3) has lost two straight close ACC games — by 1 point to Notre Dame; by 4 points to Virginia Tech — both of which were played at the Carrier Dome. The Orange's lone conference win came at Georgia Tech (97-63) last month.
Syracuse started the season against UVA with sophomore Jalen Carey at point guard, who also started the next game against Colgate. Carey has not played since after having wrist surgery and is expected to miss the rest of the season, opening the door for freshman Joseph Girard III, who scored more points at the high-school level than any other player in the history of the state of New York. Girard, Buddy Boeheim and Elijah Hughes are all very capable scorers for Syracuse and all three can light you up in a hurry.
Hughes leads the team with 19.6 points a game, and scored 26 points earlier this season — in one half. Hughes has reached 10 or more points in all 15 games. Boeheim (15.3 ppg) has put up double figures in his last seven games, and is one of the top 3-point shooters in the country with 55 makes so far from downtown.
The Orange had a hard time putting the ball in the basket in the season opener against Virginia, scoring just 34 points. The Cavaliers must contain Syracuse's outside scoring in order to jump back into the win column and stay near the top of the conference standings at the halfway point of the regular season. With three of the next four on the road, it's important to try to head into the upcoming stretch with a victory over the Orange Saturday.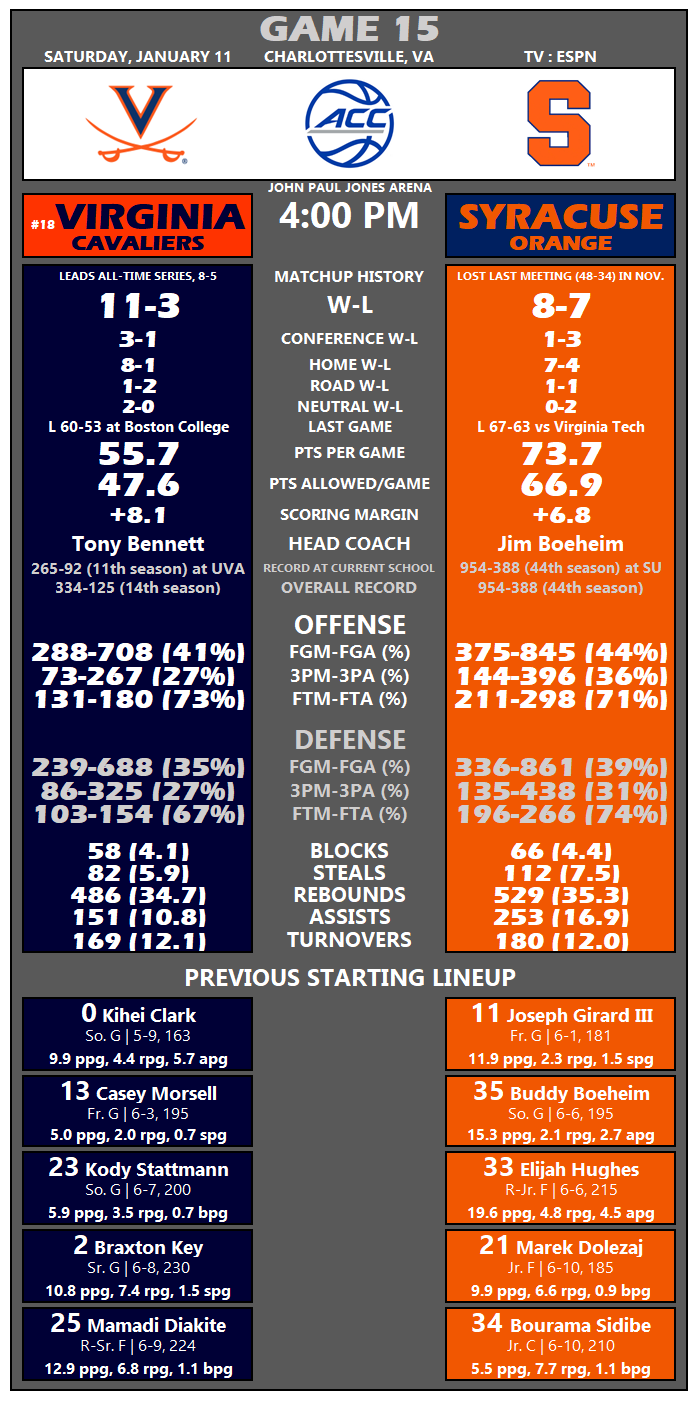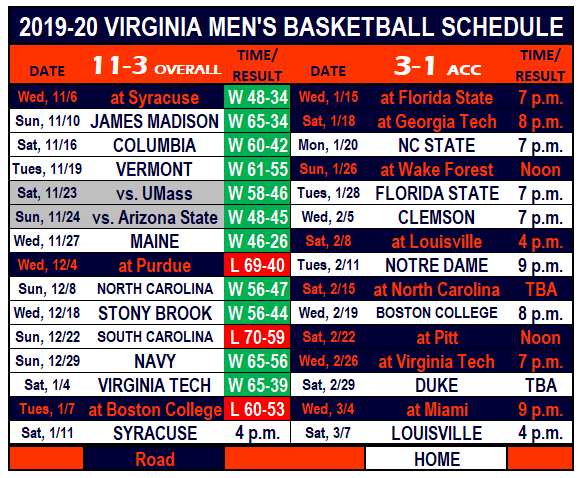 Comments