Tale Of The Tape: Vermont at No. 7 Virginia
By Jerry Ratcliffe
After Virginia's 60-42 win over visiting Columbia last Saturday, Tony Bennett pointed out that it was another opportunity for his team to try and forge its identity.
"I think we know what our identity is, but we have to show it and show it for the majority of the game," Bennett said. "This team, with its inexperience, is still trying to figure out rotations and how we need to play."
That process will continue tonight when the No. 7 Cavaliers host unbeaten Vermont (4-0) at 7 p.m. (Regional Sports Networks). The visiting Catamounts are coming of a 70-68 victory at St. John's, and received 11 voting points in this week's Associated Press Top 25 poll, the most by a Vermont team since the 2004-05 season when famed Tom Brennan was the coach.
This is the best start for the Catamounts in 42 years.
There is no question that Virginia's identity is based on its defense, which once again is ranked No. 1 nationally in scoring defense (36.7), and field-goal percentage defense (25.0). Bennett's squad has held its first three opponents (Syracuse, JMU, Columbia) to fewer than 50 points for the first time in the shot clock era and for the first time since 1948-49.
UVA's defense is relentless and the chief reason the Cavaliers are 110-11 the past eight seasons at John Paul Jones Arena.
"It's just their physicality," said Columbia coach Jim Engles. "They're just extremely physical. I don't think until you play them do you actually understand that. It's really hard to get in the lane against them and we had some actually decent shots at the rim and Jay Huff was able to just take them away.
"They're just set up really well defensively for the way they play. The system is an amazing system. You get worried as a coach when you walk into the game and you see Syracuse had only 34 points and shot 26 percent [against UVA], and we ain't Syracuse."
Huff swatted away five shots in that game (his teammates added four more blocks), and altered several others with his imposing 7-foot-1 frame. He also added 13 points as he and frontcourt teammate, 6-9 Mamadi Diakite, continued to lead the team offensively. Diakite had 13 points and eight rebounds. 
Both Huff and Diakite made 3-point shots in the game, showing uncommon versatility, which has proven to be a matchup nightmare for opponents.
"I think there were really good stretches today of defense and really good stretches of offense," Bennett said after his team improved to 3-0. "There were some moments where, whether it was personnel-based or inexperience-based, we weren't as good as we can be, but we want to just keep making it hard for opponents to score against us.
"I think at times when we've gotten in trouble, we've been able to block some shots at the rim and we've been solid for sure, and that will have to continue to improve little by little. With different competitions and different matchups, that'll continue to increase but that'll always be the staple of this team."
The Catamounts are led by senior forward Anthony Lamb, who drilled a tie-breaking jumper with 2.4 seconds to play against St. John's. Lamb finished with 23 points, 13 rebounds and five assists to earn America East player of the week honors.
Vermont hails from the same conference that UMBC is a member.
Virginia will hit the road this weekend to battle UMass in the Air Force Reserve Tip-Off Tournament on Saturday (noon) at the Mohegan Sun Arena in Connecticut, then will face either Arizona State or St. John's on Sunday at either 1 or 3:30 p.m.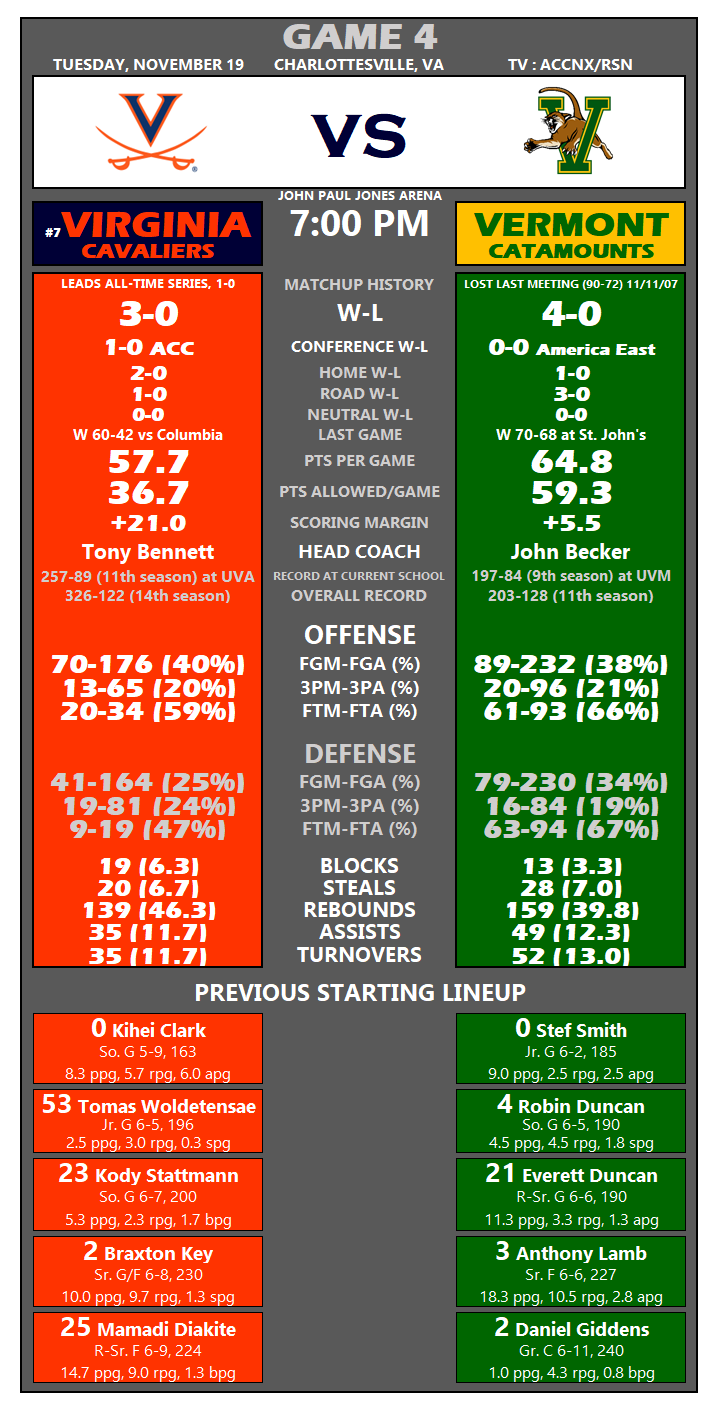 Comments