Tale of the Tape: Virginia vs. Boston College
With three of its next four games away from home, the Virginia men's basketball team looks to extend the nation's longest road winning streak and keep the momentum rolling at Boston College tonight. Tip time is scheduled for 9 p.m. and the game will be broadcast on ESPNU.
UVA's Ty Jerome said the team will definitely carry the same confidence into Chestnut Hill Wednesday as every other venue the rest of the way.
"I think we know how hard it is to win games on the road, especially in hostile environments," he said, "and I think every place we'll go will be a hostile environment. But we'll prepare the same way that we always do and keep our poise."
The Cavaliers (13-0) come into tonight's early ACC contest ranked fourth in the AP Poll and No. 1 in the USA Today Coaches' Poll. UVA is currently 2nd nationally in the KenPom ratings (3rd AdjD, 6th AdjO) and 1st in the latest NET rankings.
After posting wins at former conference foes Maryland and South Carolina, the Wahoo win streak in true road games is up to 11, which is by far tops in Division I — Michigan is a distant 2nd with 5 straight, followed by Ohio State with 4 and 13 schools with 3.
In addition, the 'Hoos have won 10 straight ACC road games dating back to the 2016-17 season, good for the fifth-longest such stretch in conference history. A win against BC Wednesday would tie the 1983-85 North Carolina streak of 11 for fourth.
Virginia's Kyle Guy continued his hot shooting in the win over Florida State over the weekend — a game-high 21 points on 7-of-11 shooting with five 3-pointers — and earned ACC Player of the Week honors as a result.
UVA is an 11 1/2-point favorite at Conte Forum tonight against the 9-4 Eagles, who hung with Virginia Tech for a half last week in their ACC opener before falling by 11 in Blacksburg.
BC is rated 107th overall by KenPom (110th AdjO, 113th AdjD) and 131st in the NET rankings. The Eagles' best win was a 12-point triumph against Minnesota in the ACC/Big Ten Challenge, with home losses to IUPUI (76-69) and Providence (100-95) along the way.
Against the Hokies, the Eagles were without the services of freshman guard Wynston Tabbs, the team's second-leading scorer (14.6 ppg) who only played nine minutes the game before, a one-point overtime home loss to Hartford. Tabbs is day-to-day and will be a game-time decision as coach Jim Christian reported Monday that X-rays were negative on his injured leg.
BC is led by ironman junior guard Ky Bowman, who puts up 20.4 points, 7.8 rebounds and 3.6 assists per game. He has scored in double figures in all 13 contests this season, and poured in 44 (to go with 10 boards) in 45 minutes against Hartford, which was one of seven games this season that he played every minute (including three straight and four of the last five). Bowman leads the country in average minutes played with 38.6 per outing.
Senior wing Jordan Chatman and 6-foot-11 junior forward Nik Popovic each average right around 13 points a game, while 6-8 sophomore forward Steffon Mitchell leads the team with 8.5 rebounds a game.
Last year when the teams met in the conference opener at JPJ, Jerome registered a career high with 31 points (including 6 for 9 from downtown) as the Cavaliers hung on for a one-point win. Boston College was led that day by Jerome Robinson, who scored 29, but has since graduated. The 'Hoos blanketed Bowman (who was also then leading the team in scoring), holding him to just five points on 2-for-10 shooting — look for more of the same this evening, especially if Tabbs can't go.
Virginia has won five straight and seven of the last eight against the Eagles. The 'Hoos lead the nation in fewest turnovers (114), scoring defense (51.5 ppg), turnovers per game (8.8) and are tied with Michigan and Houston, the only two other remaining undefeated teams, in winning percentage.
UVA also tops the ACC in assist-to-turnover ratio (2nd nationally at 1.69), free-throw percentage (4th nationally at 78.9 percent) and 3-point FG defense (2nd nationally, 24.8 percent).
On the horizon for the Cavaliers is a Saturday noon matchup at Clemson, followed by a pair of contests against bitter rivals currently ranked in the top 10 next week. Buckle up, Wahoo Nation, it's going to be another exciting ride and we're just getting started.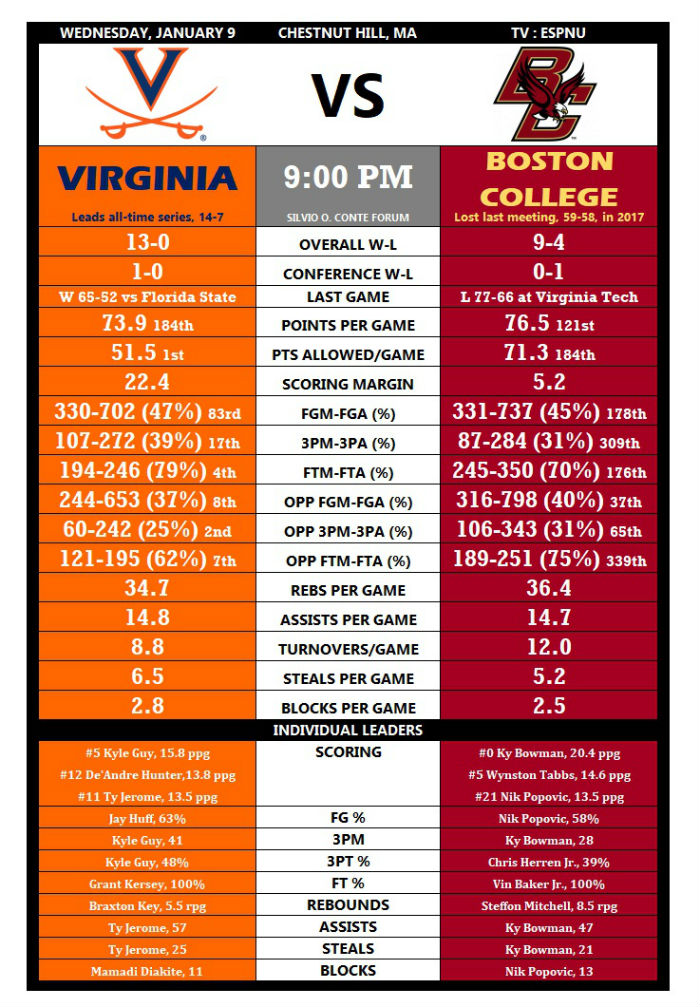 Comments