Teel inks $4M deal with Red Sox, homers in Fenway BP
By Jerry Ratcliffe
Virginia's Kyle Teel made himself right at home in Fenway Park on Friday after signing a $4-million contract as the Red Sox' first pick in the Major League Baseball Draft.
Teel took part in batting practice and slammed a home run into right field, just after shaking hands with Boston catching coach and longtime Red Sox catcher Jason Veritek. Not a bad way to launch a professional career.
The 21-year-old ACC Player of the Year was drafted as the No. 14 pick of the first round, noted as the best catcher in the draft and a hitting monster. Teel hit .407 for Brian O'Connor's College World Series team.
While Teel was living things up at Fenway, the ancient ballyard is a distant dream for the moment. He has now been assigned to the Florida Complex League, from where he will likely move to High-A Greenville.
"It felt like a lot of hard work finally coming together," Teel told media after batting practice. "That's always been my dream, to be a professional baseball player. Signing the contract is something I've dreamed about since I was 10 years old."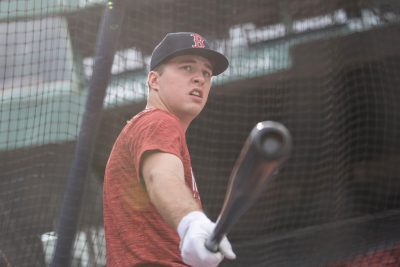 Teel's agent, Scott Boras, told media that Teel's swing fits perfectly with the gaps in the Fenway outfield, and that the Virginia star's contact ability is reminiscent of Varitek's. Boras said that having Varitek as a coach should accelerate Teel's development in the organization.
"We had a few options," Boras said. "We're happy that Boston kind of saw this the way we saw it. It's not often you can get a guy at that position that has so much knowledge, championship knowledge [as Varitek]."
The Red Sox have only two catchers in their farm system that rank in the organization's top 30 prospects, Nathan Hickey (No. 15 at 23 years old) and Brooks Brannon (No. 20 at 19 years old).
"It's all about just getting to work and putting your head down every day and doing the best you can," Teel said.
To read about several other members of Virginia's CWS team that have signed professional contracts, check out related articles in our baseball archives on this site.