Teel selected to USA Baseball Collegiate National Team for second-straight summer
Courtesy UVA Media Relations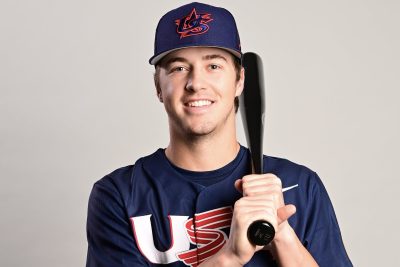 Virginia catcher Kyle Teel was selected to the 26-man USA Baseball Collegiate National Team that will travel to the Netherlands to compete at Honkbalweek Haarlem this weekend. Teel is representing the U.S. for the second-straight summer and is the second Cavalier ever (Sean Doolittle – 2005-06) to play two summers for Team USA.
The final squad was named after completing the 2022 Collegiate National Team Training Camp, a five-game intrasquad series played throughout North Carolina. Teel is one of four returning members from last year's team – Dylan Crews (LSU), Jacob Gonzalez (Ole Miss) and Paul Skenes.
Teel played in all five games in the Stars and Stripes series and went 2 for 9 with three runs scored and an RBI. Behind the plate, he cut down two of the five runners attempting steal while sporting a 1.000 fielding percentage and no passed balls.
Team USA will travel to the Netherlands on Wednesday and begin Honkbalweek Haarlem on Saturday. The stars and stripes open against Japan at 8 a.m. ET and follow with games against Italy, Cuba, the Netherlands, and Curacao to complete group play. All games will be streamed online via HonkbalSoftbal.tv.
Cavaliers to Compete on Collegiate National Team (All-Time)
| | | |
| --- | --- | --- |
| Bill Narleski | INF | 1986 |
| Seth Greisinger | P | 1996 |
| Ryan Zimmerman | INF | 2004 |
| Sean Doolittle | INF/P | 2005 |
| | | 2006 |
| Mark Reynolds | INF | 2006 |
| Jacob Thompson | P | 2007 |
| Branden Kline | P | 2011 |
| Matt Thaiss | C | 2015 |
| Jake McCarthy | OF | 2017 |
| Andrew Abbott | LHP | 2019 |
| Nate Savino | LHP | 2021 |
| Matt Wyatt | RHP | 2021 |
| Kyle Teel | C/UTL | 2021 |
| | | 2022 |
2022 Collegiate National Team Roster
(Name; Position; Hometown; School)
Zach Agnos; RHP/INF; Haymarket, Va.; ECU
Maui Ahuna; INF; Hilo, Hawaii
^Enrique Bradfield Jr.; OF; Hialeah, Fla.; Vanderbilt
Ryan Bruno; LHP; Wellington, Fla.; Stanford
*^Dylan Crews; OF; Longwood, Fla.; LSU
Wyatt Crowell; LHP; Cumming, Ga.; Florida State
^Ross Dunn; LHP; Salt Lake City, Utah
Hunter Elliott; LHP; Tupelo, Miss.; Ole Miss
*^Jacob Gonzalez; INF; Glendora, Calif.; Ole Miss
Joseph Gonzalez; RHP; Humacao, P.R.; Auburn
Tanner Hall; RHP; Zachary, La.; Southern Mississippi
Carter Holton; LHP; Savannah, Ga.; Vanderbilt
Jack Hurley; OF; Boalsburg, Pa.; Virginia Tech
Cade Kuehler; RHP; Waxhaw, N.C.; Campbell
Wyatt Langford; OF/C; Trenton, Fla.; Florida
Rhett Lowder; RHP; Albemarle, N.C.; Wake Forest
Teddy McGraw; RHP; Oneota, N.Y.; Wake Forest
Carson Montgomery; RHP; Windermere, Fla.; Florida State
*^Yohandy Morales; INF; Miami, Fla.; Miami
Tre' Morgan; INF; New Orleans, La.; LSU
Jack Payton; C; Orland Park, Ill.; Louisville
*Paul Skenes; RHP/INF; Lake Forest, Calif.
Brayden Taylor; INF; West Jordan, Utah; TCU
*Kyle Teel; C/OF; Mahwah, N.J.; Virginia
Hurston Waldrep; RHP; Thomasville, Ga.
Jacob Wilson; INF; Thousand Oaks, Calif.; Grand Canyon
*denotes national team alumnus
^denotes National Team Development Program (NTDP) participant