Terry Holland: brilliant tactician, family man, practical joker; there will never be another 'Big Whistle'
By Jerry Ratcliffe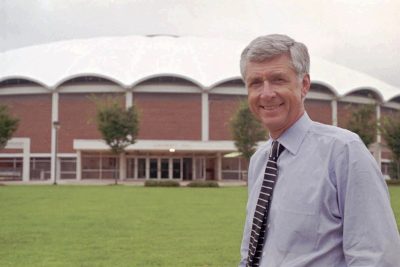 Somewhere deep in his soul, at a time when not a lot of things in the world made sense to Terry Holland, he knew it was time to let go of what led him to greatness. It was time to let go of basketball.
During the 2021-22 basketball season, his loyal wife Ann would arrive late at John Paul Jones Arena, go through the back door so as not to create a stir, and with Terry on her arm, take their seats, front row, end zone, to where they would watch Virginia play. The couple would normally leave a little early, again, not to create a stir.
This time, the last game of the season in March of '22, Terry, who was afflicted with Alzheimer's, stopped on his way out and turned to look at the court one last time. Holland, who had been Virginia's all-time winningest coach at the end of his career years earlier, then looked at Ann and spoke.
"Terry said, 'That will be the last game that I'll attend,'" Ann remembered. She tried not to make a big deal of the moment, but broke out in tears on the way back to the car.
It was indeed the last game the "Big Whistle" would ever attend at the arena he pushed to be built after he returned to Virginia as athletic director in 1994, four years after he retired as the Cavaliers' basketball coach. He spent the final year of his life with Ann at their retirement home in Charlottesville before the disease took him from us this past February.
This afternoon, the entire Virginia basketball family will come from every nook and cranny of the nation to celebrate Holland's life at JPJ. Holland's coaching tree: Jim Larrañaga, Rick Carlisle, Dave Odom, Jeff Jones, Craig Littlepage, Seth Greenberg, Anthony Solomon, and others will be on hand, along with Kentucky coach John Calipari. The players, from All-World Ralph Sampson to former walk-ons, will be there to share the Holland story (doors open at 1 p.m., free and open to the public, with Grammy Award-winning Bruce Hornsby performing at 1:30, and the program starting at 2 p.m.).
Holland came from humble beginnings in Eastern North Carolina, a small town named Clinton, where he met Ann, the love of his life, in high school. A brilliant student with a photographic memory and a solid jump shot, it was Terry's intention to go to Wake Forest to play basketball and further his education.
Wiley Davidson coach Lefty Driesell had other plans, showing up on prom night of Holland's senior year, tossing the keys to a brand new fancy car to Terry, telling him to go pick up Ann and have a blast. Meanwhile, Driesell waited at the Holland's home and convinced Terry's mother that Davidson would be the best place for him to spend the next four years. In fact, Mrs. Holland signed all the papers for her son.
Thus began a life-long association with the famed Left Hander.
"He learnt me everything I know," Holland would later crack about Driesell.
Holland not only played for Lefty, but later coached under him and replaced Driesell as Davidson's coach when Lefty took the Maryland job. While as a player, Holland set the NCAA record for field-goal percentage, a record that stood for years
He wasn't your average student-athlete. Ann recalled sitting with Terry once at college. Terry was reading the comics page in the Sunday paper and with his photographic memory, memorized the entire page, turned the page toward Ann and started reciting every word on the page from top to bottom. Same thing with textbooks. Mr. Holland, can you tell us what's on page 47, and without looking, Holland, who had previously viewed the page, had it memorized.
Holland continued Driesell's winning ways at tiny Davidson before Gene Corrigan, UVA's athletic director, came calling in 1974. Corrigan was so impressed with the young coach that he offered him the job on the spot and Holland took it, not even asking about salary.
Within two years, Holland unbelievably led the Cavaliers over three nationally-ranked rivals in three nights to claim the school's first ACC Tournament championship. Holland put the Wahoos on the college basketball map and kept them there over a brilliant 16-year career that included two Final Fours, numerous NCAA appearances and an NIT championship.
Along the way, he recruited the nation's most sought-after player in Sampson, who went on to become a three-time national player of the year, and helped put UVA in the nation's No. 1 spot in the polls for much of his career.
Holland didn't use UVA as a stepping stone for a better job, but battled ACC titans during the golden age of college basketball and retired in 1990 as the school's all-time winningest coach.
He did things the right way, earning a nickname as the "Virginia Gentleman." That doesn't mean he wasn't a fierce competitor.
Once during the early '80s, this young reporter learned first-hand just how competitive Holland could be, when the coach was upset over something I had written.
"You need to understand that we're in a war with North Carolina," Holland shouted over the phone.
It was abundantly clear that there was no love lost between the Cavaliers and Tar Heels. It was evident far beyond the court during intense, heated battles, Holland and Dean Smith going at it, a competition that carried over to recruiting grounds.
I gained a greater appreciation for what Holland described as war when I traveled to Chapel Hill one morning to interview Sam Perkins in advance of an upcoming UVA-UNC clash. As I arrived early in the parking lot, I watched some Carolina assistant coaches high-fiving and celebrating as one of them shouted to the others, "We just got another Virginia boy," as they clamored over the commitment of Danville seven-footer Warren Martin.
Probably didn't help the border war that the Holland's had named their new puppy "Dean," although the story wasn't exactly told in Sports Illustrated in the proper context, the punchline was correct.
The Holland's second daughter had just arrived and so a lot of attention was being directed to the baby. Next-door neighbors decided to surprise the oldest daughter with a new puppy, and so when Terry and Ann asked what the dog's name would be, Ann-Michael decided on Dean, which was the neighbor's name.
The name was slipped to a sportswriter, who asked if the dog was named after Dean Smith and Holland replied no, but that the dog did whine all the time.
That didn't go over too well in Chapel Hill, fueling the rivalry. Smith's wife took it personally and was always "cool" to the Holland's from that time onward.
Dozens of stories will likely be told about Holland, who had no ego, hated talking about himself or his accomplishments, performed countless good deeds in helping people out who needed a hand, or just showing them he cared, and no one even knew but those people.
Not many knew he was a practical joker or that he was superstitious, which he would often deny, even though he would make his staff chew a certain brand of chewing gum if they were on a winning streak, or wear certain ties for the same reason.
Once, assistant Littlepage accidentally cut a patch of hair out of his scalp that looked somewhat bizarre, but Virginia won that night and guess what? Littlepage had to keep that look until the Cavaliers lost again.
Holland, who was 6-foot-7, kept an oversized gorilla suit stored in his office closet at University Hall and would occasionally break it out to scare the daylights out of unsuspecting folk walking the halls in the building or an unforwarned rookie player.
When it appeared that second-year football coach George Welsh might enjoy a decent season, Terry Holland decided to prank Welsh as the success grew.
After the football team's first win of the season, a late-night visitor rang the doorbell at the Welsh homestead, with George and his wife Sandra answering the door. No one was in sight, but left there on the stoop was a small pumpkin.
With each mounting win that season, the phantom visitor would ring again, each time leaving behind a pumpkin that graduated in size.
Finally, after a sixth win assured a winning season, the doorbell rang again that evening. Determined to reveal the mystery, the Welsh's waited in anticipation, opened the door only to find Holland dressed like the "Great Pumpkin."
That is the Terry Holland who will be remembered today by many of those whose lives he touched.
Greenberg, who was a young graduate assistant taken under Holland's wing in the early '80s, will readily tell everyone this afternoon the same story he has told this writer on many occasions — that he never made a major decision in his life, including getting married to his wonderful wife, until after conferring with Terry Holland.
Holland touched so many in this community and beyond, changed Virginia basketball forever, gave us a lifetime of memories, was a brilliant basketball tactician and a loving husband and father.
Rest in peace, Big Whistle. There will never be another like you.