The Streak Is Over: Virginia Defeats The Hokies, 39-30
The streak is over. Bryce Perkins rushed for a pair of long first-quarter touchdown runs, Brian Delaney kicked a go-ahead field goal late in the fourth quarter, and the Virginia defense put an emphatic exclamation point on the Cavaliers' first ACC Coastal Division championship in the closing minutes of a 39-30 victory over 23rd-ranked Virginia Tech Saturday at Scott Stadium.
UVA fans had waited 15 long years to celebrate a win over the Hokies (8-4, 5-3 ACC), and did so in style, rushing the field as their team moved to 9-3 on the season and wrapped up their first trip to the ACC Championship game. The 'Hoos will face No. 3 Clemson in the title game next Saturday in Charlotte.
Perkins finished his final game in Charlottesville with a heroic bang that will forever live in Wahoo memory, totaling 475 yards of total offense and three touchdowns. The Cavaliers forced four Tech turnovers and ended the Hokies' winning streak in a back-and-forth, nail-biting finish, rallying to outscore the visitors by 16 points in the fourth quarter.

Individual Statistics
RUSHING: VT — Deshawn McClease 16-86; Hendon Hooker 21-44; Tre Turner 3-25; Keshawn King 3-11; Dalton Keene 2-6. UVA — Bryce Perkins 19-164; Wayne Taulapapa 6-17.
PASSING: VT — Hendon Hooker 18-30-2-311. UVA — Bryce Perkins 20-33-1-311.
RECEIVING: VT — Tre Turner 7-134; Damon Hazelton 7-118; Tayvion Robinson 3-45; Dalton Keene 1-14. UVA — Hasise Dubois 4-139; Joe Reed 5-66; Terrell Jana 4-56; Billy Kemp IV 3-32; Tanner Cowley 3-9; Tavares Kelly Jr. 1-9.
Attendance — 52,619.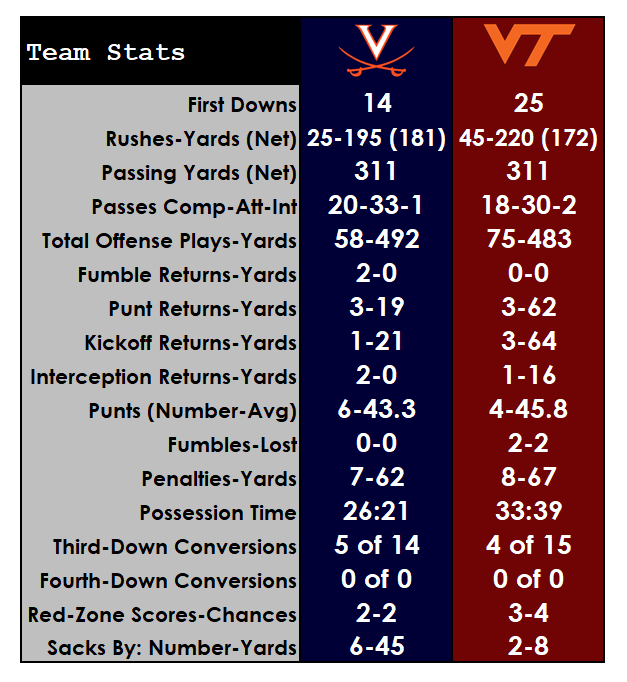 First Quarter
Virginia received the opening kickoff and Perkins picked up big chunks of yardage on consecutive third-and-long situations on the opening series (gains of 19 yards and 16 yards, respectively) before a 39-yard touchdown scamper to end a nine-quarter string of scoreless football (32 straight possessions) by VT opponents. Brian Delaney missed the point-after attempt, but the 'Hoos grabbed an early advantage with  12:14 on the clock. Wahoos 6, Hokies 0.
Noah Taylor set the tone for the UVA defense with a 7-yard sack of QB Hendon Hooker on Tech's first play from scrimmage. Senior defensive tackle Eli Hanback then came up with a huge stop of Hooker on third down, and the Hokies went three-and-out and punted it away.
Perkins was drilled on third-and-two from around midfield on the ensuing possession, which led to a VT interception. A holding call on Nick Grant gave the Hokies a first-and-goal at the UVA 8-yard line, but Grant quickly redeemed himself three plays later, stopping Tech's Tre Turner short on a third-down, end-around play and forcing a 21-yard Brian Johnson field goal with 3:26 left in the opening quarter. Wahoos 6, Hokies 3.
It took just three plays and 54 seconds for an answer, as Perkins hustled a career-high 67 yards to the house on a third-and-two, out-running the entire Hokie defense to give the Cavaliers a 10-point lead with 2:32 remaining, and Scott Stadium was rocking. Wahoos 13,Hokies 3.
Second Quarter
Jordan Mack delivered a hit to Turner after he secured what would've been a first-down grab, jarring the ball loose and into the hands of Mandy Alonso on the second play of the period. On the next play, Perkins tossed a 32-yard play-action pass to Hasise Dubois with some extracurricular activity on the UVA sideline that led to offsetting penalties, but the 'Hoos were back in striking distance down inside Tech's 30-yard line. Dubois was whistled for pass interference a few plays later, taking the Cavaliers out of field-goal range. UVA's punt resulted in a touchback, but the Hokies went three-and-out again and had to boot it right back, as Grant registered another third-down stop to give his team favorable starting field position at the UVA 39, but the Hokie defense held, and Tayvion Robinson's 28-yard punt return to the Tech 47-yard line gave the visitors a little jolt of energy with 9:10 to play in the half.
Junior linebacker Charles Snowden busted through and sacked Hooker for an 11-yard loss to swing the momentum back to the Cavaliers, as the Hokies punted it away for the third time, but Virginia couldn't get anything going either, and Robinson had another solid punt return, this time fielding it off of a bounce, and sprinted into Wahoo territory, inside the 30. It was the game's fifth straight series that ended in a punt.
A UVA facemask put the Hokies into the red zone, but a Tech false start on the ensuing first-and-goal play wiped out an apparent touchdown run and pushed them back to the 11-yard line with time winding down under three minutes. The 'Hoos registered back-to-back stops on first and second down, setting up a third-and-goal from the 8. Joey Blount then picked off a Hooker pass in the back of the end zone, but stepped on the line as was determined by a booth review to the dismay of the Cavalier faithful, and the Hokies settled for a 26-yard Johnson field goal with 2:06 to go. Wahoos 13, Hokies 6.
Virginia's offense stalled for a fourth consecutive time, and the Hokies got it back with 1:40 remaining from their own 20, but went into the locker room down a touchdown, as Taylor ended the half with an interception on a Hooker heave — his first thrown pick of the year — as the clock hit triple zeroes. Perkins had nine carries for 138 yards — an average of 15.3 yards per carry — in the opening half, as the 'Hoos out-gained their rivals, 211-149.
Third Quarter
The Hokies got 30 yards on the first play of the second half, as Hooker found Damon Hazelton and just like that VT was quickly on the move. Four plays later, Hooker scampered 34 yards for the touchdown, and Johnson's extra point tied the contest with 12:52 on the scoreboard. Wahoos 13, Hokies 13.
After a UVA three-and-out, Hazelton initially appeared to nab a catch on the ensuing third-and-seven conversion that would've given the Hokies a first down at midfield, but the play was reviewed and overturned, as the ball hit the turf, and the home crowd was delighted.
Virginia again failed to move the chains, putting up negative-two yards on the first two possessions of the half, and Nash Griffin's fifth straight punt only went for 34 yards as the Hokies were right back onto Virginia's half of the field midway through the quarter. Robinson picked up 16 yards to set up first-and-goal, and then RB Deshawn McClease punched it in on the following snap to give the Tech its first lead of the day with 4:42 left in the period. Hokies 20, Wahoos 13.
Perkins woke up the Wahoo fans with a 42-yard toss to fellow senior Joe Reed, who was wide open to get his team across the 50 to the Tech 35. After another first-down delivery to Reed, Billy Kemp IV got into the end zone on third-and-10 from the 25, catching Perkins' toss and making a sweet inside spin, and the game was knotted back up with 2:24 showing. Wahoos 20, Hokies 20.
Hooker responded in a hurry, connecting with Turner for a 61-yard bomb to put Tech back in front with 48 ticks left to cap a 4-play, 75-yard drive that took just 1:36. Hokies 27, Wahoos 20.
Perkins wasted no time when he got it back, hitting Terell Jana for 37 yards to the VT 38-yard line, then hooked up with Dubois down the sideline for 30 more on the final play of the period to put the 'Hoos back in the red zone. The play was reviewed and upheld during the timeout between quarters, and Virginia had a first-and-goal to start the final stanza.
Fourth Quarter
Wayne Taulapapa scored his 12th touchdown of the season on the third play of the quarter on a 2-yard run to tie it back up with 13:30 to play. Wahoos 27, Hokies 27.
Keshawn King returned the ensuing kick 43 yards and Tech was threatening again, but Matt Gahm and the Wahoo defense picked up a huge stop on third down and Johnson booted home a 47-yard field goal to put the visitors back in front with 10:58 on the clock. Hokies 30, Wahoos 27.
Perkins found Dubois for 67 yards down to the Hokies' 8-yard line, dragging defenders with him along the way, to set the 'Hoos up with another first-and-goal opportunity. A questionable illegal-shift call on Dubois backed the Cavaliers up just inside the 10, Perkins got a few yards back on the following snap, but couldn't find anyone on third down from the 7 and Delaney came on for a 25-yard field goal to tie it again with 7:35 to go. Wahoos 30, Hokies 30.
It looked like the Hokies coughed up the ball on the ensuing kickoff, but Tech kept possession and McClease got a big gain of 21 yards into Virginia turf at the 44-yard line as the game approached the six-minute mark. After a couple of false starts, Tech faced a third-and-19 when Taylor picked Hooker off for the second time on the day, the second career INT for both players, with 4:47 remaining, and the Scott Stadium crowd could start to feel it.
Perkins connected with Reed and Dubois to get the 'Hoos across midfield as the clock went under four minutes. The senior signal-caller then spun out of a rough spot and hustled for another first down inside the 40.
With 2:20 to go, Olusegun Oluwatimi was called for holding, pushing the offense back eight yards. UVA called its first timeout with 1:35 left, staring at a third-and-16 from the VT 41-yard line. Perkins got it to Tavares Kelly Jr. for nine yards to set up Delaney's go-ahead, 48-yard field goal to put the 'Hoos on top to stay with 1:23 remaining. Wahoos 33, Hokies 30.
McClease received the ensuing kickoff with a knee down, and the Hokies started their final drive from their own 18, their worst starting spot of the day. Hooker was sacked by Zane Zandier on first down for a two-yard loss with 1:12 to go, then Gahm buried Hooker into the ground for another sack, this time for nine more yards, and Tech had a third-and-21 from their own 7.
As Hooker dropped back near his own goal line, Mack applied the pressure, Alonso knocked it loose in the end zone, and Hanback pounced on it for six. With 55 seconds left, the celebration began as the Cavaliers didn't even attempt an extra point. Wahoos 39, Hokies 30.
No description required pic.twitter.com/X59uBcMjmX

— Jerry Ratcliffe (@JerryRatcliffe) November 29, 2019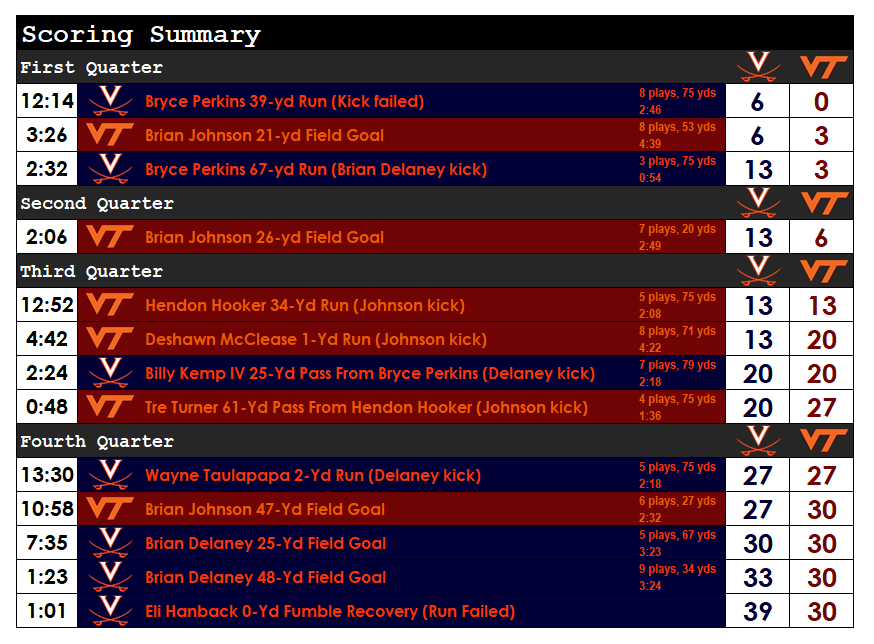 Courtesy UVA Media Relations:
Team Notes

UVA finished 9-3 in the regular season, marking the eighth time the Cavaliers have had nine or more wins in the regular season (1985, 1989, 1994, 1995, 1998, 2002, 2007, 2019). 

Virginia is the 2019 ACC Coastal Division Champions, the first time in program history

UVA is the first ACC Coastal team to be in first place from day one of the season and finish as division champions since Virginia Tech in 2005. 

UVA is now the seventh different team to be Coastal Champions in seven years.

UVA scored on its first possession of the game for the seventh time this season. The touchdown snapped nine-straight quarters the Virginia Tech defense had held its opponents scoreless.
Player Notes

QB Bryce Perkins finished with 311 passing yards and 164 rushing yards. It is the third time this season and fifth time in his career he has accomplished this. His five games of 200 passing and 100 rushing yards is tied for the most in the nation since the start of the 2018 season. Caleb Evans of ULM also has five. Perkins has five of UVA's six all-time such games by a quarterback. 

Perkins finished with 164 rushing yards, a career high and extended his program record for career 100-yard rushing games by a quarterback to seven.

Perkins added two rushing touchdowns to extend his season mark to 11, passing Bob Davis (10, 1964) and Shawn Moore (10, 1988) for No. 2 all-time in UVA history with single-season rushing touchdowns by a quarterback.

Perkins 164 rushing yards ranks No. 3 all-time on UVA's single-game rushing list by a quarterback.

Perkins notched a career-long 67-yard rush in the first quarter for a touchdown. 

Perkins' 164 rushing yards, long rush of 67 yards and two rushing touchdowns are all season highs allowed by the Hokies in 2019.

With 21 kick return yards, WR Joe Reed became the 10th player in FBS history to pass 3,000 career kick return yards. He is the only player in FBS history to have 3,000+ yards and a career return average of 28+ yards.

WR Billy Kemp IV notched his first career touchdown reception in the third quarter to tie the game, 20-20. The reception came on a 25-yard scoring strike from Perkins.

OLB Noah Taylor recorded the first interception of his career on the final play of the first half. 

TB Wayne Taulapapa rushed for one touchdown, extending his season total to 13. It is the most rushing touchdowns by a UVA running back since Keith Payne notched 14 in 2010.

WR Hasise Dubois finished with 139 receiving yards, marking the second 100-yard receiving game of his season (and career). 

Dubois notched a career-long 67-yard reception in the fourth quarter.
Up Next
Virginia (9-3, 6-2 ACC) will go up against Atlantic Division champion Clemson for the ACC Championship Saturday, Dec. 7, at 7:30 p.m. at Bank of America Stadium in Charlotte.

Comments