Transfer WR Washington is a playmaker in UVA offense
By Jerry Ratcliffe
When Malik Washington decided to leave Northwestern, he wanted to go to a program where he could make an impact. In only four games, the graduate wide receiver has become a true difference-maker for Virginia.
The grad transfer woke up Sunday tied for seventh in the entire nation in receiving yards (459) and No. 1 in the ACC in yards receiving per game (114.8). In Friday night's last-second loss to NC State, Washington posted career highs in receptions (10), receiving yards (170) and touchdowns (2).
He has become one of the favorite targets for freshman quarterback Anthony Colandrea's passes, and in such a short time is already carving his name among the top receivers in Wahoo history.
Consider that he's only one of a dozen receivers to ever wear a Virginia uniform to post 170 yards or more in a game, and became only the third Cavalier receiver to have three-consecutive, 100-yard receiving games in a season, joining Germane Crowell (1997) and Dontayvion Wicks (2021). That's quite a change considering Washington never had a 100-yard game during his 40-game Northwestern career.
"When I talked to Coach (Tony) Elliott and said I was transferring, I said I'm coming [to UVA] to make an impact," Washington said after Friday night's game. 'I'm coming to this place to be a game-changer, and so whether that's being the best blocker I can be, or going for 100 yards, every game being a playmaker, whatever I need to do."
Washington has been a major playmaker for the Cavaliers' offense, having scored three touchdowns and registering numerous first downs across his 28 catches.
Not only has he made plays, he has added to the education of Colandrea, who is getting his first looks at college football as a true freshman. Colandrea said that Washington has taught him a lot about opposing defenses.
In Friday's game, Colandrea made a pump-fake to freeze the defense, then spotted Washington open on a screen pass that went for 42 yards down to NC State's 22 early in the second quarter. He then reconnected with his quarterback six plays later when a scrambling Colandrea found Washington open at the back of the end zone for Virginia's first touchdown of the game.
The pair later hooked up for a 59-yard pass play to the Wolfpack 4-yard line, eventually resulting in a field goal, and Washington caught UVA's final touchdown pass of the game that led to a 21-21 tie with 36 seconds to play.
"I've always thought I was capable of making plays," Washington said. "I pride myself on being a playmaker, and so that's something I've carried throughout my career, whether that was literally high school or college."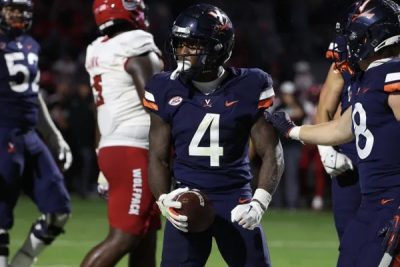 Washington said that he feels Virginia is so close to winning, having lost so many close games, and believes that the incredibly strong leadership in the locker room is keeping the team positive and together.
"We're sticking together no matter what," the receiver said. "We don't care what the outcome is, because that's not what we're playing for. We're playing for the process. We're playing for being with each other every single week and enjoying each and every moment that we have. So, whether we win or lose, we're still a brotherhood."
Elliott has been more than impressed with Washington's penchant for making big plays and how he can take a short pass and convert it into a major-yardage gain. Washington's name is already on more big plays in four games than the entire Virginia team recorded all of last season.
"Malik runs like a running back when he gets the ball in his hands," Elliott commented about Washington's style.
"I mean, I'm like 5-foot-8, [190 pounds], so I've got to run hard," Washington laughed. "I've got to find different ways to create explosive plays, to create success in the passing game, and so whether that's running a guy over, making a move, doing whatever I have to do to put us in a good position to score."
With Washington and fellow wide receiver Malachi Fields (ninth in the ACC in receiving yards per game, 66.8 ypg), Virginia's passing game has been a strong force that should get even better as the season progresses, and gives Cavalier fans reason to have hope.