Ty Jerome Contributes in Different Way in Virginia Win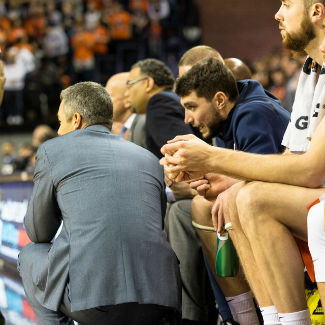 By Jerry Ratcliffe
For the first time in his three-year career at Virginia, point guard Ty Jerome couldn't answer the bell on Saturday, snapping an 88-game playing streak.
The gritty New York junior was bothered by a lingering back injury suffered Tuesday night in Raleigh. In his stead, freshman Kihei Clark filled in admirably with a career-high 37 minutes of court time as No. 3 UVA dismissed visiting Miami, 56-46.
Jerome, dressed in a Cavalier blue warm-up, couldn't play as Tony Bennett wisely chose to give his fearless guard some rest leading up to next week's rematch with Duke. Couldn't play, but that didn't mean he couldn't contribute.
Very active from the bench as Bennett asked him before the game to talk to his teammates throughout the game, to use his eyes and lead when he could. Jerome took that responsibility seriously.
"One time I came to the huddle and Ty had something [drawn out] on the whiteboard," Bennett chuckled. "And I was going to say, 'Not that far.' But actually I trust him that way."
While his coach may not have totally appreciated Jerome's overzealous reach with the whiteboard, the guard's teammates did.
"Ty just communicated to me and others what he saw and was telling me things throughout the game," said Clark, who got his fifth start of the season and his first since the VCU game in early December for the now 20-1 Cavaliers. "He was telling me little things like 'be ready to shoot,' things like that."
The whiteboard thing? Bennett wasn't exaggerating. Clark confirmed that during one time out, Jerome was diagramming what the guards should do when Miami trapped the ball screen, and how to maneuver for a layup.
Of course the Cavaliers missed Jerome's presence on the court. Not only does he average 13 points per game, 5 rebounds, but has averaged more than four assists over the last 11 games. That's not all. Jerome is an experienced leader, fearless, particularly when it comes to launching 3-point bombs.
"Ty did the same thing he always does as a leader," junior backcourt mate Kyle Guy said. "He pulled me and Dre' (Hunter) aside a couple of times, and pulled other players aside, too, and had some one-on-one [discussions]. He's a tremendous leader and he showed why he's a tremendous leader."
Without Jerome, Virginia still appeared a bit disjointed, a little out of sync, just as it did in beating N.C. State on the road earlier in the week. Between that game and Miami, the Cavaliers combined to commit an uncharacteristic 30 turnovers.
"I think we were leading the country before [Saturday], but I don't think we're leading the country anymore," Bennett chuckled.
UVA was indeed leading the country in fewest turnovers per game averaged (8.4 per outing) prior to this week.
"We were down a guard and we don't have a ton of depth in the guard corps, so it required us to play a little bigger today than we have been most of the year," Bennett said.
Miami coach Jim Larranaga said he didn't learn of Virginia's lineup change until 10 minutes before the game but that it was too late to change anything. His game plan coming in was to have his small but quick guards, Chris Lykes and Zach Johnson, challenge Guy and Jerome and make it difficult for them to get into their offense and take shots away from them.
"It wasn't all of a sudden, '[Virginia] doesn't have Jerome, they're no good anymore," Larranaga cracked. "We're going to change our whole game plan. Did [Virginia] run a different offense without Jerome? I don't think so. You have to stick with what you do well."
Clark said he did his best as a stand-in, and that resulted with a decent linescore of 9 points (3-for-5 FG/ 2-3 3pt'ers) six assists, six turnovers (UVA committed 14), and five rebounds.
"I just tried to settle down and be the player that I am," Clark said. "I played OK. I had nine points. The six turnovers is really bad to me and I have to clean that up."
He also was assigned to defend Miami's Lykes, who scored his average of 16 points, in an interesting matchup between diminutive but quicksilver guards. Lykes is 5-foot-7 to Clark's 5-9.
When writers jokingly asked Clark if he used his height advantage in the matchup, the Californian laughed it off.
"A little bit," Clark smiled. "But we're pretty much the same size."
Bennett pointed out that for the past two outings his team has been somewhat unsound, and acknowledged that minus Jerome was part of that against the Hurricanes (now 9-12 overall). Still, he believed that Saturday's performance was a good test for the rest of his team, to have to go the distance without one of its main staples running the show.
"There is a quote (Tony is big on quotes) that says, 'Excellence isn't easy, but stay focused,'" Bennett said. "At times, we wavered in and out of that."
Larranaga, who is also big on quotes, said he always tells his team beforehand that, "when you play Virginia, it's the first team to 50 that wins, and they got to 50 before we did. In fact, we didn't get to 50."
Nothing to be ashamed of there. In the 87 games where Bennett's teams have held opponents to less than 50 points, the Cavaliers are 85-2, including 9-0 this season.
The question is will Jerome play against Duke in the big rematch next Saturday when ESPN GameDay makes it yet another game of the year extravaganza. Well, if it's anything like the first meeting a couple of weeks ago, it will live up to its hype.
"He would have played today if he could play today," Bennett said of his star point guard. "He's improved. He just wasn't able to play today. That is really all I know. I'm thinking that it is going in the right direction. We will see."
Bennett really hopes so. He doesn't need any more help drawing up plays during time outs. There's not enough whiteboards to go around.
Comments