UHall: Debbie Ryan's Coaching Laboratory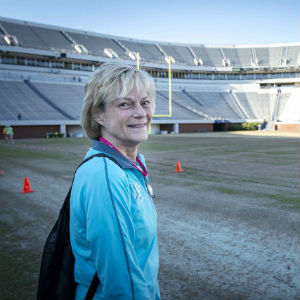 By Jerry Ratcliffe
If Debbie Ryan added up all the hours she spent in University Hall over the length of her career, Lord only knows how many years the total would be.
Ryan, who set the standard for women's basketball at Virginia, coached the Cavaliers from 1977 to 2011, compiling a record of 739 wins, 324 losses, three Final Four appearances, 11 ACC regular season championships, and three ACC Tournament titles. Good enough numbers to earn her inductions to just about every hall of fame related to the game.
When UHall is imploded on Saturday morning, it will be tough for Ryan to watch.
"It has been really hard on me," she said Friday night at a "Last Call for UHall" celebration party thrown by Ralph Sampson in downtown Charlottesville. "It has been a very difficult couple of weeks watching them gut the place. It's funny because I knew this was coming down years and years ago, but it really hit me hard when I knew it was going to happen and seeing the remains of what is there right now is just very difficult."
Her fondest memories are the people, the coaches, the players, and others involved with the program. Those memories are irreplaceable.
Upsetting powerhouse Tennessee and rival-later-turned-friend Pat Summitt, winning big games to get her teams to the Final Four, "Hot Dog Night," were all part of the things she'll always remember.
"Hot Dog Night," a game in which fans could get free admission to watch the Cavaliers slug it out with North Carolina, offered free hot dogs to those attending. UHall was overloaded with fans to the point that the fire marshall told UVA that it had to closely monitor attendance for future women's and men's games. No more sitting in the aisles, standing room only.
"That was the craziest night of all time," Ryan said. "It had about 5,000 more people there than was reported."
But UHall was much more than a madhouse. It was a laboratory for Ryan's education as a basketball coach.
"It is the place I grew up," she said. "It was my second home. I had some incredible years there professionally. Terry Holland was a mentor to me and taught me a lot about basketball. There wasn't a thing the men's coaches wouldn't do for me. They were always there for you. It was a fraternity from the word go."
Ryan's development as a coach wasn't limited to Holland and his staff. She's had this secret over the years about eavesdropping on many of the great visiting coaches that played against Virginia in UHall.
It so happened that her office was underneath the steps that led to the downstairs of UHall, and it also so happened that there was a closet in her office that backed up against the visiting team's locker room.
"I literally used to sit there, or in (soccer coach) Bruce Arena's office, and if we took the panels out, we would hear every speech _ pregame, halftime, postgame _ of all these great coaches through the wall," Ryan said. "Mike Krzyzewski, Dean Smith, Lefty Driesell, Bobby Cremins, Jim Valvano. We heard it all.
"It really taught me a lot about how to handle situations," Ryan said. "Krzyzewski was interesting. Sometimes he would come in and just blast [his team]. Other times, he would come in and he would almost whisper to the point where the players said, 'Coach, we can't hear you,' and he would say, 'Well, then you better listen better.' I would be like, 'wow,' that was so effective. I watched how they changed strategy or stuck with the same thing after halftime. Crazy, huh? Sitting in a closet and listening to halftime."
Nobody knew that Ryan and Arena would sit and listen, gaining invaluable coaching lessons from some of the top coaches in the nation.
"That's how I learned the game, how to coach at team, pregame, halftime, postgame," Ryan said.
One of her favorite moments in UHall came when her team was hammering visiting Louisiana Tech to the point that a ball came flying over to Tech's bench and it's coach Leon Barmore, who was associated with that program for 35 years.
"We were killing them and Leon was so angry, so frustrated, that he took the ball and threw it out of the portal at UHall," Ryan laughed. "Obviously he got kicked out of the game. (Ryan's assistant coach) Frank DiLeo and I were standing there and he said, 'now that was funny.' It was one of the funniest things I've ever seen in basketball."
Ryan will be in attendance for Saturday morning's implosion along with several other former coaches and players from men's and women's basketball.

Comments