UVA 2024 commits Cofie, Sharma sign National Letters of Intent
Courtesy UVA Media Relations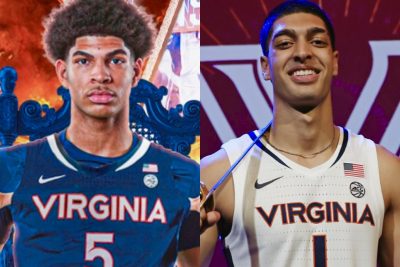 The Virginia men's basketball program has signed two student-athletes to National Letters of Intent, Dean and Markel Families Head Men's Basketball Coach Tony Bennett announced Wednesday.
Jacob Cofie and Ishan Sharma have signed NLIs and will join the Cavaliers for the 2024-25 season.
"We are excited to add Jacob and Ishan to our basketball program," Bennett said. "They are talented, competitive and high character individuals. Jacob and Ishan have outstanding families and value a degree from the University of Virginia."
Cofie (Seattle, Wash.) is a 6-10, 230-pound power forward who averaged 20.9 points, 11 rebounds and 5.2 assists during his junior season at Eastside Catholic School in 2022-23.
He earned First Team All-Metro honors, leading his team to the metro league and district championships. Cofie is ranked No. 61 in the ESPN recruiting rankings.
"Jacob is a strong athlete with positional size," Bennett said. "His ball handling and passing skills along with his ability to post up and face the basket make him a multidimensional offensive threat."
Sharma (Milton, Ontario) is a 6-5, 185-pound skilled guard who served as team captain for Fort Erie International Academy, which was the second ranked team in Canada in 2022-23. He was named to the Nike EYBL Peach Jam All-Breakout Team after shooting 45 percent from 3-point range.
Sharma was a starter on Canada's U16 and U17 national teams, respectively, leading the team in scoring in 2022. Sharma is ranked No. 86 in the 247Sports recruiting rankings.
"Ishan is a complete guard with good size and feel for the game," Bennett said. "His shooting ability and passing stood out to our staff."