UVA AD's reaction to shutting down sports; NCAA grants extra year for spring athletes
By Jerry Ratcliffe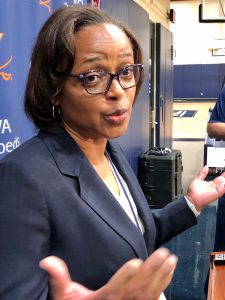 As painful as it was to pause, and in some cases, cancel the remaining seasons of winter and spring sports competitions Thursday, Virginia director of athletics Carla Williams remained proud of her colleagues around the country for protecting their schools, cities, and the nation.
"It was incredibly difficult to tell our coaches and student-athletes that their seasons were done," Williams said Friday. "Especially the winter sports that were preparing for their championships, and the spring sports who were looking forward to competing for their championships.
"As disappointed as everyone was, everyone understands that this is the right thing to do."
Another right thing to do that Williams was highly in favor of — granting an additional year of eligibility to those spring sports athletes — was approved by the NCAA later in the day Friday. In a memo, the NCAA Council Coordination Committee stated: "It is agreed that it will be appropriate to grant relief for the use of a season of competition for student-athletes who have participated in spring sports."
This approval allows for an extra year of eligibility for all spring sports athletes, not just seniors. There is discussion about the eligibility of winter sport athletes due to the cancellation of their postseasons, abruptly ending the careers of hundreds of winter-sport seniors.
"I think everyone should be on the table when it comes to NCAA eligibility," Williams said. "They will never get this opportunity again."
Williams and her executive team had met and discussed possibilities up until time for action on Thursday. Situations changed so rapidly on Thursday that it was challenging to keep up with the sudden edicts in the sports world due to the coronavirus.
"We were prepared for anything," Williams said. "We talked about every possible scenario and there were scenarios we obviously can't anticipate. We were prepared to do what we thought was the best thing for UVA and our community. All of us came to the same conclusion at about the same time."
The conclusion was the cancellation of all winter championships and pausing all spring sports until further notice. While some hold out hope that spring sports will resume at some point, most do not anticipate that happening.
"It's so hard to speculate," Williams said of those possibilities. "Our student-athletes and coaches have been through the roller-coaster already. We're going to monitor it like everyone else and we'll make decisions at the right time."
Virginia football coach Bronco Mendenhall sent a letter to parents of his players informing them of the suspension of spring football practice, something that Williams said paved the way for other coaches to follow suit.
Athletes have been released to go home and continue their education with online classes, although in some cases that's not so easy. UVA has athletes from all over the world, and so Williams said the ones who need to stay in Charlottesville will be taken care of per NCAA guidelines.
"This is difficult when you are a team and have been together in some instances since last June, preparing to compete, and that suddenly goes away," Williams said.
She also said as far as she knew there were no cases of any UVA athletes having been exposed to the virus.
Williams said there would definitely be an economic impact on the college sports world shutting down, but that it's too early to tell just how much revenue might be lost.
Like many, Williams is a parent of two college students. One of her daughters is a law student at Virginia, the other a student at Georgia. She and her husband will drive to Athens this weekend to pick up her daughter and bring her back to Charlottesville, with both daughters taking online classes.
Comments