UVA Beats Football Powerhouses For 4-Star D-Tackle M'Ba
By Jerry Ratcliffe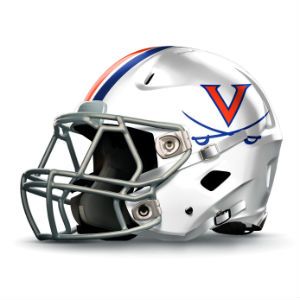 Bronco Mendenhall's football team is beginning to take on a bit of international flair with the addition of the first prospect from France to join Virginia's program.
Four-star defensive tackle Jeffrey M'Ba, who hails from France, announced Saturday that he had committed to UVA's 2019 class and will enroll this summer. The 6-foot-6, 312-pound lineman chose the Cavaliers over Florida and Tennessee from an impressive list of suitors.
Virginia already had two signees from Germany and several from Polynesia.
M'Ba told 247Sports that he loved Virginia's coaches and felt like Charlottesville is a place where he believes he can progress.
"I'm going to UVA because it's one of the teams I've been talking to since I came to the United States," M'Ba told 247.
M'Ba was originally scheduled to move from France and attend St. Francis in Baltimore last football season, but due to enrollment complications, he was going to attend a private academy in Winston-Salem, N.C., but eventually enrolled at St. Thomas More in Oakdale, Conn.
He managed to play for only half a season due to the delay in enrolling at a U.S. school, which originally caused him to reclassify into the 2020 class. Virginia was on him from the very  beginning, and when several other powerhouse programs tried to jump on the bandwagon, they were too late.
Mendenhall's assistant coach, Vic So'oto, never gave up on persuading M'Ba to commit to the class of '19, which he did Saturday. M'Ba had visited UVA several times but visited again on Feb. 9 during the Duke basketball game, where he grew closer to Mendenhall and his staff.
M'Ba had offers from Georgia, Michigan, Michigan State, Penn State, Virginia Tech, Ohio State, Arizona, Maryland, Pitt, and Rutgers.
"This means a lot for me coming from France," M'Ba told 247. "I am finally realizing my dream to play with the best. It is a dream to play in America. For all the Europeans, it is their goal. We fight every day for this."
M'Ba will join highly regarded incoming freshmen defensive linemen Ben Smiley and Jowon Briggs for August training camp.

Comments