UVA Big Men Put On A Show In Blue-White Scrimmage
By Jerry Ratcliffe
Virginia fans got a look at the "new Cavaliers" on Saturday during the Blue-White scrimmage and had to like a lot of what they saw.
The reigning national champions rolled out Tony Bennett's next edition, which includes the likes of true freshmen Justin McKoy, Casey Morsell and Kadin Shedrick, junior-college transfer Tomas Woldetensae, along with Marquette transfer Sam Hauser and freshman walk-on Chase Coleman.
Projected to be a top-15 program even after the mass exodus of De'Andre Hunter, Ty Jerome and Kyle Guy to the NBA and the graduation of underrated Jack Salt, the Cavaliers will likely be front-court heavy this time around with 6-foot-9 senior Mamadi Diakite, 7-1 junior Jay Huff, and 7-foot redshirt freshman Francisco Caffaro.
It is a given that Diakite, who blocked a team-high 63 shots last season, will be a stalwart on defense, but he showed some offense in Saturday's scrimmage, posting 15 points, including three, 3-pointers. He made all three with ease.
After testing the NBA waters and not performing up to expectations in the G-League camp, Diakite worked out for a few NBA teams and was given advice on areas to improve his game.
Huff, along with Diakite as UVA crowd favorites, didn't disappoint in the scrimmage. The versatile big man put up 16 points — none of those from the 3-point range that Wahoo fans are accustomed to seeing from him — in leading the two squads in scoring.
If Huff and Diakite advance their offensive games and can stand their ground on defense, they could spark another impressive season for Virginia.
Everyone wondered what Hauser might bring to the table. He transferred in during the offseason with much fanfare, but without much comment. The former Marquette standout appeared solid on both ends of the floor in the scrimmage, putting up 14 points, including a couple of 3-pointers. He moved fluidly.
Unfortunately for UVA, Hauser will have to sit out this transfer season and won't be eligible until the following 2020-21 season. He would have been a great addition to this year's team.
Caffaro, who played this past summer for Argentina in the FIBA U19 World Cup, contributed four points but could become the next Jack Salt in terms of bone-jarring screens and tough defense, along with rebounding.
Braxton Key wasn't asked to score a lot last season, but will have to step up his offensive game this time around. Playing mostly at the two spot in the scrimmage, Key scored nine points and appeared ready for the challenge. He is also a defensive stopper.
The other returning starter from last season, Kihei Clark, is back at the point. He may have to pick up his offense as well, but scored only six points in the scrimmage.
Someone has to replace the scoring void left behind by the Guy-Jerome-Hunter exit. Key and Clark will be asked to put up more, and some are expecting Woldetensae to contribute. He had big-time scoring numbers at Indian Hills Community College last season where he was a junior-college All-American.
Woldetensae only scored five points in the scrimmage, including an early three. He may have some work to do before he is ready to become a scoring force on the major college level.
Morsell, who looks like a linebacker playing guard, scored six points and appeared comfortable on the floor, along with McKoy, who added three. Both played liked freshmen and will have to build confidence as they go.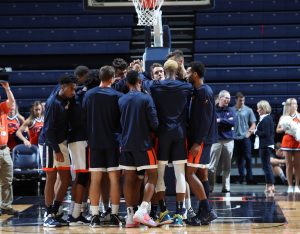 Kody Stattmann, sporting a new haircut, posted 10 points, including a pair of 3's. He also played in the U19 World Cup in the offseason and could be ready to build off that entering his sophomore season.
Clearly the shooting must improve. The two teams combined to hit 37 of 91 shots overall and 8 of 33 from the new extended 3-point line.
While it is near impossible and almost foolish to take too much away from a simple intrasquad scrimmage, it did give Wahoo fans a glimpse at the immediate future.
But as one member of the UVA program said later, "We've got a lot of work to do."
Blue & White Scrimmage ✅
2019-20 🏀 season 🔜
🔶⚔️🔷 #GoHoos pic.twitter.com/0lhbIF60Cw

— Virginia Men's Basketball (@UVAMensHoops) October 12, 2019

Comments