UVA coach Sargent to compete for VSGA Senior Am title on Saturday
By Chris Lang, Virginia State Golf Association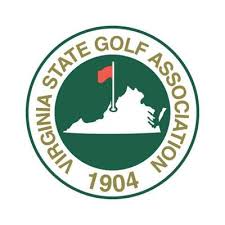 VIENNA — Buck Brittain's camouflage hat is here to stay. A Tazewell resident and member at The Virginian in Bristol, Brittain was a little surprised to hear his friends give him some grief for wearing the camo hat featuring The Virginian's logo at this week's 73rd Virginia State Golf Association Senior Amateur Championship at Westwood Country Club.
After finishing fourth in stroke-play qualifying and reaching Saturday's championship match, though, it seems like the hat has been a bit of a good luck charm.
"I hadn't planned on wearing it," Brittain said. "Then we came over to start match play yesterday, and we had to warm up in the rain, and my hat got soaked. Before we teed off, it had quit, so I said I'd better get another hat. This was the first one I saw, so I grabbed it."
Brittain will square off in Saturday morning's 18-hole final against Charlottesville's Bowen Sargent, the head men's golf coach at the University of Virginia. Speaking of lids, Sargent slipped off to his car after Friday's second semifinal to grab his UVA hat for a photo opportunity. Brand exposure never hurts, right?
"I doubt more than two or three of my players even know I'm playing," Sargent said with a laugh. "Nobody follows the senior stuff, I hate to admit it."
The two finalists couldn't be more different. Brittain is a two-time Senior Open of Virginia champion, a past winner of the VSGA Mid-Amateur and a past finalist in the VSGA Amateur. He's spent two weeks sequestered in northern Virginia, but not because any COVID-mandated quarantine. Brittain participated in last week's VSGA Amateur at nearby River Bend Club in Great Falls and stayed in Fairfax County to play in this event—understandable considering it's nearly a six-hour drive from NoVa back home to far southwest Virginia.
Sargent is making just his second Senior Amateur appearance and reached match play for the first time.
It seems to suit him well. He won four straight, including victories over Phil Mahone and Jon Hurst on Friday to reach the title match. With the pandemic putting college golf on the shelf this fall, Sargent has had some time to concentrate on his game, and it's paid off handsomely.
"Honestly, there's not a whole lot to do," Sargent said. "So that's what I've been doing. I've been working on my golf game. I've taken some lessons for the first time in a really long time. This is the most I've worked at my game in 25 years."
Brittain defeated Centreville's Mike Howell 4 and 3 in the morning before rallying for a 2-up win against Midlothian's Scott Reisenweaver in the semifinals. Brittain had struggled a bit with green speed in the second match, leaving several putts short, but he figured things out by draining a birdie putt on the par-3 15th to tie a match he had trailed from the beginning. He grabbed the lead on 17 with a par after Reisenweaver — who eliminated defending champion Steve Serrao in the morning — found the rough on the par-3 hole with his tee shot and failed to get up and down.
Brittain won 18 with a conceded birdie to advance to the final.
"When we made the turn and I was 2 down, my thought process was make him take you to 18," Brittain said. "I got to even, and you could sort of feel the momentum switch."
Sargent and Mahone play often at Farmington Country Club, so when Sargent was 4 up through 13 holes in their quarterfinal match, he knew he had more work to do. Mahone, a semifinalist last year, won the next two holes to cut the lead in half, but Sargent advanced when both players made par on 17.
Sargent and Hurst — who ousted Keith Decker in the morning 2 and 1 when he jarred a bunker shot on 17 for birdie — played a tight semifinal match. Hurst led 1 up after making a birdie putt on 15, but Sargent tied the match with a two-putt par on 17. Hurst's tee shot hit the front right part of the green, leaving him with a lengthy birdie putt, and he left that attempt well short, leading to a three-putt.
On 18, Hurst hit his drive into a penalty area, though he was able to play out of it. Sargent reached the green on the par 4 in two, and Hurst was only able to punch out to the apron short of the green. Hurst's approach came up well short, and his admirable par attempt slipped just to the right of the hole. Sargent needed only to two-putt for par to win, and he did.
"When I walked up to the green and I saw that he had 50 or 60 yards remaining, I figured a two-putt was probably going to seal the deal," Sargent said. "Mentally, I was taking some deep breaths and just trying to get a feel for the speed. I knew I was going to read it really close."
Brittain was a semifinalist in the Senior Am in 2018 and stroke-play medalist last year, and he'll be looking to join a small list of players who have won both a Senior Amateur and Senior Open — David Partridge and Decker. Though Saturday's final isn't a 36-hole affair like an Amateur final is, Brittain understands that any championship match can be mentally taxing.
"When I played Jake (Mondy in the Amateur final), it felt awesome going through it, the adrenaline and everything," Brittain said. "As soon as it was over, you're just so drained. In the process of it, you don't really think about it."
73rd VSGA Senior Amateur Championship
At Westwood Country Club, Vienna
Par 71, 6,411 yards
Friday's quarterfinal matches
#24 Scott Reisenweaver (Midlothian) def. #1 Steve Serrao (Midlothian), 5 and 3
#4 Buck Brittain (Tazewell) def. #12 Mike Howell (Centreville), 4 and 3
#10 Jon Hurst (Fredericksburg) def. #2 Keith Decker (Martinsville), 2 and 1
#11 Bowen Sargent (Charlottesville) def. #19 Phil Mahone (Charlottesville), 2 and 1
Friday's semifinal matches
#4 Brittain def. #24 Reisenweaver, 2 up
#11 Sargent def. #10 Hurst, 1 up
Saturday's championship match
#4 Brittain vs. #11 Sargent, 8 a.m.
Comments