UVA names Stanford's Heffernan as new offensive line coach
Courtesy UVA Media Relations
Virginia Fralin Family Head Football Coach Tony Elliott announced the addition of Terry Heffernan to the Cavalier coaching staff today as the program's offensive line coach.
Heffernan joins the Virginia program after spending the last two seasons as the offensive line coach at Stanford for head coach David Shaw.
"We are honored and fortunate to have Terry join the Virginia football family," Elliott said. "His reputation proceeds him. He did a great job at Stanford under the leadership of David Shaw. He has a wealth of experience on both the college and NFL levels that he will bring to our program. The other thing you consistently hear about Terry is his character, his ability to teach and how good of a family man he is. We're excited he'll be with us early next week to meet the team and get to work."
"My family and I are very excited for the opportunity to come to Virginia," Heffernan said. "It is not very often that you have the opportunity to join a program, and a University, with such rich tradition both as an institution and athletically. I am very excited to be a part of what Coach Elliott is building and about the possibilities of where the Virginia program can go."
Prior to Stanford, Heffernan spent two years with the Buffalo Bills, helping them to the AFC Championship Game during the 2020 season. In total, he has five years of NFL coaching experience, having spent three seasons (2013-15) with the Detroit Lions.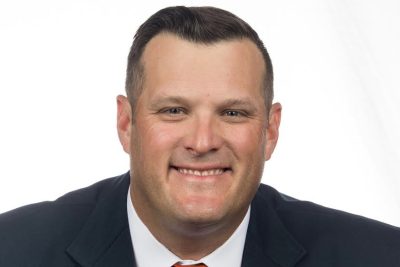 Heffernan also brings 14 years of collegiate coaching experience to UVA. In addition to his time at Stanford, he served as Eastern Kentucky's assistant head coach and offensive line coach in 2016-17, before a promotion to associate head coach and offensive line coach in 2018.
Prior to his time with the NFL's Lions, Heffernan spent six seasons at Wayne State. The first five he was the offensive line coach before moving to offensive coordinator in 2012.
Before his time at Wayne State, he served as a graduate assistant coach at both Louisville (2004-05) and Michigan (2005-07).
Heffernan (HEF-er-NAN) graduated from Dayton with a degree in communications in 2003 and was a four-year football student-athlete.
He and his wife, Jamie, have two sons, Connor and Casey, and a daughter named Regan.