UVA overcomes late shooting slump to down Syracuse, 73-66, as Bennett sets career wins mark
By Scott Ratcliffe
Tony Bennett ascended to the top of the Virginia men's basketball wins list Saturday, as he notched his 327th victory as Cavaliers coach, defeating Syracuse 73-66 in front of the home fans at John Paul Jones Arena.
After getting out to a hot-shooting start and maintaining a sizable advantage for the majority of the game, the Cavaliers (11-3, 3-2 ACC) went cold down the stretch, missing 11-consecutive field-goal attempts over a stretch of nearly nine minutes until a Reece Beekman 3-pointer fell through with 2:44 to play, as UVA led 64-50.
The Orange (10-6, 3-2) trimmed what was a 20-point deficit down to single digits in the waning moments, but Virginia was able to knock down some late free throws and hang on for the win.
Senior guard Armaan Franklin posted a team-high 16 points and freshman Isaac McKneely added 12, as each connected on four 3-pointers to lead the way.
Franklin sank his fourth triple to start the second half to jumpstart a 15-1 Cavalanche out of the halftime break, as the Hoos took their largest lead of the game, 50-27, on back-to-back Ben Vander Plas 3-pointers, and it looked as if it would be a blowout.
To the Orange's credit, they kept fighting and used a 13-0 run of their own to get back within single digits with less than five minutes remaining, but ultimately came up short for the fifth time in seven tries at JPJ since joining the conference.
Bennett passed Terry Holland's career win tally of 326, and did it against Syracuse's Jim Boeheim, who is in his 47th year of coaching and has accumulated over 1,000 victories across his legendary tenure. He addressed the 14,217 in attendance at the conclusion of the game after a video played overhead.
"To be able to do it with my family and my players, the home crowd has been amazing to me in our time for sure," Bennett said of being back at home for the achievement. "And I meant what I said, that is a 'we' award, not a 'me' award all the way."
According to McKneely, Bennett received a Gatorade bath from Jayden Gardner and Francisco Caffaro in the postgame locker room.
"It was just a cool moment," said McKneely. "I'm proud of Coach Bennett, he deserves it and he's one of the best for a reason… I wouldn't want to play for anybody else, for sure."
Added Franklin: "Just being able to be a part of those wins for a great coach like him, and I'm just excited and glad I chose to come here and play for him."
Beekman had 13 points, 7 assists and a pair of steals, while Kihei Clark inched closer to John Crotty's UVA career-assists record, finishing with 11 helpers on the night to go with his 5 points and 2 steals. Clark has racked up 627 assists, as he now needs 57 more to pass Crotty's mark of 683, which has stood since 1991. Clark is also just three points shy of passing Marc Iavaroni (1,244 points) and cracking Virginia's top 30 in career scoring.
Another Cavalier achieved a unique milestone, as Gardner grabbed his 1,000th collegiate rebound to make him the nation's only active player to notch 2,000 points and 1,000 rebounds in his career. Gardner finished with 10 points and 3 boards in the win.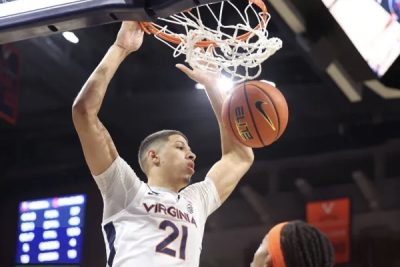 Kadin Shedrick, Vander Plas and Caffaro were able to limit Syracuse's Jesse Edwards to just 4 points on 2-of-5 shooting. Edwards, who came into the game averaging a double-double (13.9 points and 10.9 rebounds), did finish with a game-high 10 rebounds and blocked a shot to go with 3 assists in 26:06 of floor time (Edwards also came in averaging an ACC-best 3.1 blocks per game). He wasn't in foul trouble, only picking up one all day, but he committed 4 turnovers and had a team-low plus-minus of minus-13.
Shedrick once again dealt with foul trouble throughout the evening, picking up four personals, but was one of five Hoos in double figures with 11 points to add to a team-high 7 rebounds and match a game-high with 4 blocks. He certainly held his own against Edwards when the two went toe to toe. Returning from an injury that caused him to miss the Pitt game, Caffaro missed his only shot attempt but grabbed two rebounds and played good defense in his 4 minutes and 52 seconds off the bench.
UVA shot 43 percent from the floor (23 for 53), 46 percent from long range (12 for 26) and 68 percent from the charity stripe (15 for 22), assisting on all but one basket against the 2-3 zone. The Hoos were outrebounded, 37-30, but converted 16 Orange giveaways into 23 points and outscored Syracuse 19-4 in fast-break points.
The Orange, who shot 44 percent overall and 57 percent from 3-point land (8 for 14), were led by Girard's game-high 19 points (5 for 9 from 3). Mintz added 18 points, while two other freshmen from Central Virginia — Maliq Brown and Justin Taylor — combined for 17 points, 10 rebounds and 4 steals off the bench.
"We just made so many mistakes that we really haven't been making," Boeheim said after the game. "We missed two layups… you can't do that against Virginia, or anybody, especially on the road."
With the win, the Cavaliers pulled into a six-way tie for fourth place in the conference standings.
FIRST HALF
Franklin provided an early spark, sinking his first three triples in the first two and a half minutes of the contest to help the Wahoos establish a ton of momentum to set the tone.
"When you like to shoot threes, this is probably one of your favorite weeks coming in," Franklin said with a grin in reference to going up the Syracuse zone, "knowing that you've got good teammates that can work well inside the high post and find you."
Franklin's hot start was contagious, as Beekman and McKneely got into the act and Virginia made 5 of its first 6 from beyond the arc, building a comfortable 19-9 lead along the way.
McKneely matched Franklin's total with his third triple in transition, causing Boeheim to call a timeout with his team trailing 28-16 with 6:11 left until halftime.
The Hoos' lead was stretched to 17 with 3:42 to go in the half after Gardner scored an easy bucket off of a perfectly placed no-look assist by Clark from around half court, capping a 10-2 run.
The Orange didn't allow another bucket from there, closing the half on an 8-0 run over the final 2:29 to pull within nine, 35-26, at the break.
Mr. 3️⃣2️⃣7️⃣

𝐓𝐡𝐞 𝐦𝐨𝐬𝐭 𝐰𝐢𝐧𝐬 𝐢𝐧 𝐩𝐫𝐨𝐠𝐫𝐚𝐦 𝐡𝐢𝐬𝐭𝐨𝐫𝐲!

🔶⚔️🔷#GoHoos pic.twitter.com/HQ3pw9LZvT

— Virginia Men's Basketball (@UVAMensHoops) January 8, 2023
Team Notes
Courtesy UVA Media Relations
Tony Bennett (327 wins) passed Terry Holland (326 wins) as UVA's all-time winningest men's basketball coach
Jayden Gardner collected three rebounds to become the only active player in Division I with 2,000 points and 1,000 rebounds. Gardner has 2,157 points and 1,002 rebounds in 130 career games
Virginia (11-3, 3-2 ACC) has a four-game winning streak vs. Syracuse
UVA started the second half on a 12-0 run
Syracuse had a 12-0 run to cut the UVA lead to 57-47
UVA started 7 of 9 from the field, including 5 of 6 from 3-point range
UVA's 7-0 first half run pushed its lead to 35-18
UVA led 35-26 at halftime
UVA (12 3-pointers) drilled 10 or more 3-pointers for the fourth time in 2022-23
UVA has made 9 or more 3-pointers in its past three games
UVA had 23 points off 16 Syracuse turnovers
Virginia is 152-11 when scoring at least 70 or more points under Bennett
UVA is 8-0 when scoring 70 or more points in 2022-23
UVA had 19 fast break points
Series Notes
UVA is 12-6 all-time against Syracuse, including a 10-2 mark in ACC action, in the series that dates to 1983-84
UVA is 5-2 vs. Syracuse in Charlottesville
UVA has held the Orange to 69 or fewer points in each of the last 14 meetings between the teams
Head coach Tony Bennett is 11-3 all-time against Syracuse
Player Notes
Double Figure Scorers: Armaan Franklin (17), Reece Beekman (13), Isaac McKneely (12), Kadin Shedrick (11), Jayden Gardner (10)
Franklin reached double figures for the 43rd time
Gardner reached double figures for the 111th time
McKneely reached double figures for the second time
McKneely matched a career high with four 3-pointers
Shedrick reached double figures for the 20th time
Shedrick (4 blocks) recorded his 27th career multi-block game
Shedrick matched a career high with three steals
Beekman reached double figures for the 22nd time
Kihei Clark (4,669 minutes) passed Virginia Tech's Malcolm Delaney (4,692 from 2008-11) for seventh on the ACC's career minutes played list
Clark (1,242 points) passed Tom Sheehey (1,241 points from 1984-87) for 31st on the UVA's all-time scoring list
Clark handed out a game-high 11 assists
UP NEXT
Virginia hosts longtime rival North Carolina on Tuesday night at 9 p.m. in the first of two home-and-home matchups. The game will be televised nationally on ESPN. The Tar Heels (11-5, 3-2) have won six of their last seven games entering Tuesday's tilt, but are 0-3 in true road games so far this season.