UVA recruit McKneely's clutch 3-pointers put Poca Dots in West Virginia state championship game
By Jerry Ratcliffe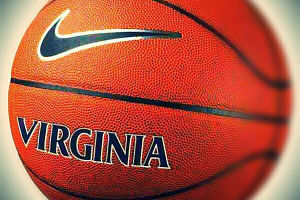 One thing I will always remember from my first conversation with Poca High School coach Allen Osborne in late January, when I was trying to find out more about star basketball recruit Isaac McKneely.
McKneely was coming up on the announcement of his college choice, which ended up being Virginia. The Cavaliers are so lucky the West Virginian chose them over a ton of other terrific programs.
This is the main thing that Osborne told me, that I couldn't forget:
"What I really like about Isaac is that he wants the ball at the end of the game," Osborne said.
When I heard the news about McKneely riding to Poca's rescue Friday morning, I wasn't surprised.
He drilled a 3-pointer with 1.7 seconds left to lift the Dots to a 42-40 win over red-hot Charleston Catholic in the Class AA boys basketball state tournament semifinals at the Charleston Coliseum. The win puts the No. 2 seeded Dots (13-4) into Saturday's 12:30 p.m. title tilt against top-seeded Williamstown.
McKneely, an all-state junior guard for Poca, had to come through big time in the closing minutes to keep the Dots in contention for a shot at the state title.
Here is how Charleston Gazette-Mail writer Rick Ryan described the future Cavalier's late heroics:
"In essence, McKneely had to hit a pair of game-winners to get past the No. 3 seed Irish (12-3), who had won 11 straight coming into the contest and led by 10 points with just over five minutes left in the game.
"The first clutch shot by McKneely came with 22 seconds left, a 3-pointer that gave the Dots a 39-38 advantage. Catholic, however, immediately got a driving basket from its All-Stater, Aiden Satterfield, with seconds to go, putting the Irish back up by one.
"Poca didn't hesitate, either, rushing down the floor and handing the ball back to McKneely, who dribbled to the top of the key, and between two defenders, leaped and launched another 3 that fell, sending the Dots' nearby bench into delirium. The clock stopped at 1.7 seconds after a Catholic timeout."
Charleston's half-court, Hail Mary wasn't close and Poca advanced to the championship.
Afterward, McKneely told Ryan, "we practice these situations all the time in practice. I knew that I needed to go get a bucket. I was hoping to go to the rim, but they came and doubled me and I did a little hop step – I'm not sure what happened there – but it went down, so I guess that's how we drew it up."
McKneely finished with 25 points. It was just another close call for Poca, this time in its favor. Of the Dots four losses this season, two were by buzzer beaters, including one to Notre Dame in four overtimes, and another to Winfield on a three-quarter court shot.
Osborne said he was glad his team won because "we made a last shot for once."
"Shout out to Poca," Catholic's Satterfield said. "Isaac made a great play, hit a tough shot, and so respect for him."
McKneely was somewhat speechless about the game-winning 3-pointer.
"That was a crazy moment. Credit to Catholic. They played a hell of a game and gave us everything we could handle."