UVA tops BYU, 2-0, to advance to Round of 16
By Kip Coons
Special to JerryRatcliffe.com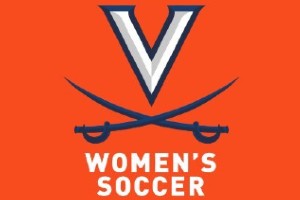 CARY, N.C. – For the 15th time in the last 16 seasons, Virginia will move on to the round of 16 in the NCAA Women's Soccer Championship.
It's not often that the Cavaliers have done so as an underdog, though.
Junior forward Alexa Spaanstra posted her second two-goal game of the tournament, and senior goalkeeper Laurel Ivory turned in a career-best performance as the Cavaliers blanked 12th-seeded Brigham Young 2-0 on Saturday at WakeMed Soccer Park.
UVa (12-4-2) will play unseeded Rice (14-2-1) at 9 p.m. Wednesday in the third round of the NCAA Tournament. The Owls knocked off fifth-seeded West Virginia 1-0 on the strength of a 74th minute penalty kick by Delaney Schultz that was Rice's only shot of the match.
The back-to-back upsets both came on Field No. 2 at WakeMed, which is also the site for Wednesday's meeting.
Ivory claimed only her second shutout of the split 2020-21 season and her 50th career victory in spectacular fashion against a BYU team that ranked third in the nation in scoring (3.13 goals per game). She was credited with a career-high 11 saves but was shortchanged by one in the official stats when two first-half shots by BYU were inexplicably not tallied.
Maybe that's because there were so many. Ivory was tested twice in just the third minute by a flurry of three shots from the Cougars (11-4-1), a sign of things to come. BYU fired six of its 11 first-half shots in the opening six minutes, with Ivory coming up with five saves in the half. Cameron Tucker, who had six shots on the day for BYU, came the closest to getting one past Ivory when she hit the left post from close range in the 21st minute.
"BYU is an incredible team," Ivory said. "They came out really hard. Definitely deserved the 12 seed and maybe should have been higher.
"My whole objective was to keep the ball out of the back of the net, and I'm really thankful that we got a shutout because it's not an easy team to shut out. I don't think they've been shut out many times this year, so we'll take it. Now we can move on. Sweet 16, baby!"
In fact, it was the first time the high-scoring Cougars had been shut out all season.
"Laurel really kept us in the game in the first half," UVa coach Steve Swanson said. "I thought she made some big saves in there.
"We needed to get a little more organized defensively. We changed our shape a couple times in that half. While we were trying to get organized, I think Laurel just kept us in the game. She did a fantastic job. We've always known what she could do, but this was a big stage for her, and she came up big-time."
Having weathered the early storm, the Cavaliers gained the upper hand in the 34th minute.
Freshman defender Samar Guidry brought the ball forward on the left flank and sent a pass into the center for senior midfielder Taryn Torres, who laid off a ball about 35 yards out to Spaanstra on the right flank.
Spaanstra beat her defender one-on-one and fired a diagonal shot into the far left corner of the goal past BYU goalkeeper Cassidy Smith.
The counterattack was UVa's plan going in, according to Spaanstra.
"(BYU) got a lot of numbers forward, and part of our game plan was just trying to get numbers forward on the transition and be smart with our decision-making," Spaanstra explained.
"Once Mara got the ball and she played it over for the first goal, I just tried to do everything I could to get the ball in the back of the net. But I definitely think we adapted well after the first 15 minutes of them pressuring us."
Spaanstra claimed her second brace of the tournament in the 68th minute, when she left-footed a flicked-on header from sophomore forward Diana Ordonez inside the left post for her team-leading 10th goal of the season. Ordonez's assist, which came off a long throw-in by  redshirt senior defender Lizzy Sieracki, gave her a team-high 23 points.
Swanson said Spaanstra is playing at a high level right now.
"She's very versatile, and she's making really good decisions in the game," he said. "She's so good athletically. We can put her in the midfield, where she can call play for us. We can put her up top and (have her) make runs in behind to cause problems on the defensive side. And she's converting her chances now. Full marks to her – she's playing really, really well."
In fact, it was challenging for BYU keep track of Spaanstra, who earned first-team All-ACC honors while helping UVa to a fourth-place finish in the regular season last fall. She started at left forward in UVa's customary 4-3-3 formation but had shifted over to the right side when she got her first goal.
She also played center forward and sometimes occupied a more withdrawn role in the midfield, where she teamed effectively with Torres to build possession.
After the shaky start, UVa battled on even terms with the Cougars in the second half. Although BYU officially outshot the Cavs 19-11, the difference was only 10-7 after halftime, and BYU's edge in corner kicks was only 5-4. Smith registered two saves in goal for BYU.
"This was a really good BYU team that we played," Swanson said. "They hadn't been shut out all year. Our defense deserves a lot of credit, and I think our team effort was great today.
"I thought we did the things that we needed to do to win the game, and we converted our chances. At this point, and in this kind of tournament, that's the way it is. … I thought we had some good moments, but there were other moments when we just had to weather the storm, and we did a good job of that."
Comments