UVA Women Erase 19-Point Deficit Against Rival Virginia Tech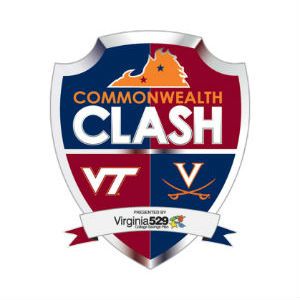 By Kipperly Tidball
It was an electric atmosphere at John Paul Jones Arena Thursday night as the UVA women's basketball team rallied back from 19 points in the third quarter to win against in-state and ACC rival Virginia Tech, 62-58.
This matchup marked the Cavaliers' fifth consecutive winning meet-up against the Hokies and their 23rd win in the last 25 meetings.
Each team was hoping to capture their first ACC conference win. Tech went 13-0 in non-conference games, but, like Virginia, began ACC play with an 0-2 record.  
Tech controlled the opening jump ball of the game and Hokie senior guard Taylor Emory immediately made a jump shot in the paint, quickly followed by a successful 3-pointer after a Virginia turnover. The Cavaliers would answer back one minute into the game with junior guard Dominique Toussaint shooting a 3-pointer and a jump shot of her own, tying the score at 5-5. The Hokies led for the rest of the quarter, but never more than by five.
Virginia junior guard Jocelyn Willoughby tied the score at 14-14 with a beautiful shot beyond the arc in the opening minutes of the second quarter. The Wahoos' 6-foot-9 junior center, Felicia Aiyeotan, was warmly welcomed back to the court by fans after missing 11 games following a knee injury sustained during game play in November. She laid in two to give the Cavaliers their first and only lead of the second quarter. The Hokies then hit three good shots from long creating an 11-0 scoring streak. Virginia trailed 30-20 at halftime with Emory owning 17 of Tech's points.
Things looked pretty dismal for the Cavaliers when the Hokies led by 19 points with about six minutes remaining in the third quarter. However, Virginia began to slowly chip away at that lead, beginning with three made free-throws and a jump shot in the paint by senior forward Mone' Jones, who averages 84.2 percent from behind the line. Even with a 3-pointer by Toussaint, bringing the 'Hoos within 10 with two minutes remaining, Virginia still lagged behind by 15 at the close of the third quarter.
But then the fourth quarter happened. When many teams might have continued to struggle, the Cavaliers fiercely and calmly fought back. They opened the quarter with a 9-0 run lasting over 4 1/2 minutes. They created tremendous pressure for the Hokies, drawing numerous fouls and causing several turnovers including an excellent steal and a second fast break across the court by sophomore guard Brianna Tinsley which resulted in another beautiful layup.
By the 1:35 minute mark, Virginia tied the game 54-54, outscoring the Hokies in the quarter, 21-5. The fans were elated, rising to their feet and chanting U-V-A as the game played on.
Toussaint, who created the tie by throwing in two free throws, would later say, "When it was tied at 54, I thought, 'Yeah, we have this game.' I had confidence the whole game, but that's when I knew for sure that we were going to win this game because there was no way our team was going to let them come back."
Then, junior forward Lisa Jablonowski intercepted a bad pass by the Hokies and made a fast break of her own, creating only the second lead of the game. Tech's Emery would answer back with a jump shot in the paint to tie it one last time, but the Cavaliers were tenacious until the end.
Virginia head coach Tina Thompson said she was "really excited about this win, the resiliency of our team, the fight…We're starting to believe the things that we're working on and talking about. That second half was an example of that."
Tinsley described her team's success saying, "We locked down defensively. We changed our mindset and we knew that we were not going to lose this game. We just turned it around."
When asked what her team did differently in the last quarter Thompson shared, "We did [change something]. For a second we went into our 3-2 zone, which [the Hokies] had to make adjustments to. When we saw them making adjustments, getting shots that we did not want them to take, they were getting into a comfort in our 3-2, we went back into our man, but a little different. We did a lot of switching. We trapped a couple times and just tried to shut down Emery. She was pretty incredible today, especially in the first half, but in the second half we got her thinking a little bit. Once she was thinking and kind of hesitating a little bit, then it kind of messed up her timing and her rhythm."
Emery ranks third in scoring in the ACC, averaging 18.5 points per game, and led both teams in scoring with 26 points. Redshirt senior Regan Magarity was the only other Hokie scoring in double figures, with 10.
Three Virginia players scored in double figures with Toussaint leading the way, tying her career high of 19 points for the third time. Tinsley knocked down 16 and Willoughby garnered 10 total points.
The 'Hoos held a lead for only about 2 1/2 minutes of the entire game, but they created 10 fast breaks as compared to none by their opponent. Overall, the Cavaliers got to the free-throw line to shoot 24 (making 20) compared to only six attempted and made by the Hokies.
"We played well enough to win a basketball game for three quarters and then the fourth quarter was a debacle," said VT third-year coach Kenny Brooks. "[The Cavaliers] outplayed us. They played harder than we did. They wanted it worse than we wanted it. They came up with the 50-50 balls. They came up with the plays they needed to come up with. We didn't make the plays we needed to make… They have a very veteran basketball group who has played a lot of basketball together. They're hungry. They weren't going to go away and we knew that."
Impressed with Virginia's fourth-quarter defense, Brooks explained, "I thought we got tired. We were dependent on Taylor [Emery] a little bit too much probably because we didn't have other kids stepping up. We went to the well one too many times and ran the same play. Toussaint and I think Jablonowski jumped the play and got a steal. They knew what we were doing. We still threw the ball right to the area where they were and kind of got them over the hump. Toussaint was jumping the play and she almost got her hands on a couple of them, which is an indication they knew what we were doing. We didn't do the necessary things we needed to do to set it up… We just assumed the play would be there and as a result, they made big plays down the stretch and won the game."
Emery added: "We lost focus. We didn't play defense. They got easy buckets, and we just weren't focused the way we were supposed to be. We played to the lead and didn't play like it was zero to zero."
A win over Tech is impressive in terms of offense for Virginia. The Hokies had brought a team of strong players to JPJ. They were leading the ACC in scoring defense, allowing less than 56 points per game, and were second in field-goal percentage defense, with opponents making just 34.3 percent of their shots.
Individually, freshman guard Dara Mabrey, recently dropped to second place amongst ACC players beyond the arc, has been hitting 48.6 percent. However, Willoughby ranks closely behind in third place (and eighth in the nation) from deep, making 48.4 percent of her attempts.  On Thursday, both players knocked down 3-pointers at a rate of 50 percent, with Mabrey hitting 1-2 and Willoughby hitting 2-4.
Tech's 6-3 Regan Magarity from Sweden is considered to have already had one of the best careers in Tech program history. She is their all-time leader in rebounds, reaching 1,000 earlier this season, only the seventh Tech player to reach that mark. She leads the ACC in total and defensive boards, averaging 13.3 per game. Against Virginia, she obtained 11 rebounds, eight of which were defensive.
For the Cavaliers, Willoughby leads the team, rebounding at 7.9 percent.  She achieved her 500th rebound of her career last week against Clemson.
In Thursday's contest it was Jones who grabbed the most rebounds with nine. Willoughby, Tinsley, Toussaint and Jablonowski each nabbed between four and five boards. Overall, Virginia took 38 rebounds compared to Tech's 34. Twelve of Virginia's rebounds, however, were offensive compared to only five for the Hokies.
Regarding the impact of the UVA-Tech rivalry on the game, Coach Thompson stated, "We were very focused. That kind of has been growing. Anytime a rivalry game happens people will say it is just another game, but in reality it is never just another game. Everything goes to another level when in a rivalry game. I've experienced it as a player, and now as a coach, and the feeling doesn't change. You see a difference in everything.
"The crowd was different today, it was larger, it was louder, because everyone is invested into the rivalry because there is such a sense of pride that goes with it. We played with pride today."
Of the crowd, Toussaint shared, "It's a sense of comfort when you sense the community starting to embrace how we're playing. It's like a home away from home and it feels good to make them proud and hearing them cheer for us is an awesome feeling."
When asked about the importance of the win, Coach Thompson said that it was "very significant. When you see things that we practice and that we talk about everyday actually come into fruition, when you see them working, when you see the stuff that we're working on start happening in a way that brings positive things to our team, you start to believe. It becomes a part of who you are. It is not just things that we're talking about, it becomes a habit, not just a muscle memory from repeated shooting, those shots are actually going in. That breeds confidence and I see confidence growing in our team as a whole. Believing in the stuff that we're working on, that's pretty cool."
When asked how she remained confident when the team was down by 15, Toussaint said, "Honestly, today I have to say it came from the bench. Every time we score the ball or even got a stop on defense, they're our 'hype dog.' They got us hyped and made us believe that we could win this game. It shows that we could."
Of the team's success in this game, Tinsley shared, "I would say that it builds more confidence because all of our hard work is starting to pay off."
"Our kids are believing in their abilities, knowing that we're going to be tired," said Coach Thompson. "We talk about that everyday too, but there is something else in that. To push, to grab, to pick at that second gear, that extra breath that you have just to get ourselves over the hump; to put ourselves in a position to win. We did that. I'm really excited, happy and proud of them."

Comments