UVA's 34-year-old kicker Ganyard never allowed his dream to die
By Jerry Ratcliffe
For 16 years, Matt Ganyard was a modern adaptation of Ahab in pursuit of his elusive white whale, donning a Virginia football uniform.
Entering his third year as a UVA history major in 2009, the former military brat — the son of a 28-year Marine fighter pilot — tried out as a walk-on kicker for Coach Al Groh's football team. Ganyard had no football background, only high school and some college club soccer. But he had a dream.
Competition was stiff and even though he went a perfect 9 for 9 on his kicks that day, he didn't make the cut. Dreams don't always come true, unless one buckles.
Ganyard only temporarily surrendered his goal, graduated in 2011, joined the Marines, where he followed in his dad's footsteps, choosing to become a Cobra helicopter pilot, but never forgot that deflating moment in 2009. The disappointment fueled a desire to beat the Goliath-esque odds — let's see Vegas put a number on that — no matter how long it took.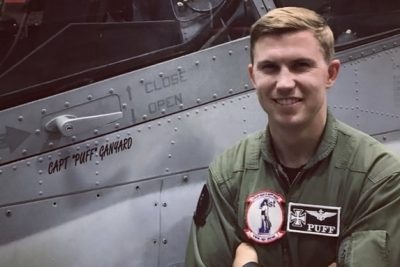 Over the eight-year journey with the Marines, sailing the oceans, being combat-ready in the Mediterranean, later serving as an instructor to new pilots, the Californian never let go of the dream. He took a cheap, beach-store, rubbery football with him for a seven-month tour at sea and kicked at every port, random islands in Thailand, booting imaginary field goals on a soccer field in Jordan, sharing American football with curious Jordanian soldiers.
Some day, Ganyard believed, he would get another chance and did everything in his power to prepare himself. He worked in several kicking camps with former college and NFL kicking star Nick Novak (who grew up in Charlottesville), taking him under his wing while Ganyard was based in San Diego.
For most of that eight-year span, the frustrated kicker had a daily reminder to drive his dream. The reminder was the screensaver on his iPad for years.
"I've still got the email from whoever was working (on the UVA football staff) back then in 2009, saying, 'Hey, we regret to inform you that you didn't make the team,'" Ganyard revealed. "It [eventually] worked out perfectly, no hard feelings that I didn't make it before. I think this is exactly how my story was supposed to be written."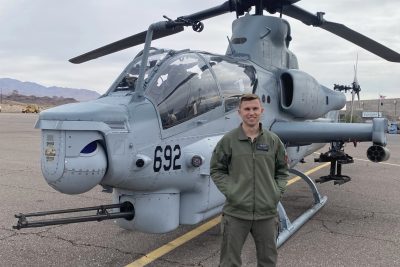 After returning to UVA in 2022 and entering the Darden School's MBA program, he had connected with the football team's special teams analyst, Drew Meyer, a former All-Big Ten punter from Wisconsin, about trying out for first-year coach Tony Elliott's team. Because of what Ganyard described as a weird NCAA rule, his collegiate athletic eligibility was frozen when he entered the military, unfrozen when he retired.
UVA was willing to give him a shot and so was the NCAA, but Darden's class schedule conflicted directly with the Cavaliers' practice times and it appeared the door had once again slammed shut on the dream. However, it cracked open again in 2023 when UVA football's practice schedule changed and no longer was a conflict.
Ganyard approached Meyer with his "crazy dream" once again, and because the fifth year of eligibility had burned in 2022, UVA had to ask for a sixth year, which was denied, appealed, and finally approved only four days before August 2023 training camp opened.
By then, the 34-year-old's (he still doesn't look his age) appearance in the McCue Center's football offices and team locker room was somewhat bewildering.
Upon his first meeting with Elliott, the head football coach commented: "Oh, so you're real?"
One couldn't blame Elliott for wondering if Ganyard was some fictitious character from the imagination of some Hollywood script writer.
"Day one of fall camp, there were one or two guys that knew who I was, but otherwise, I probably just appeared to be some random guy sitting in one of the lockers," Ganyard chuckled. "Then we go to a team meeting and at the very end, Coach Elliott let me stand up and introduce myself. And I could see the shock on their faces when I said I'm 34 with two kids."
Since that day, Ganyard has done his best to fit in, focusing on meshing with his teammates, focusing on football. He purposely requested to the sports media relations department that it decline any curious interview requests until he had accomplished something worthy of garnering the attention.
"I think they've realized in the past three weeks that I'm just another guy, just with a little more life experience," Ganyard cracked. "At the end of the day, I'm just another guy here to help the team succeed on the field, and to me, that's all that matters."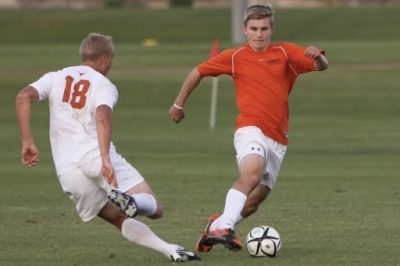 Naturally he has taken some razzing from his younger teammates, who refer to him as "Pop Pop," "Uncle Matt" and "Grandpa."
"It's all in good fun," Ganyard said.
At least they didn't learn his pilot callsign, "Puff," in reference to some high school powder puff routine that he wished he had deleted before his Marine buddies discovered the video online.
He has since done the math and figured that the freshmen on UVA's football team are closer to his 3-year-old daughter, Savannah's, age than they are to his. The veteran gets a lot of questions from his teammates about being a pilot, about school, about life, you name it, which he is pleased to answer.
A lot of questions come from his fellow kickers, particularly returning starter Will Bettridge, a sophomore from Miami who is kind of a little brother in spirit. Ganyard believes that if nothing else, it's his job to push Bettridge to get better.
"Iron sharpens iron," Ganyard smiled.
While the depth chart won't be revealed until next Tuesday of game week, Ganyard has been mostly pleased with what he has done on the field. He is competing for the place-kicking duties as well as kickoffs.
He jokes that there's been a suggestion that his "older" leg be given something akin to a pitch count in terms of kicking four days a week, something he had never experienced before — one of many firsts he has experienced in camp. He had never kicked while wearing a helmet and pads, wasn't even sure how to properly put them on.
"It was kind of like the scene in 'Little Giants,' like, 'Does the cup go here?'" he laughed, holding an imaginary cup over his nose. He said that to his younger teammates, who didn't get the reference.
"I've dated myself a lot with them," Ganyard said. "Even 'Wedding Crashers' quotes went right over their heads."
While the helmet and pads were a challenge, he adjusted. Another first is yet to be experienced: tackling. Ganyard knows that if he is assigned to kick off in a game and the ball doesn't sail deep into the end zone, he could be faced with tackling the return man, something he has told his wife, Marie, that he'd like to experience, so he could brag someday to his kids (the couple also have a nine-month-old son, Noah), that daddy had one career tackle.
Getting the ball in the end zone doesn't appear to be a problem. He said he feels comfortable on field-goal attempts between 40 and 50 yards, his "sweet spot." When he gets out to 55, he has to adjust his steps and think more about distance.
According to special teams coach Keith Gaither, there has been a "heated competition" between Bettinger and Ganyard for kicking duties, something that will likely be settled before going into game week.
"Matt has been a pleasant surprise," Gaither said. "His name had been tossed around since spring, but he's been a surprise in camp. If we were to start [games] today, he might be the kickoff guy. He's going to be right there in the running. He's going to have an impact in the kicking game.
Elliott has had his eyes on the "rookie" all along and mentioned him midway through camp, noting "I tell you, Matt Ganyard, that 36-year-old, I tell you what, he's got some pop in that leg. He's raw, but he's going to push Bettridge."
Ganyard got a chuckle from his coach aging him a couple of years, but appreciated the mention.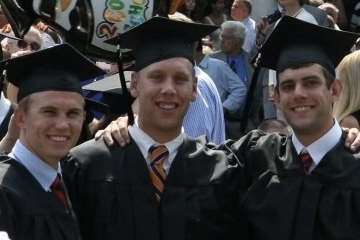 All those years of working solitarily on his kicking skill, through all those ports of call, through the camps, have paid dividends. He was so excited when the NCAA cleared him to play, he texted Novak back in San Diego to deliver the news.
Novak, who played at Albemarle High School before going on to become the ACC's all-time leading scorer as Maryland's kicker, had a successful NFL career and now runs a camp in San Diego, where Ganyard spent military time. Novak had seen some of Ganyard's online videos, understood his desire to kick for a college, and reached out to him to offer his assistance.
"Nick Novak has been a great mentor and a great teacher," Ganyard said. "He said, 'Hey, I'd love to work with you,' so I did a number of sessions with him throughout the years.
"He has a lot of great ways to fix little tweaks or little issues with form. Being a soccer player, I had plenty of bad habits to break and he's been able to fine-tune those, plus has talked to me about the mental side of the game."
Being an attack helicopter pilot has certainly given him built-in tools in terms of handling pressure, focusing, blocking out the "noise," and sticking with the mission at hand. Still, it's a different kind of pressure, something Ganyard admitted when he went to his first camp and became "rattled" during some of the competitive action, even against a 16-year-old.
He approached it with the analysis one might expect from a veteran, began reading sports psychology books on tennis and golf, sports requiring concentration and focus under pressure, which helped his confidence.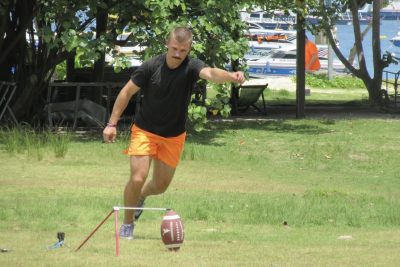 Ganyard wasn't sure Thursday what his status might be in terms of traveling with the team to Nashville next week for Virginia's opener against nationally-ranked Tennessee, but he knows that should he make that travel itinerary, it's a long, long way from that disappointing day in 2009.
In those days, he was another UVA student, rooting the team on from "The Hill" at Scott Stadium and cheering for Chris Long, who went on to an impressive NFL career. In fact, he was somewhat shocked when Long answered one of his tweets most recently.
"Surreal," Ganyard said.
No doubt that Long and thousands of others are rooting for Ganyard to make a splash with this football team. The kicker gets lots of encouragement from his former military teammates, who send him copies of stories they've discovered about his UVA journey.
His Darden classmates have gotten in on the act as well.
"I think they're making some shirts, 'I Know the Kicker,'" Ganyard deadpanned.
The elusive white whale has come to rest. The iPad message can now read, "Welcome to the team, you've made it. You are at long last a Wahoo For Life."