UVA's Grant Kersey shares the story of his college experience on The Jerry Ratcliffe Show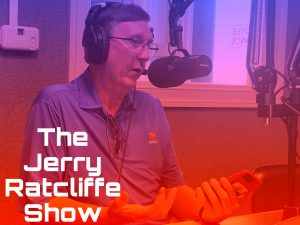 On the latest Jerry Ratcliffe Show, UVA's Grant Kersey, aka "The White Mamba," tells Hootie his incredible story of going from local high school standout to Cavalier team manager to a fan favorite at John Paul Jones Arena on a National Championship team.
Kersey, who discusses his perfect career shooting percentage, also shares the origins of recent quarantine videos on social media of himself and teammate and current housemate Tomas Woldetensae (see below), the abrupt end of his final season as a Hoo, how he's involved with an online basketball tournament with former UVA athletes to benefit the school's hourly workers whose wages have been affected by COVID-19, his nickname, and much more. Wahoo fans, you won't want to miss this one.
Also, longtime friend and UVA Athletics team physician John MacKnight joined the show to talk about the eventual re-opening of the sports world and how UVA football could be impacted by the pandemic.
You can listen to Kersey's full interview here.
As always, you can also catch more than 60 hours of Hootie's past interviews with such Wahoo greats as Ralph Sampson, Terry Holland, Shawn Moore, Tiki Barber, Shawn Moore, Herman Moore, Chris Slade, Barry Parkhill, Bryant Stith, John Crotty, Kyle Guy, De'Andre Hunter, Ray Roberts, Billy McMullen, Anthony Poindexter and many more including Dick Vitale here in our audio archives. You'll also be able to listen to every episode of our brand new podcast, Wahoo World, (now available on Spotify, and soon on other streaming services).
For more details on the NBA 2K Tournament, put together by our friends at Locker Room Access, click here and also make sure to give them a follow on Twitter.
Kersey and Woldetensae's Quarantine Videos:
All-Quarantine Skills Challenge 2020 @UVAMensHoops @BleacherReport @HoHighlights @SportsCenter pic.twitter.com/ERZr5BBOUA

— Grant Kersey (@WhiteMamba_GK20) March 19, 2020
All-Quarantine Dunk Challenge 2020 @UVAMensHoops @blakegriffin23 @BaronDavis pic.twitter.com/tHuXve9DsG

— Grant Kersey (@WhiteMamba_GK20) March 21, 2020
2019 Quarantine Elite Eight @UVAMensHoops @_mdiakite @ClarkKihei pic.twitter.com/P6e0rjrdvr

— Grant Kersey (@WhiteMamba_GK20) April 13, 2020
Quarantine Throwback @RalphSampson50 @BooAgeeVATLA pic.twitter.com/kZfoi9XrtH

— Grant Kersey (@WhiteMamba_GK20) April 24, 2020

Comments