UVA's Hollins talks about miracle recovery from shooting tragedy, how he's inspiring teammates
By Jerry Ratcliffe
Only God and Mike Hollins know what made him turn around and run back onto the killing bus that chilly night last November, when he stared down alleged murderer Christopher Darnell Jones.
Hollins will never forget the stone-cold, numb look in the shooter's eyes as three of his UVA football teammates — Devin Chandler, Lavel Davis Jr. and D'Sean Perry — were slain on that activity bus. When Jones turned the gun on Hollins, who attempted to save himself, Hollins felt two bullets pierce his body, both into his back, from which he miraculously survived.
Nearly six months have passed since the shootings and Hollins has spent that time trying to put himself back together, mentally and physically, returning to UVA as a student-athlete, and yes, rejoining the football team, which is now into spring drills. He thought about a fresh start somewhere else, but then rationalized what better place to be than Charlottesville, where he would find so much support to make him whole again.
After returning to UVA, Hollins has participated in offseason winter workouts with his teammates, graduated with a degree in American Studies/African-American Studies, and has started working on his Master's, much of that directed toward mental health.
He has come a long way from waking up in the hospital a few days after the shooting and was told by doctors that it would be four-to-six months before he could even put his socks on or lift his shoes. One bullet found its way into his small intestines, another into his bladder. One of them missed his spine by a mere two centimeters.
All of this left him dealing with digestion issues, and because he had so many staples and stitches, he faced lots of rehab in how to lean back, lean over, while rebuilding his core.
Those were only the physical scars, the easy part in his mind. As an athlete, since his days as a fifth-grade, pee wee football player, he's had to battle physical comebacks. For the mental part, there was no road map.
"It's a day-to-day process," Hollins said after Tuesday's football practice. "There is no playbook. There is no plan on how it is done, or no routine. When you go through something as tragic and traumatic as I did, it's something you feel anxious about because you're looking for a change in how you feel and how you think day-by-day.
"But the quicker you move out of the anxious feeling and start taking it day-by-day and just listening to your mentor, listening to your body and just using the support around you to keep you focused and keep you in a good mental place. It's tough and it's overwhelming. I haven't been one to back down or shy away, so this is just another step in my journey."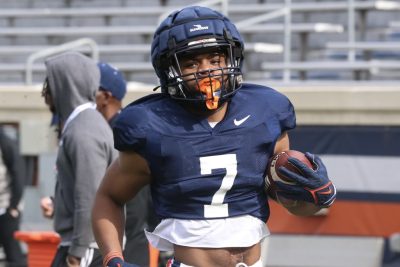 When he woke up in the hospital and was told that his three teammates had died in the shooting, Hollins had never cried to that level. Football, he said, was the furthest thing from his mind. Whether he would ever play again didn't mean much at the time, but as time went on and he began to show remarkable recovery from his wounds, doctors reduced months to weeks for his timetable.
"Up until I got back to campus, I wasn't capable of thinking of anything else besides what went down here on campus, how I could keep [his fallen teammates] flames lit, how I could keep my flame lit and keep myself going and put on the veil when I go outside the house and be that inspiration everybody looks at me to be," Hollins said.
Once he decided to play football again, there was no holding him back. Coach Tony Elliott and his coaching staff, along with team doctors and trainers, have kept a watchful eye on the running back to make sure he could handle the load.
Running backs coach Keith Gaither recognized the "old" Mike Hollins during winter workouts and has never looked back.
In the very first Wahoo Winter Workout, Gaither is in charge of the mat drill, a universal get-your-ass-in-shape drill across college football, where players run in place, hit the mat on the ground, jump back up and continue until the whistle blows.
During that first drill, Gaither particularly watched Hollins to make sure he was ready for the task. It didn't take long for Hollins to prove himself worthy.
"I was like, 'Oh, Mike is back,'" Gaither remembers saying to himself. "So that was the first moment I said, this team is gonna play college football again."
Hollins' first notion was to leave Virginia and the tragedy behind and get a fresh start, new scenery. The more he thought about it, those ideas faded.
"I feel like anyone thinks about leaving after something like that, but I also thought what better place refind who I am and reestablish my mental health than the place where everything took place," Hollins shared. "I could have left, transferred, but I think that is sweeping things under the rug.
"I think the best place for me to move forward — not move on, but move forward — is Charlottesville, with the people who shared that experience with me.
"No one across the country feels the way we feel here. No one in the country knows how I feel about the situation besides the people here in this facility. I got an uneasy feeling when I thought about leaving because I could have left and what if [new] coaches … I didn't have the same support because they didn't go through the experience with me. They didn't know D'Sean, they didn't coach Lavel. So just those little things is what kept me here and I'm glad I stayed, because the support is what I need right now."
Coaches and teammates are glad he made that decision. Not only was Hollins a strong competitor at running back before the tragedy, he was a good teammate who inspired the running backs on the team on a daily basis, something he continues to provide.
"Mike is like a big brother to me," said sophomore running back Xavier Brown. "He took me under his wing when I first got here last summer, and just to see the growth in everything he's done thus far [in the comeback], it just makes me go harder each day. It makes me want to be better for myself and be better for him."
Brown, who now lives with Hollins, said the first time they returned to the weight room, Hollins left no doubt that he was serious about his comeback.
"Mike was throwing up the weights and I'm like, 'Okay, okay, he's getting back up there,'" Brown said. "He was moving really good in the workouts and it was exciting to see him get back on the field and get moving. He's a strong dude that pushes every day and that makes all of us want to work harder and push harder than him. He's out here still trying to work to get that [starting] job."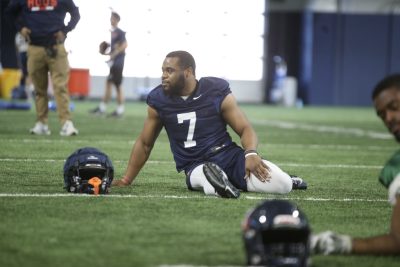 Virginia has a plentiful running backs room with Hollins, Brown, Perris Jones, Cody Brown, who transferred in last season from Miami but spent much of the season injured. Also, Kobe Pace, who formerly started at Clemson a year ago before injuries sidelined him, transferred to UVA in the offseason.
Gaither monitors the entire fleet of backs, but keeps a special watch on Hollins because of the unusual circumstances. He keeps in touch with Hollins' parents via text or phone calls. There have been times when "Mrs. Brenda" (Hollins' mom) will let Gaither know that maybe he needs to give a pep talk to her son.
"Mike is a smart football player, so even if Mike is not in the practice, he's coaching up Xavier and he's helping Kobe Pace, or whoever. He's like another set of eyes for the younger guys," Gaither said. "Mike is great for this room, but I'm expecting him to play for us this fall."
So is Hollins, or he wouldn't bother. It's no longer about the physical. He feels as if he pressed the pause button on the physical and is back to normal.
"I don't feel any dropoff physically," Hollins said. 
The mental part of it is the hardest to overcome. His fallen teammates "never leave my mind," Hollins said. His drive is to keep their flames lit.
Those three, his family and God push him every day. Returning to Grounds for the first time was overwhelming for him mentally, and while many in public view him as a hero for returning to the bus that night, he seeks no publicity from his deeds.
"Early on, it was hard to go to the store or the library or even go to class without at least five or six people recognizing me and coming up and asking me anything from 'how are you feeling?' to 'what happened?' What went through my mind," Hollins said.
Only the insensitive questions or inconsiderate ones would understandably get under his skin, and those diminish as time passes.
The old axiom that time heals all wounds normally would fit in a story, but with the killer in jail, charged with triple second-degree murder and additional charges, many questions linger in an investigation that is ongoing. For Hollins, who didn't even know the shooter, the question is why.
"There is no answer," Hollins said. "And I won't get an answer."
How does he deal with that blank in his life?
"Day by day, patience and trusting in God," Hollins said. "I'm put in this position for a reason. I'm put in this position to inspire and to bless others."