UVA's Kemp IV aims to make big impact as receiver and returner
By Scott Ratcliffe
After learning the ropes the past two seasons from a couple of guys who are now playing on Sundays, Virginia junior receiver Billy Kemp IV is getting his chance to shine.
The speedy 5-foot-9, 170-pound native of Highland Springs has shown flashes here and there throughout his Cavalier career, but really came on strong at the end of the 2019 season.
Kemp's crucial second-half touchdown catch — the first of his college career — helped the Wahoos snap the long, dreaded losing streak to Virginia Tech, which in turn punched the ticket to the program's first ACC Championship appearance.
In that December matchup against national powerhouse Clemson, Kemp set career highs with nine receptions for 66 yards. He's been working hard in the offseason in order to contribute more in his third year as a Cavalier, and head coach Bronco Mendenhall has taken notice.
Mendenhall said earlier in camp that Kemp, along with fellow third-year receiver Tavares Kelly Jr., have been the team's "most consistent, durable and productive players at the receiver group so far," adding that both are "a stage further than where they were a year ago."
When the initial UVA depth chart was released Monday, it came as no surprise to see Kemp's name listed as a starter. He's ready to make the most of the opportunity — not only as a wideout, but as the Hoos' primary punt returner as well.
Kemp played in seven games as a true freshman in 2018, behind the likes of then-senior Olamide Zaccheaus (now with the NFL's Atlanta Falcons) and then-junior Joe Reed (a rookie with the LA Chargers). Obviously, he didn't get a ton of action, but learned a ton from both Zaccheaus and Reed, on and off the field.
"Since I've been here, I've been behind great guys and great role models being Olamide Zaccheaus and last year Joe Reed," said Kemp. "So them really just teaching me the ropes and just taking notes and watching them develop, I feel like that's really helped me develop into the role that I'm in now. …
"I saw the confidence that [Zaccheaus] had in himself, so that really helped me improve my game, and I just can't wait to get out there and show people that I can be a help to the offense beside [senior captain Terrell Jana], as well and just look forward to going out and doing what I can do."
Last year as a sophomore, Kemp saw his role steadily increase throughout the campaign. He appeared in all but one contest, finishing the season with 35 catches for 289 yards (8.3 yards per grab, 22.2 per game).
Kemp returned 23 punts last season for a total of 137 yards, and he'll be the main guy to tote the rock against Duke this Saturday (4 p.m., ACC Network).
"When I first got here, Coach Hagans told me that the number one thing a punt returner has to have is to be fearless," Kemp admitted. "So you just have to have a fearless mindset back there, and ultimately trusting yourself, trusting your preparation. And that's really the key to punt return."
Virginia special teams coach Ricky Brumfield told us a few weeks back that there was more competition in the return room than ever before, and Kemp eventually came out on top over Kelly, Towson transfer running back Shane Simpson and JMU transfer defensive back D'Angelo Amos.
"It means a lot for me to be the starter at that spot," Kemp said, "it's something I've been working at, something I hope to continue to do throughout my career and onto the next level. The competition was great, we have two or three other guys that are great back there and perform well back there, and I just want to do what's best for the team, as in catch the ball, field every ball, and get the ball back to the offense, and that's what I look forward to doing."
Brumfield is excited to see what Kemp can do.
"I like his confidence," Brumfield said of Kemp's abilities during the competition. "He's stepped up to the challenge. He's probably the one that's stepped up to the challenge more than anybody else. He never said anything or never had a bad attitude or anything, but his demeanor was almost like he was insulted, like, 'I'm gonna show you what I'm about,' and that was really impressive because he's done a great job and he's been even better.
"He's confident when he catches the ball, he looks the ball into the tuck every single time, and he has the quickness to make things happen after the catch. I was more impressed with his demeanor, his confidence that he's had throughout camp, and he's doing really well and it's starting to show."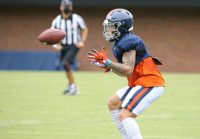 Being a tad on the smaller side like Zaccheaus, Kemp admitted he got his toughness and confidence from growing up and playing in Highland Springs.
"I feel like I've always had confidence and I feel like that's important, being a small receiver," said Kemp. "Just coming out there with the 'heart over height' and with that confidence. I really think that was instilled in me back in high school back in Highland Springs. Every day there, we have great players coming out of there every year, every day there is a competition. So, you know, it's either compete or basically get left behind. That's how it is there, so I really feel like a lot of that confidence came from my hometown."
Kemp and Kelly, along with Jana, St. Francis (PA) grad transfer Ra'Shaun Henry and true freshmen Demick Starling and Lavel Davis Jr., will all be looked to as reliable weapons for new starting quarterback Brennan Armstrong in the aerial attack.
Senior Jalen Harrison and sophomore Hayden Mitchell are also listed on the depth chart, while Ugo Obasi and Nathaniel Beal III are expected to recover from lingering injuries and rejoin the squad at some point as well.
All that, and we didn't even mention highly capable tight ends Tony Poljan and Grant Misch, nor running backs Simpson or Perris Jones or possibly even Ronnie Walker Jr., who are all able to make plays out of the backfield. Heck, we could even see athletic backup quarterbacks Keytaon Thompson or Ira Armstead lined up somewhere other than under center.
That's a ton of weapons at offensive coordinator Robert Anae, Armstrong and the other Cavalier QBs' disposal.
"We can be as productive as last year and beyond, it just takes work," said Kemp. "Never compare us to the last year's team, because we're a different team and we're putting our best foot forward, and coming out to work and compete every day. So I look forward to seeing what we can do."
Plus, with the offensive line looking the best it has in years, it should only allow more time to keep Amstrong upright for the offense to work effectively. Kemp said despite having no spring ball, the time spent over the last couple months has made up for it all.
"Me and [Armstrong's] chemistry have definitely grown over the offseason," Kemp said. "He's a great quarterback, he can throw the ball wherever on the field, so our chemistry's been really good, and I just can't wait to get out there and connect on big plays with him."
Kemp is expected to play a major role in the team's success, and can't wait to get started this weekend against the Blue Devils, particularly after all the team's postponements and cancellations.
"I think it's been around 12 weeks we've been [in camp]. All the preparation we've been doing, all the time I spent as a backup just learning, waiting my turn. I knew eventually this day would come, and this is the day I've been waiting for, so I just ultimately want to go out there and help the team any way I can. Can't wait to get back on the field with the guys and hopefully come out with the win."
Kemp noticed that Duke plays a lot of man defense through film study, and pointed out that the theme in practice has been winning one-on-one matchups.
"That goes for every week," he said. "Week in, week out, winning our one-on-ones. The games come down to one-on-ones being won, so that's what we're really focusing on doing this week."
Kemp's father, Bill, is a Virginia alum, and his sister recently graduated from the UVA nursing program and is now a registered nurse.
"My dad's always been a big part of my life, coaching me in little league when I was growing up, really teaching me the ropes of football," Kemp said when asked how much his father factored into his decision to come to UVA. "It was important for him for me to come here, but he really never put any pressure on me and ultimately wanted me to make the decision, and I just felt like this was home for me."

Comments