UVA's magical season ends in Omaha with 4-3 loss to TCU
By Scott Ratcliffe
Virginia's memorable season came to an end in Omaha Sunday, as the offense could only produce five hits all day against tough TCU pitching in a 4-3 defeat in the College World Series' first elimination game of the weekend.
The Cavaliers finish the 2023 campaign with a record of 50-15. TCU (43-23) moves on to face the Oral Roberts-Florida loser in another elimination game on Tuesday.
After falling behind by a run before even stepping to the plate, the Wahoos had an early answer. Griff O'Ferrall jumped on the first pitch he saw for a leadoff double, and then Ethan O'Donnell brought him around to score on an RBI single, and the game was knotted at 1-1 after five pitches in the bottom of the first.
The Wahoo bats went silent over the next few innings, however, as TCU starting pitcher Sam Stoutenborough retired 12 batters in a row.
"This game was defined, in my opinion, by we had too many 1-2-3 innings offensively that we just weren't competitive enough in our approach in those at-bats," said Virginia skipper Brian O'Connor. "I thought we did a terrific job managing the innings from a pitching and defensive standpoint — I think TCU probably left 12, 14 runners on base — and that's a testament to our guys that they buckled down, didn't let the big inning happen and gave us a chance, but it comes down to those little fine details here in Omaha."
Meanwhile, the Big 12 champion Horned Frogs tacked on a run in the third off of UVA starter Connelly Early, and then another off of Brian Edgington in the sixth to extend their lead to 3-1 going into the late innings.
Second-year first baseman Ethan Anderson gave the Hoos some life with a leadoff homer to start the seventh and keep them within striking distance, but TCU reliever Garrett Wright got out of the inning without any further damage.
The Frogs were able to add an insurance run in the eighth, as No. 9 batter Austin Davis notched an RBI double just out of the reach of O'Donnell in center field to make it 4-2.
Again, the Cavaliers battled back with a Harrison Didawick first-pitch base hit to lead off the bottom of the eighth. After Didawick swiped second base to get into scoring position, O'Ferrall then sent a deep shot to the warning track for the first out, moving Didawick to third. O'Donnell brought him home on an RBI groundout to short. The next batter, Jake Gelof, flew out to end the inning, but the Hoos were back within a run heading to the ninth.
Cole Fontenelle, who drove in the Frogs' first two runs, singled to start the final frame, then was bunted over to second for out No. 1. Jay Woolfolk then entered the game and induced a pair of pop-ups to get the Hoos out of the jam for one more shot at the plate.
Kyle Teel struck out in his final at-bat to begin the bottom-half of the ninth, followed by an Anderson groundout, and Virginia was down to its last out. Casey Saucke kept the Cavaliers' hopes alive with a single, and then hustled over to second on an error by center fielder Elijah Nunez.
Anthony Stephan stepped into the batter's box needing a base hit to possibly tie the game and at worst send it into extra innings, but TCU freshman reliever Ben Abeldt slammed the door with a strikeout for the final out of the season for the Hoos, one of nine on the afternoon for the Frogs' pitching staff. UVA was 1 for 8 (.125) on the day with runners in scoring position.
Gelof and Teel had a tough time at the plate in Omaha, combining to go 0 for 8 on Sunday and 0 for 14 in their two games at Charles Schwab Field. The future is certainly bright for both of the talented juniors, who are each expected to hear their names called in the upcoming MLB Draft, but they would sure like to have another crack at it.
"I've loved every single second of being around them," Anderson said of the star duo. "I roomed with Jake last year in hotels, I roomed with Kyle this year in hotels. Those are two guys that are probably leaving that I'm really close with and I've learned a ton, and the impact that they've had on me and Virginia baseball, still kind of setting in that I won't see them next year, but I love those guys."
Early (L, 12-3) went five innings, allowing a pair of runs on 6 hits while fanning two batters and walking three.
"We had two tough losses here, one run apiece, but that doesn't take away from what we did all season…," Early said afterwards. "We'll come back here next year."
Edgington, whose complete-game gem against Duke last weekend helped punch the Hoos' ticket to Omaha, didn't have as much luck on Sunday, giving up two runs on five hits and a couple of walks in 2.2 innings.
"We just felt a little bit short in Omaha, two one-run losses certainly hurt," admitted O'Connor. "I feel for our guys because they have had a terrific year. That said, we didn't win, and that's our goal is to win here in Omaha and give us a chance to win a national championship, and certainly we fell short of that. TCU did a great job."
The Cavaliers will now turn their attention to next season, when they should have several contributors back in the lineup, along with a solid recruiting class, as O'Connor pointed out. The goal is always to make it to this venue at this time of year. After a couple of close losses, the Hoos may have come up short of their ultimate goal, but the 2023 season will rank right up there with some of the most successful in program history.
"We'll get back to Charlottesville and we'll assess what the roster will look like for next year," O'Connor said. "Part of that is those players going to Team USA, those players go into the [Cape Cod League] and across this country, and getting at-bats and working to be improved players."
Game Notes
Courtesy UVA Media Relations
O'Ferrall led off the game with a single down the left field line, his 28th first-inning hit and 108th hit of the year. The 108 hits are a single-season program record and are the second-most of any hitter in the country.
Gelof became the fourth player in college baseball this season to notch at least 90 RBI with his first-inning RBI.
With a single in the first inning, O'Donnell finished the year by reaching base safely in 23-straight games.
Teel notched his 15th runner caught stealing this season which is the seventh most by a UVA catcher since 2000. The 15 runners caught stealing leads the ACC.
Virginia is 13-19 in one-run games in the NCAA Tournament and 5-7 in one run games at the Men's College World Series. Three of last four UVA MCWS games have been decided by a run.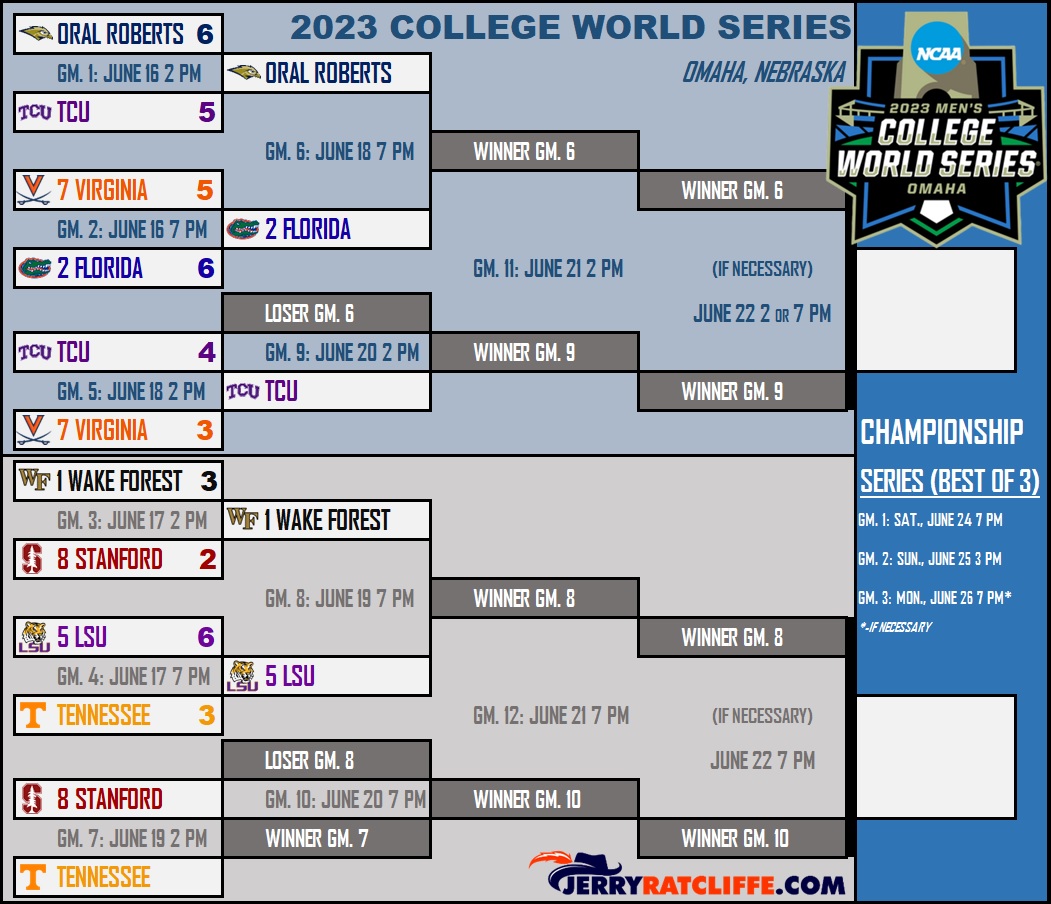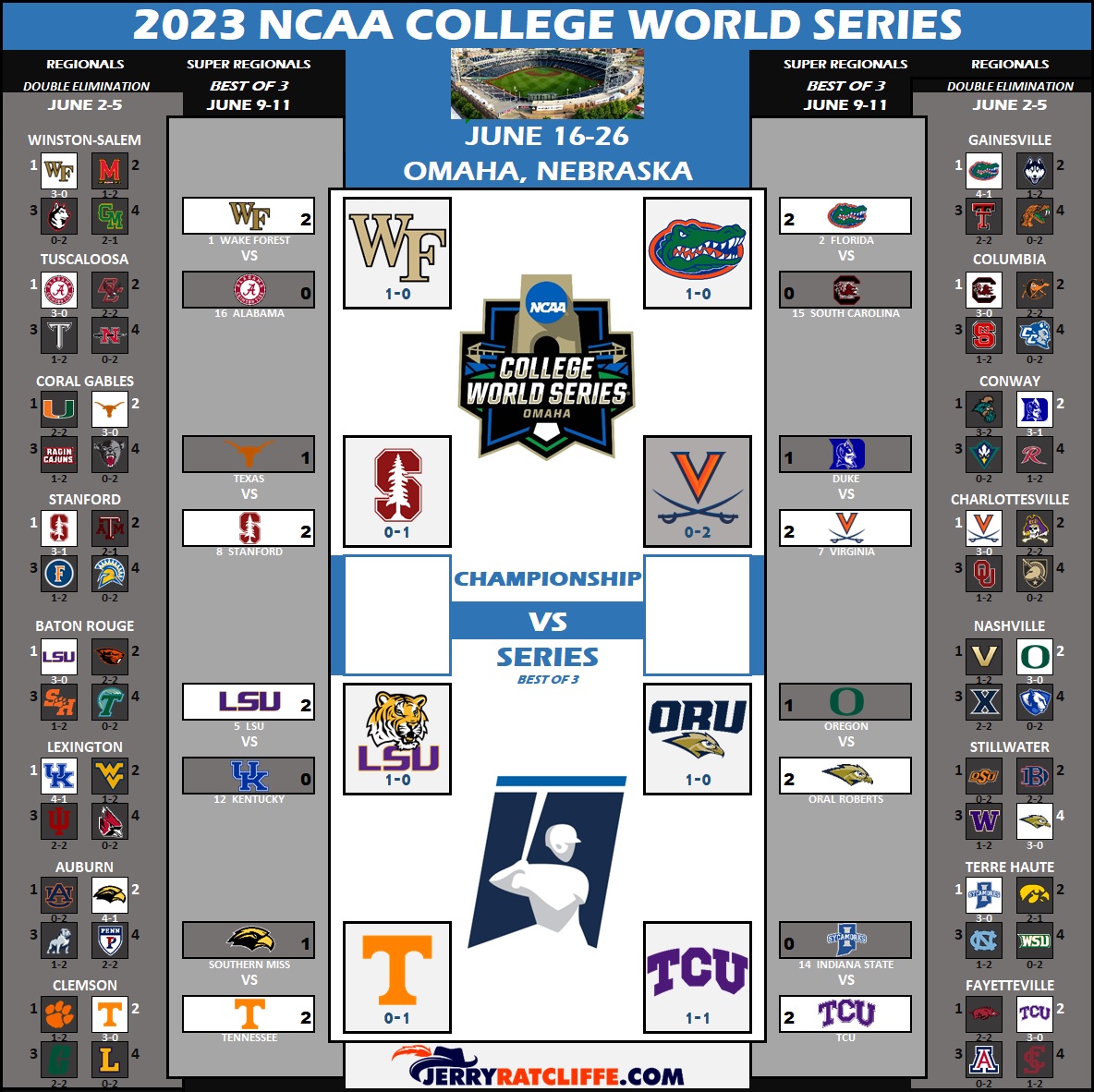 NCAA DIVISION I BASEBALL CHAMPIONSHIP
COLLEGE WORLD SERIES
Friday, June 16-Monday, June 26
Charles Schwab Field | Omaha, Neb.
All Times Eastern
BRACKET 1: No. 1 Wake Forest (53-10), No. 8 Stanford (44-19), No. 5 LSU (49-15), Tennessee (43-21)
BRACKET 2: No. 2 Florida (51-15), No. 7 Virginia (50-15), Oral Roberts (52-12), TCU (43-23)
DOUBLE-ELIMINATION ROUND
Friday, June 16
Game 1: Oral Roberts 6, TCU 5
Game 2: Florida 6, Virginia 5
Saturday, June 17
Game 3: Wake Forest 3, Stanford 2
Game 4: LSU 6, Tennessee 3
Sunday, June 18
Game 5: TCU 4, Virginia 3*
Game 6: Oral Roberts vs. Florida, 7 p.m.
Monday, June 19
Game 7: Stanford vs. Tennessee, 2 p.m.*
Game 8: Wake Forest vs. LSU, 7 p.m.
Tuesday, June 20
Game 9: TCU vs. Game 6 loser, 2 p.m.*
Game 10: Game 7 winner vs. Game 8 loser, 7 p.m.*
Wednesday, June 21
Game 11: Game 6 winner vs. Game 9 winner, 2 p.m.
Game 12: Game 8 winner vs. Game 10 winner, 7 p.m.
Thursday, June 22
Game 13: Game 6 winner vs. Game 9 winner, 2 p.m. or 7 p.m. (if necessary)
Game 14: Game 8 winner vs. Game 10 winner, 7 p.m. (if necessary)
*-Elimination Game

CHAMPIONSHIP SERIES
Best of 3
Saturday, June 24
Game One: Bracket 1 winner vs. Bracket 2 winner, 7 p.m.
Sunday, June 25
Game Two: Bracket 1 winner vs. Bracket 2 winner, 3 p.m.

Monday, June 26
Game Three: Bracket 1 winner vs. Bracket 2 winner, 7 p.m. (if necessary)