UVA's newcomers ready for first taste of ACC Tournament
By Scott Ratcliffe
Virginia's three newcomers — freshmen Isaac McKneely, Ryan Dunn and Ohio grad transfer Ben Vander Plas — are all excited to live out their first ACC Tournament experience this weekend at the Greensboro Coliseum.
All three have become integral parts of the Cavaliers rotation throughout the course of the season, and now they get to put their skills to the test in one of the country's premier annual sporting events.
For Vander Plas, it will be his last rodeo after competing in the Mid-American Conference Tournament for the past four seasons with the Bobcats.
After dropping its first game of the conference tourney in Vander Plas' first two seasons, Ohio won the MAC title in 2021 on its way to knocking UVA out of the NCAA Tournament in the first round. Vander Plas played all 40 minutes that day, scoring a game-high 17 points — including three 3-pointers — as the Bobcats ended the Cavaliers careers of future pros Jay Huff, Trey Murphy III and Sam Hauser with a 62-58 defeat.
Now as a member of the Wahoos, Vander Plas is hoping to go out with a bang, but he also remembers watching the ACC Tournament from afar as a youngster.
"Definitely growing up, I remember in middle school and high school, at school we would get our like netbooks, our little computers, and in study halls, me and all my friends would just have this whole week and then obviously the first round of the NCAA tournament," Vander Plas recalled. "We'd just be watching every game we could, probably getting in trouble a couple times in class for not paying attention. But the ACC Tournament, watching that was definitely a part of that, and yeah, it's just a really fun time of year for college basketball."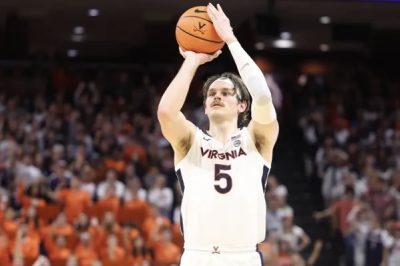 Vander Plas had a big game against Thursday's opponent, North Carolina, in the first matchup of the season at John Paul Jones Arena on Jan. 10, putting up a game-high 17 points (including three 3-pointers) to go along with 8 rebounds, 3 blocks and a pair of steals off the bench, as the Cavaliers prevailed, 65-58.
The 6-foot-8, Ripon, Wis., native has started every game for the Wahoos ever since, and has been a key contributor in the team's journey to a share of the conference's regular-season championship. Now he has an opportunity to shine on another big stage and try to help add another piece of hardware to the UVA trophy case this weekend.
"I'm super excited," he said. "The ACC Tournament is just a really cool event. Obviously growing up watching it and taking it in as a fan, but now being able to be a part of it, a new level of excitement is there. Just looking back at my previous experience of the conference tournaments, you've got what will be three games in three days for us if we're able to make it to Saturday, and it's a grind, but it's something that I'm really looking forward to."
Vander Plas said that recent practices have been ramped up in terms of focus and intensity leading up to the postseason, and he believes the Wahoos have all the right ingredients for a magical run.
"I think definitely with the experience that we have on this team, guys kind of know what time of year it is, and it's really time to lock in," he said. "At the same time, we just like to focus on quality every day and not getting too far ahead of ourselves, but there's definitely that feeling of, 'Hey, it's March.' I'm looking forward to this week."
McKneely, meanwhile, grew up in the shadow of ACC country in Poca, W.Va., and was also a big fan of the tourney as a kid — and that included heavy interest in one particular team.
"All the schools are pretty close to me, and I actually grew up a North Carolina fan, so that probably is hard to hear, but I grew up watching North Carolina a lot," admitted McKneely, with a chuckle. "So I tried to watch ACC as much as I could, and a few ACC schools recruited me, so I tried to catch any of their games when I could, and the ACC is a really good conference and I'm thankful to be playing in it."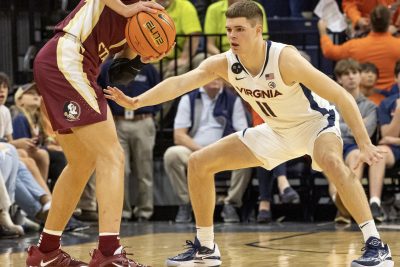 McKneely's role has steadily increased over time, and he admitted that he wasn't quite sure what to expect in terms of playing time at the start of the season, but added that he's feeling more and more comfortable on the floor, and it's all starting to come together for the sharpshooter.
"I think I knew I was capable, just as long as I could work," said McKneely. "Coach Bennett couldn't promise me anything, but he said if I'm good enough, I'm gonna be out there. So I just took that as motivation and worked hard during the summer and offseason. And once practice got here, I started working into the rotation a little bit and I just continued to work and I'm putting up valuable minutes for our team, so I'm really proud of myself for that and hopefully I can continue to contribute."
McKneely said the late-season losing skid against Boston College and UNC was obviously a tough pill to swallow for everyone involved, but that the Hoos stuck together and closed the campaign on a positive note heading into the postseason.
"I think every team kind of has a little hiccup, not every team can be perfect throughout the whole season," McKneely said. "We had a couple tough games, but we bounced back the last two games, and that last game, Senior Day, it was really cool for them. We have a lot of seniors and I've built really good relationships with them. It's gonna be tough to see them go, but I'm glad that I've had the chance to play with them, and hopefully we can go out on top in the ACC tournament and make a run in March Madness with them as well."
Dunn is no stranger to ACC postseason competition, as his older brother, Justin, was a pitcher for Boston College and is now a member of the Cincinnati Reds' organization.
He said he was a big fan of ACC hoops as a child as well, and although he isn't able to play closer to his hometown of Freeport, N.Y., he's ready for his first ACC Tournament experience.
"Oh, I watched it all the time," Dunn said of the event. "I always watched the ACC, I feel like that was the best conference when I was young, so it's kind of crazy now, me being able to go down to Greensboro. I wish it was in New York, but I'm just excited to go down to Greensboro and play."
Dunn also believes that going through the late-season losses to the Eagles and Tar Heels was somewhat of a blessing in disguise, allowing the team to correct its mistakes in time for a postseason run.
"I think it's a great experience, learning from those rough patches like BC and UNC and then being able to take that and translate it over to Clemson and Louisville to win that championship," said Dunn. "I think it's good momentum for us, now coming into the ACC Tournament, going to Greensboro and learning from those experiences and getting ready for Thursday."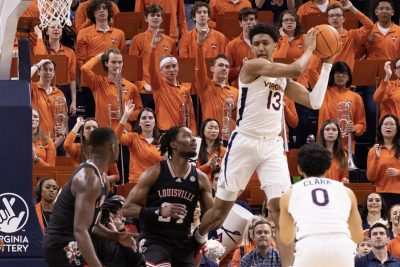 Dunn said he never thought he'd be playing meaningful minutes as a freshman this late in the season, but that he's taken the opportunity and made the most of it.
"Honestly, no," Dunn said when asked if he ever thought he'd be in the position he's in. "I think it would just be more of a learning experience for me. I didn't expect me to come out and play as much as I'm playing now. I think it was more continuing to learn, but I think through [Bennett], the coaching staff and even the grace of God, I just kept working. So I knew I had an opportunity, I had a chance to play, so once I got to practice here in the summer, just continued to learn and grow and then once he gave me the opportunity to come and play I feel like I just took it."
Dunn has since provided a spark and an energy boost off the bench for the Cavaliers, oftentimes locking down the opposing team's top scoring threat while throwing down a highlight-reel jam or two on the other end. The 6-8 freshman sensation says he's seeing the college game much more clearly than at the beginning of the season.
"I think I'm a lot better," Dunn admitted. "I think my game has kind of slowed down. I've kind of learned more about college basketball now. I feel like there's a lot more ways for me to grow, but I feel like I've gotten a lot better."
Coach Bennett knows that both Dunn's and McKneely's contributions will be important in Greensboro and beyond, but he doesn't want them to try to reinvent themselves for the homestretch.
"Yes, they're first-years, but just step into it and don't try to go outside of yourself, and just give everything you got and don't get distracted," said Bennett. "It's between the lines. Maybe tournament play gets a little more intense and aggressive, but you don't become something different. And you trust what you've done and how you play, and that's why, again, a clearer mind or not being distracted, I think is the way for these guys. And we tried to do a good job of encouraging them and challenging them and tell them, 'Be free, but be ready and understand who you are.' So my hope is that they'll be able to do that, and they've given us very nice lifts in this first year at crucial times."
Now, Dunn, McKneely, Vander Plas and the rest of the Cavaliers head back down Tobacco Road for a round-three showdown with the Heels in their own backyard in front of a packed arena and a national TV audience. All those years of dreaming about competing in such an environment become a reality when the ball is tipped this evening.
"Just growing up watching March Madness and filling out the brackets when I was younger, just being able to be a part of that now, it's just kind of — even still — it's hard for me to believe, and yeah I'm really excited for the challenge," said McKneely.