UVA's O'Connor: 'My heart is broken for them,' after telling team season is over
By Jerry Ratcliffe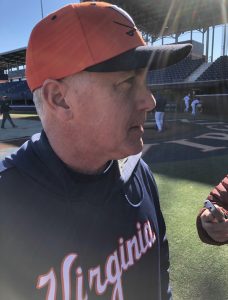 Brian O'Connor and Virginia's baseball team had stopped for lunch in Hagerstown, Md., on Thursday, en route to Pittsburgh for a weekend series with the Panthers. Instead of grabbing a bite and hitting the road, the UVA coach was advised by athletic director Carla Williams to hang tight.
The sports world was changing by the hour and Williams didn't want the Cavaliers to continue on their journey if it wasn't necessary.
Then, the edict from the ACC came down that all spring sports had been suspended until further notice.
"I was working on my scouting report on Pitt on the way up," O'Connor said. "We were informed to turn around and come back to Charlottesville."
It was one of the toughest announcements he had ever made to any of his teams.
"In those three hours coming back, everything changed," O'Connor said. "It went from no series this weekend all the way to college baseball season being ended.
"There was a lot of emotion on the bus. We had a meeting when we got back and it was a very emotional locker room with kids who poured their hearts and souls into what they do and being the best baseball players they could be. For it to come to an abrupt end, it's tough. I really feel for the players, especially the seniors and fifth-year players."
In reality, O'Connor knew the decision had to be made. Like he said, it's just a baseball game. The health and safety of everyone involved took priority. Still, it's a difficult change in lifestyle.
"I told them that my heart is broken for them," O'Connor said of his locker room meeting with his team. "They're not professionals. They get a short window of time to do this.
"Guys in their first year, guys who are in their third year and eligible for the Major League Draft. Guys who will probably never wear our uniform again and will probably go on to professional baseball."
The Virginia skipper was glad that if the season had to end Thursday, that the Cavaliers went out as winners. UVA routed UMass Lowell by a 24-5 score and improved the team's record to 13-4. It was the most runs in a game in more than a decade for Virginia.
O'Connor said he was 1,000 percent on board with an NCAA decision to approve an extra year of eligibility for spring-sports athletes, which was passed later in the day Friday.
There is some speculation that spring sports may be revisited at a later date, but O'Connor wasn't sure how that might go.
"One would hope [for the season to be revisited] with our championship being way down the road," he said in reference to the NCAA Tournament and College World Series in late May and into the middle of June. "Maybe something will be reconsidered down the road, but I don't hold out a lot of hope for that."
O'Connor said should that happen, teams could get themselves together in a matter of a couple of weeks.
"These guys are highly motivated," the skipper said. "They're going to continue to train. Our sport is a little bit unique in that we have the Major League Draft (in June) and the summer baseball leagues."
Meanwhile, he anticipated most of his players would leave town Friday and head home to their families.
Not to make light of the situation, but during the extra time in Hagerstown, the UVA team spent an hour or so at a local mall. O'Connor's wife instructed him to purchase some hand sanitizer because most of that item had disappeared from store shelves in Charlottesville.
O'Connor grabbed up what he could and brought it home, only to find that all of the sanitizer he bought had one feature he didn't expect: Glitter.
So if you see the UVA baseball coach over the next few days and his hands are covered in glitter, you might not want to bring it up.

Comments