UVA's Perkins Holds His Own In National QB Rankings
By Jerry Ratcliffe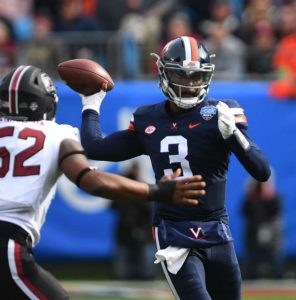 If you're a Virginia fan then you already know that Bryce Perkins is special. Last season, his first playing FBS football, Perkins was one of only two quarterbacks in the country with 2,600 passing yards and 900 rushing yards.
The other? Oklahoma's Kyle Murray, who happened to win the Heisman Trophy.
Pro Football Focus has rated all the nation's FBS QBs heading into the season, and UVA's Perkins was ranked No. 15 in the country (No. 2 in the ACC behind only Clemson's Trevor Lawrence).
This is what the rater, Cam Mellor, wrote about the Cavaliers' QB:
"Perkins gets it done mainly with his legs but that doesn't mean he isn't a more-than-capable passer. Still, he had more rushing attempts than any non-option quarterback and his 46 missed tackles forced on the ground lead all returning FBS quarterbacks, even those who run their option attacks. His rushing ability is not in question and nor should his passing ability as he returns with a top 10 mark in adjusted completion percentage."
Perkins, who transferred to Virginia from Arizona Western Community College, exceeded everyone's expectations, including Cavaliers' coach Bronco Mendenhall. In fact, Perkins' accelerated growth took UVA's program in 2018 where Mendenhall expected it would be in 2019.
Year 2 for the QB arrives with great expectations. Mendenhall said that Perkins should be better in all facets of the game, and more throwing accuracy would probably elevate the Arizona-bred quarterback to a higher level in the PFF rankings. His experience will also allow UVA to open up its playbook more than a year ago.
Last season, Perkins completed 225 of 349 passes (.645) for 2,680 yards and 25 touchdowns. He was picked off nine times. He also rushed 212 times for 923 yards and another 9 TDs. He averaged 4.4 yards per rush, and 70.1 per game.
"I just want to look at last season and see the things I can get better at," Perkins said recently. "Definitely a big part of winning a championship is late-game [performance] and situational football.
"Last year we lost three of the last four, two went into overtime and the other went into the fourth quarter. I look at my play late in the season and in games so that we can be in position to win. Finishing out games and becoming a clutch quarterback will help allow this team to win a championship."
We're not going to list the entire 130 quarterbacks in the PFF rankings, not that you would probably care. However, we will list PFF's rankings of the ACC quarterbacks and Virginia's nonconference opponents, and also toss in the top 15 so that you can judge for yourself if there are 14 other QBs in the country better than Perkins.
Me? I'm a little skeptical because I've seen Perkins do some rather amazing things. Personally, I'd rank him quite higher.
PFF's Top 15: 1) Clemson's Trevor Lawrence; 2) Alabama's Tua Tagovailoa; 3) Oregon's Justin Herbert; 4) Houston's D'eriq King; 5) North Texas' Mason Fine; 6) Texas' Sam Ehlinger; 7) Stanford's K.J. Costello; 8) Iowa State's Brock Purdy; 9) Georgia's Jake Fromm; 10) Arizona's Khalil Tate; 11) Oklahoma's Jalen Hurts; 12) Baylor's Charlie Brewer; 13) Michigan's Shea Patterson; 14: UAB's Tyler Johnston III; 15) Virginia's Bryce Perkins.
Other ACC QB's, and UVA nonconference opponents: 18) Notre Dame's Ian Book; 35) Florida State's James Blackman; 37) Wake Forest's combo Sam Hartman/Jamie Newman; 45) Boston College's Anthony Brown; 70) Syracuse's Tommy DeVito; 73) Virginia Tech's Ryan Willis; 77) Miami's Jarren Williams; 84) Pitt's Kenny Pickett; 91) Duke's Quentin Harris; 92) Liberty's Stephen Calvert; 98) N.C. State's Matt McKay; 99) North Carolina's Sam Howell; 103) Georgia Tech's Tobias Oliver/Lucas Johnson; 115) Old Dominion's Steven Williams; and No. 128 (out of 130) Louisville's Jawon Pass.

Comments