UVA's Ronde Barber among final 15 hoping for Pro Football Hall of Fame selection
By Jerry Ratcliffe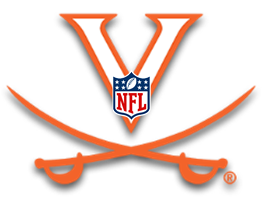 A player who helped redefine the slot corner position in the NFL, former Virginia star Ronde Barber, has made the short list for the Pro Football Hall of Fame.
Barber, who was a first-team All-ACC pick in 1994, '95 and '96, while playing cornerback for George Welsh's Cavaliers, is among 15 retired NFL players hoping for induction in Canton. Along with Barber is his former Tampa Bay Buccaneers teammate John Lynch, along with LeRoy Butler and Charles Woodson, Jared Allen, Tony Boselli, Alan Faneca, Torry Holt, Calvin Johnson, Peyton Manning, Clay Matthews Jr., Sam Mills, Richard Seymour, Zach Thomas and Reggie Wayne.
Barber and his identical twin brother Tiki, came to UVA from Roanoke and both became legendary players for the Cavaliers before carving out their legends in the NFL.
Canton's selection committee will meet virtually on Jan. 19 to select the Hall of Fame's Class of 2021, just ahead of the Super Bowl, which will be played in Barber's old stomping grounds of Tampa's Raymond James Stadium.
A third-round pick by the Bucs in 1997, Barber set franchise records for games played (241), games started (232), interceptions (47) and defensive touchdowns (14). Barber is the only player in NFL history to post at least 45 interceptions and at least 25 sacks. He never missed a game due to injury, starting 215 consecutive contests. He was a major figure in helping the Bucs reverse football fortunes in the late '90s, leading to the Super Bowl XXXVII title.
As a slot corner, Barber exhibited amazing blitzing skill, finishing his career with 1,428 tackles, an incredible number by a cornerback. He played a dual role as both outside corner and inside nickel.
During his NFL career, Barber scored 14 touchdowns. Only three players in the history of the league can claim more "non-offensive" touchdowns: Deion Sanders, Rod Woodson and Devin Hester. One of those by Barber was most memorable, a 92-yard interception return in the 2002 NFC Championship game that sent the Bucs to their first Super Bowl.
UVA has three Pro Football Hall of Famers, Bill Dudley (inducted 1966), Earle "Greasy" Neale, head coach (inducted 1969) and Henry Jordan (inducted 1995).
Barber is third on the Cavaliers' all-time interceptions list with 15 and led the ACC in interceptions for the 1994 season (his sophomore year) with eight.