Vassell, Polite too much as FSU hands Virginia its third straight loss, 54-50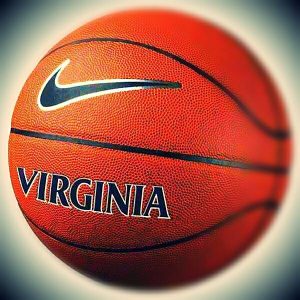 Florida State got a huge 3-pointer from Devin Vassell with 14.5 seconds remaining, and held on to defeat Virginia in Tallahassee, 54-50, extending the Cavaliers' losing streak to three games.
The Wahoos (11-5, 3-3 ACC) held a three-point edge with just over three minutes to play after trailing much of the contest, but FSU's Anthony Polite nailed a 3-ball — his fourth of the night — to tie the game at 47-all with 2:24 to go. Senior point guard Trent Forrest then sank a pair from the line with 1:30 left to put the Seminoles (15-2, 5-1) ahead to stay.
Virginia's Tomas Woldetensae couldn't get the ensuing inbound pass across the half-court stripe within 10 seconds, giving it right back to the home team, but Forrest missed the front end of a one-and-one opportunity and the Cavaliers still had life, down by two, as the game went inside a minute to play.
Kihei Clark committed his ninth turnover on a wayward entry pass with 40 ticks showing, leading to Vassell's triple on the other end that made it a five-point affair. The ninth-ranked Seminoles converted 18 UVA giveaways into 18 points.
Woldetensae redeemed himself with a tough 3-pointer — his third of the game — with 5.9 seconds on the clock, but Vassell swished two free throws to put it out of reach. Braxton Key couldn't get a final shot up, as he slipped onto his backside as time expired.
UVA fought back from an early 11-2 deficit, scoring 16 of the game's next 19 points to take a four-point advantage by the under-eight timeout of the opening half. The 'Hoos led 24-20 on a Clark reverse layup with 4:54 left in the half before going cold, as the 'Noles closed the period with 11 unanswered points — nine of which came via Polite 3-pointers — over the final 3:45, and the Cavaliers trailed 31-24 at halftime.
Woldetensae banked in the team's first triple of the night (after an 0-for-8 start) to trim it to 35-34 with just under 14 minutes to go, as the 'Hoos took the lead back on a steal and a mid-range jumper from Clark. FSU responded with a 9-2 spurt over the following four minutes to lead 44-39 with 7½ minutes left.
The Cavaliers countered with eight straight points to take the late lead, but they came up short for a third straight game despite having a chance to win in the closing minutes.
Vassell led all scorers with 18 points, while Polite added 14 (5 for 6 FG, 4-4 from 3) in 20 minutes off the bench. FSU only shot 37 percent (20 for 54) for the game, but knocked down eight 3-pointers, prevailed 31-29 on the boards, and recorded 10 steals.
Mamadi Diakite was the only 'Hoo in double figures with a team-high 16 points (6 of 8 from the field), two blocks, two steals and six rebounds, but fouled out in the closing minutes.
Key and Woldetensae each had 9 points, while Clark had 8 and 5 assists. Key and Clark combined for just three rebounds, as the Cavaliers will now prepare for two games in three days — at Georgia Tech Saturday night and then back at home for NC State Monday night.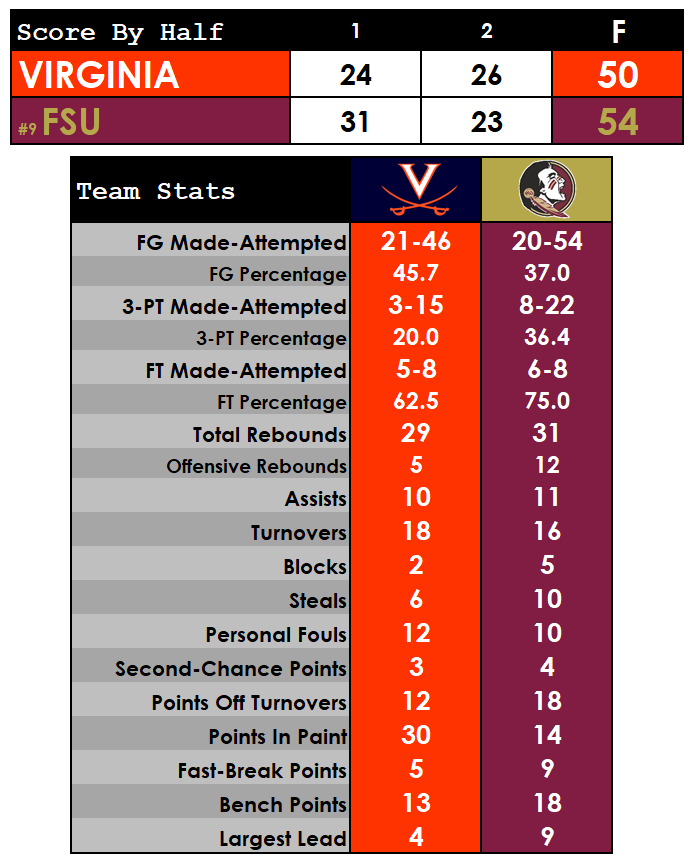 Team Notes
UVA has lost three consecutive games for the first time since losing four straight from Feb. 12-20, 2017 (Virginia Tech, Duke, UNC, Miami).
The teams will meet again in Charlottesville on Tuesday, Jan. 28
UVA is 1-1 vs. ranked opponents in 2019-20 (both top-10 foes)
The Cavaliers are 43-35 against ranked opponents in the Tony Bennett era
FSU closed the first half on an 11-0 run, aided by six UVA turnover in the last 3:47
UVA was scoreless for the last 4:52 of the first half
Series Notes
Virginia is 25-26 all-time vs. Florida State in a series that began in 1991-92
UVA has won seven of the last 11 meetings between the teams
UVA has limited Florida State to fewer than 70 points in each of the last 18 meetings between the teams
Head coach Tony Bennett is 8-9 all-time vs. Florida State
Player Notes
Double-figure scorers: Mamadi Diakite (16)
Tomas Woldetensae (9 points) had a season-best three assists and matched a season high with a trio of 3-pointers
Jay Huff had a team-high seven rebounds off the bench
Kihei Clark had a career-high nine turnovers

Comments