Virginia Baseball Inducts Seven into Hall of Fame
By Jerry Ratcliffe
Baseball probably isn't on your radar in late January as temperatures plummet, but Brian O'Connor anticipates this time of year as if it were Christmas all over again.
The Virginia baseball head coach has his reasons. While the weather outside might be frightful, this is when his team opens practice. With the season looming only three weeks in the distance, the Cavaliers are already in preseason mode.
There's another reason or two that gets O'Connor's juices flowing. The annual UVa "Step Up to the Plate" event is always staged in conjunction with practice beginning, and for the past two years the Cavaliers have welcomed new inductees into the Virginia Baseball Hall of Fame.
Saturday night, prior to Major League Hall of Famer John Smoltz's inspirational speech to UVa's baseball team and its fan base, O'Connor honored seven former Wahoos into his program's Hall of Fame, only the second class to be inducted.
The 2019 inductees included: RHP Tim Burcham (1983-85), 2B/OF Phil Gosselin (2008-10), OF Brandon Guyer (2005-07), C/1B John Hicks (2009-11), LHP Casey Lambert (2004-07), 3B Steven Proscia (2009-11), and 2B Mel Roach (1952-53). Short bios on each player can be found at the end of this article.
Inductees will have their names added to the hall of fame display along the right field concourse at Disharoon Park prior to this season.
"I get excited about this event every year, and how can you not when you have an arena full of 900 people to support your program and the players," O'Connor said of the event held over the weekend. "I look at Step Up to the Plate as the kickoff to our season every year. It kind of signifies to us that baseball is here."
O'Connor proudly welcomed each of the inductees — five of whom played for him — to the Hall.
"Then to have Tim Burcham come back and have Mel Roach here, wow," O'Connor said. "A lot of people say [Roach] is the greatest athlete to ever play at Virginia (football, basketball, baseball). It's a special night and great for our baseball program."
One of the cool things about the Hall, is that O'Connor gets to call each inductee and give them the good news.
"For me to have the opportunity to call each of them is special," the coach said. "They poured their hearts and souls into this program. I know they're very proud to be here."
O'Connor was spot on in that assessment.
"When I got that call from Coach, I didn't know what to expect," said Guyer, who now plays for the Cleveland Indians. "When he said it was for the Hall of Fame, wow.
"It was an honor just to come and play here, then to get inducted into the Hall of Fame with all the great players that have come through here, all the players that were inducted last year, the great class this year … amazing."
Guyer was at home in Cleveland the night before a game when he got the phone call. His wife, Lindsey, who he met in Charlottesville put it on speaker phone. Guyer said he called his dad as soon as he got the news.
"My dad has been there all along with me," said Guyer, who was accompanied to Saturday night's ceremony by his wife, dad, and others important in his life. "My dad was ecstatic. He did so much for me just to get to college, all through the ranks. For me to get honored like that, it's a great honor for him, too, because he was the main reason that I was able to get here."
Hicks, who plays for the Detroit Tigers, was equally excited about the call from his former coach, and he also brought a lot of family to the event.
"This is humbling, obviously an honor," Hicks said. "To go in with Proscia and Gosselin, two guys that I played with and Proscia was my roommate, and in my wedding last year, that's pretty cool. You look at the guys who went in the first class and this year, it's special."
Gosselin, now in the Philadelphia Phillies organization, said he never thought the hall of fame would happen for him, but his family was "pretty pumped up" about the honor.
"When I was [at UVA], I was just trying to get on the field and help the team win," he said. "Just shows the culture they've built here. These coaches are so great. When I got the call I was very excited and a little surprised. I've had a lot of people that I haven't heard from in a while reaching out."
Gosselin was a key figure in helping Virginia baseball reach another level. He was on the first Cavaliers team to reach Omaha and the College World Series in 2009.
"We were close for a while, teams before us losing in the regionals, but we were the first team to break through," he said. "The more removed I am, that's the biggest thing that I look back on that I'm proud of."
When he and his friends get together, they talks about going to Omaha and beating Ole Miss in Oxford. While he had loads of individual accolades, the team success is what he remembers most, although fans won't ever let him forget one particular moment.
His home run bomb off dominating pitcher Stephen Strasburg, San Diego State's All-American in the opening game of the Irvine Regional in '09. While Strasburg would go on to fan 15 Cavaliers in the game, he gave up a solo blast to designated hitter Gosselin, the second batter he faced in the first inning.
Virginia went on to win the game, the series, then Ole Miss en route to Omaha, but Gosselin will forever be linked to Strasburg for that huge roundtripper.
"That's up there for sure," Gosselin said when asked about his best memories as a Wahoo. "That was part of the journey to break through, something I will always remember and definitely something that's brought up to me more than anything else, especially when I'm back here. People bring that up right away."
Hicks was on that team as well, and then returned to the CWS two years later.
Guyer said going into Virginia's Baseball Hall of Fame ranks up there with playing in the World Series with the Indians.
While he was on some of those Cavalier teams that didn't reach the CWS level, he still had fond memories of his time in Charlottesville, highlighted by meeting his future mate.
"Shining moments? Probably getting interviewed by my [future] wife and then asking her out," Guyer grinned. "[Lindsey] was working for NBC-29 when I was here."
Baseball memories? Making two NCAA Regionals and the team reaching a No. 1 ranking nationally his junior campaign, and "playing with such a great group of guys."
"After my junior year of high school I was looking to play football in college, then I had a good junior summer (in baseball) showcase, and Coach Oaks (O'Connor) and some other colleges came calling," Guyer said. "It was my dream growing up to go to Virginia, so to have that happen and play at Virginia, then go into its hall of fame, it's a dream come true."
Returning to Charlottesville for HOF honors really kicked in the baseball season for Hicks. He participated in "Tiger Fest" back in Detroit the previous weekend, so he's excited to report for Pitchers & Catchers in Lakeland, Fla., later this week.
"About two weeks ago, I got home from working out and told myself, I'm ready," Hicks said. "I'm ready for it to start. I'm tired of working out by myself."
O'Connor was thrilled to honor these former Cavalier greats.
"We started our hall of game last year to not only recognize great players who have worn our Cavalier uniform, but to provide a link between them and our current players," O'Connor said. "Having these former players introduced to our current team and having their names permanently recognized in our ballpark strengthens that connection."
2019 Virginia Baseball Hall of Fame Class
RHP Tim Burcham (1983-85)
# UVA's first All-American, a second team selection in 1985
# Holds the UVA postseason record for strikeouts in a game with 12 vs. Florida in the 1985 NCAA Regional
# Selected in the sixth round (147th overall) by the Angels in the 1985 MLB Draft
# His 272 career strikeouts are the third-most in UVA history
# Struck out 146 batters and posted an 11-2 record with a 1.77 ERA in 117 innings pitched with the 1985 ACC Championship team
# His 146 career strikeouts in 1985 were the most in a single season until Danny Hultzen's 165 in 2011. That's a span of 26 years.
# Spent nine seasons in minor league ball, accumulating a record of 72-59 with a 4.55 ERA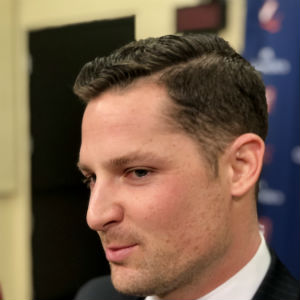 2B/OF Phil Gosselin (2008-10)
# 2010 Collegiate Baseball and NCBWA Third Team All-American
# 2009 Irvine Regional All-Tournament Team; 2010 Charlottesville Regional All-Tournament Team
# 2009 ACC All-Academic Team honoree
# Two-Time First Team All-ACC selection (2009 & 2010)
#Selected in 5th round (164th overall) of the 2010 MLB Draft by Atlanta; made MLB debut in 2013 with Braves
# Set UVa's single season hits record with 100 in 2010
# 22 doubles in 2010 are the second most in a single season at UVa
# Had 50 hits in his first 33 games of 2010 season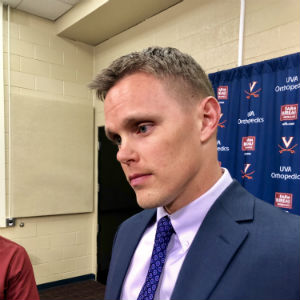 OF Brandon Guyer (2005-07)
# 2007 First Team All-ACC
# .370 batting average in '07 was ninth best in the ACC
# Drafted in the fifth round (157th overall) by the Chicago Cubs in the 2007 MLB Draft
# Current member of the 2018 AL Central Champion Cleveland Indians
# Made his MLB debut with the Tampa Bay Rays on May 6, 2011
# Played in the 2016 World Series with Cleveland
# Set UVa career record for doubles (53), since surpassed
# Had nine RBI vs. Niagara in 2007, second-highest single-game total in UVa history
# 2006 Charlottesville Regional All-Tournament Team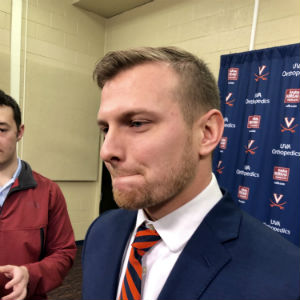 C/1B John Hicks (2009-11)
# 2011 ABCA and Collegiate Baseball Third Team All-American
# 2011 First Team All-ACC
# Played on 2009 & 2011 College World Series teams
# Third all-time in career doubles (54), seventh all-time in career at bats (775), ninth all-time in runs scored and hits (245), tied for sixth all-time in total bases (379)
# 92 hits in 2011 led the ACC and tied for third-most in a single season in UVa history, second most upon graduation
# Holds the program's postseason record for runs in the game (4 vs. VCU in 2010 regional)
# Drafted in the fourth round (123rd overall) by the Seattle Mariners in the 2011 MLB Draft
# Made MLB debut on Aug. 29, 2015, with the Mariners
# Current member of the Detroit Tigers
LHP Casey Lambert (2004-07)
# Finished career as the ACC's all-time leader in saves (43), sixth-most in NCAA history
# UVa's all-time appearances leader (110)
# 2007 Second Team All-ACC
# Drafted in the sixth round (187th overall) by Chicago Cubs in the 2007 MLB Draft
3B Steven Proscia (2009-11)
# 2009 Collegiate Baseball Freshman All-American
# 2011 First Team All-ACC
# Named the 2011 ACC Tournament MVP
# Member of the 2009 & 2011 College World Series teams
# UVa's all-time leader in career RBI (182)
# Ranks second in program history with 411 career total bases and 59 career doubles
# Ranked in the top 10 in career home runs (28 – T-6th) & career hits (254 – 7th)
# Listed on the 2009 Irvine Regional and 2011 Charlottesville Regional All-Tournament teams
# Selected in the seventh round (213th overall) by the Seattle Mariners in the 2011 MLB Draft
2B Mel Roach (1952-53)
# Three-sport athlete at UVa (football, basketball, baseball)
# Inducted into the Virginia Sports Hall of Fame (Class of 1988)
# Led the state in hitting in 1952 & 1953
# Eight seasons in the MLB with the Brewers (1953-61), Cubs (1961), and Pirates (1962)
–END FILE–
Comments