Virginia baseball's run to the 2015 College World Series crown on ACC Network Feb. 9
By Jerry Ratcliffe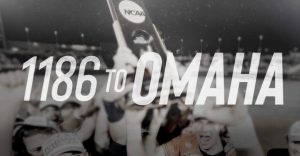 Virginia baseball coach Brian O'Connor was excited to break the news the other day that a documentary on the Cavaliers' run to the 2015 College World Series championship will debut on the ACC Network next month.
"1186 to Omaha" chronicles UVA's rise as one of the game's best programs of the last decade. It will appear on the ACC Network on Sunday, Feb. 9 at 9 p.m. The "1186" reference is the 1,186-mile trip to Omaha, home of the CWS.
Wahoo fans will recall the team's gut-wrenching loss to Vanderbilt in the 2014 CWS. After O'Connor and his staff regrouped, they felt like the Cavaliers had the talent to make a serious run at the Series in 2016. Little did they know the '15 squad would shock the baseball world.
Hobbled by injuries that helped lead to some difficult defeats, it appeared UVA's string of NCAA Tournament experiences would come to an end in 2015. But the team rallied and made the NCAA field for the 12th consecutive year.
Little did anyone suspect the Cavaliers would make it back to the championship round and a rematch with Vandy, which would result in Virginia bringing the first CWS title to the ACC since 1955.
1186 to Omaha: @UVABaseball's road to the National Title 🏆

Premieres Feb. 9th exclusively on ACCN ⤵️ pic.twitter.com/GfG8TJP10o

— ACC Network (@accnetwork) January 17, 2020
Karl Ravech, ESPN's noted baseball commentator, narrates the documentary, which was produced by Bill Reifenberger and Silverthorn Films.
According to ESPN, the film will feature reflections from O'Connor following that 2014 loss to the Commodores and getting another chance the following year. Also accounts from former UVA stars and Major League Baseball World Series Champions Ryan Zimmerman and Sean Doolittle on the culture O'Connor has built in Charlottesville, among several other highlights.

Comments