Virginia braces for noon showdown with Duke in NCAA Super Regional
By Jerry Ratcliffe
With Duke coming to Virginia this weekend for a rematch of a late-April series, Cavalier fans are hoping their heroes can avenge one of the only two home ACC series UVA suffered this season.
Coach Brian O'Connor's Wahoos have only lost four games at Disharoon Park all season long. Half of those losses came at the hands of the Blue Devils. The two conference rivals meet again at Disharoon Park on Friday at noon for a best-of-three NCAA Super Regional. The survivor will punch a ticket to Omaha for the College World Series.
While Duke took two out of three against UVA a couple of months ago, the Cavaliers aren't dwelling on that meeting.
"Coach said earlier this week that what happened in the regular season has nothing to do with what we do for our preparation this weekend," said Virginia right fielder Casey Saucke on Thursday. "As long as we take care of what we can control and stay focused on ourselves, that's all we can do and hope for the best."
Duke went 15-3 during the month of April, with one of those losses coming to Virginia. But after the Blue Devils took that series with the Cavaliers, Duke went into a slide, winning only four of 12 games heading into postseason.
"Certainly we're familiar with Duke, we get the opportunity every year to play them because we're in the same division," O'Connor said. "We have the utmost respect for them. They've got an outstanding team. Coach [Chris] Pollard is a tremendous coach and has done a great job at Duke.
"I think our Super Regional sold out in about six hours, and that shows the enthusiasm that this community has for our baseball program. We're looking forward to another packed ballpark in the coming days and excited for the opportunity."
Virginia led all ACC regional host sites in attendance last weekend (see related story here).
O'Connor will start right-hander Nick Parker (8-0, 3.78 ERA, 69 IP, 19 BB, 74 SO) against the Blue Devils. Duke will counter with lefty Andrew Healy (5-1, 2.27 ERA, 39.2 IP, 6 BB, 42 SO). Healy threw three scoreless innings against Virginia in the April series in Duke's 7-3 win over the Cavaliers.
Parker, who has won five-straight starts coming into today's game, struck out 12 Blue Devils and held Duke to a mere four hits and two runs in 6.2 innings. He retired 11 of his final 13 batters in that meeting.
Today will be Parker's 55th start as a college pitcher (15 at UVA, 40 at Coastal Carolina). That's the second-most starts by any active Division I pitcher. Virginia is 12-2 in games that Parker has started this season.
While Parker will start, O'Connor said that in the Super Regionals, it will be "all hands on deck."
Virginia boasts the No. 1 team batting average in the nation at .334, leads the country in doules (161) and features the second-highest scoring margin (4.8) in college baseball behind only No. 1 NCAA seed Wake Forest (6.0). UVA also has the second-most hits in the nation (715).
"I think we're playing our best baseball right now," Saucke said. "We're red hot, and we've had a lot of time to prepare and work hard as a team. I think we're ready to let it shine on the field and just do our thing."
Virginia is certainly aware of how dangerous this Duke team can be. The Devils' 17 runs in one of those April losses was the most runs the Cavaliers gave up in a game this season. UVA countered with 10 runs in its lone win in that three-game set.
O'Connor's pitching staff also knows that Duke has some power in its batting order, with the Devils having racked up 107 home runs this season, a program record, including a dozen roundtrippers in Duke's regional championship in Conway, S.C., last weekend.
One of the Blue Devils that Virginia will focus on is junior Alex Stone, who batted .538 (7 for 13) against the Cavaliers in the previous three meetings. Stone scored seven runs in the process and ripped a home run in each of the three games. Duke had six homers that weekend and had five of its starting nine batters hit above .357 in that series.
For a complete statistical breakdown of the Cavaliers and Blue Devils, check out the Wahoo Preview below: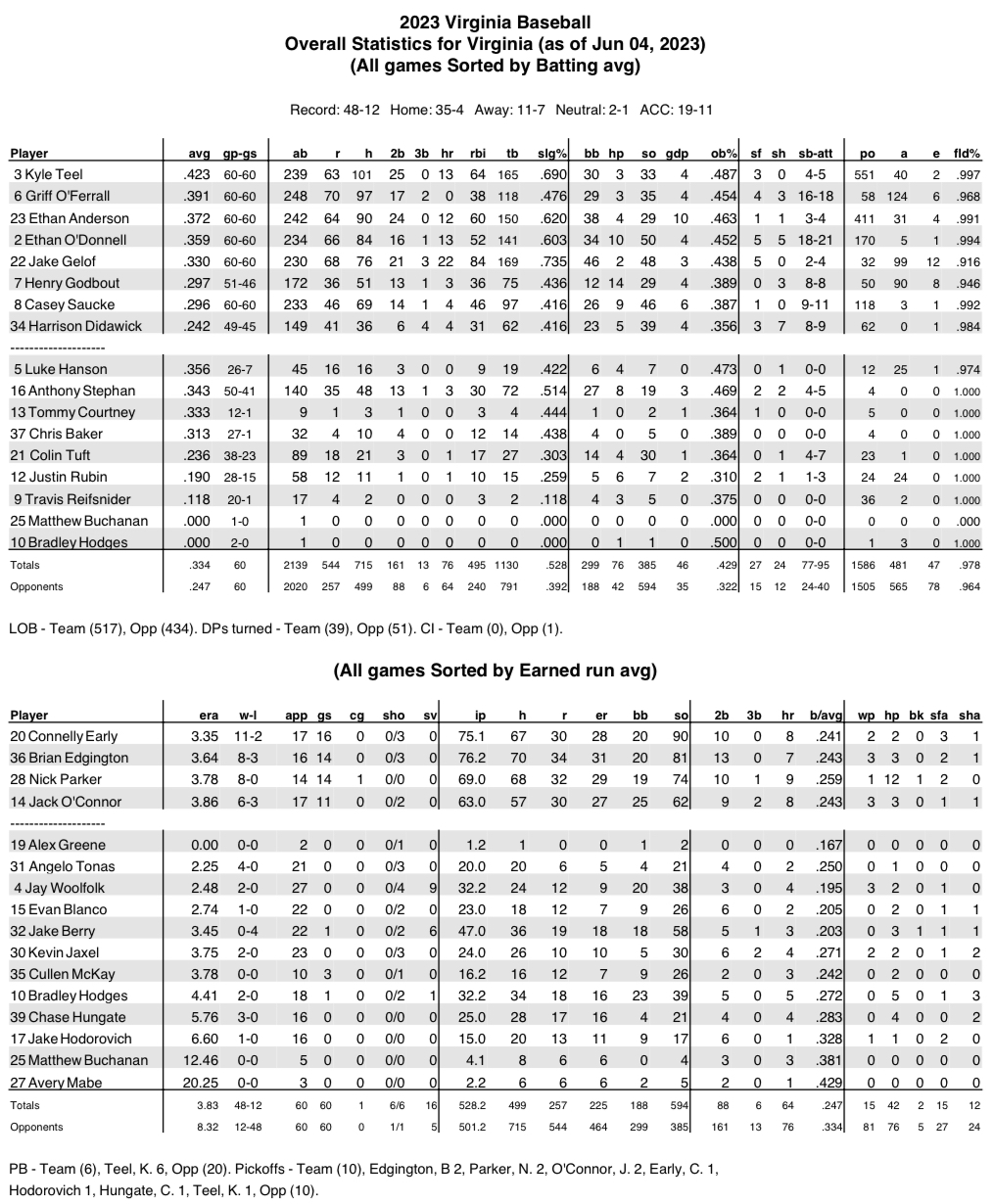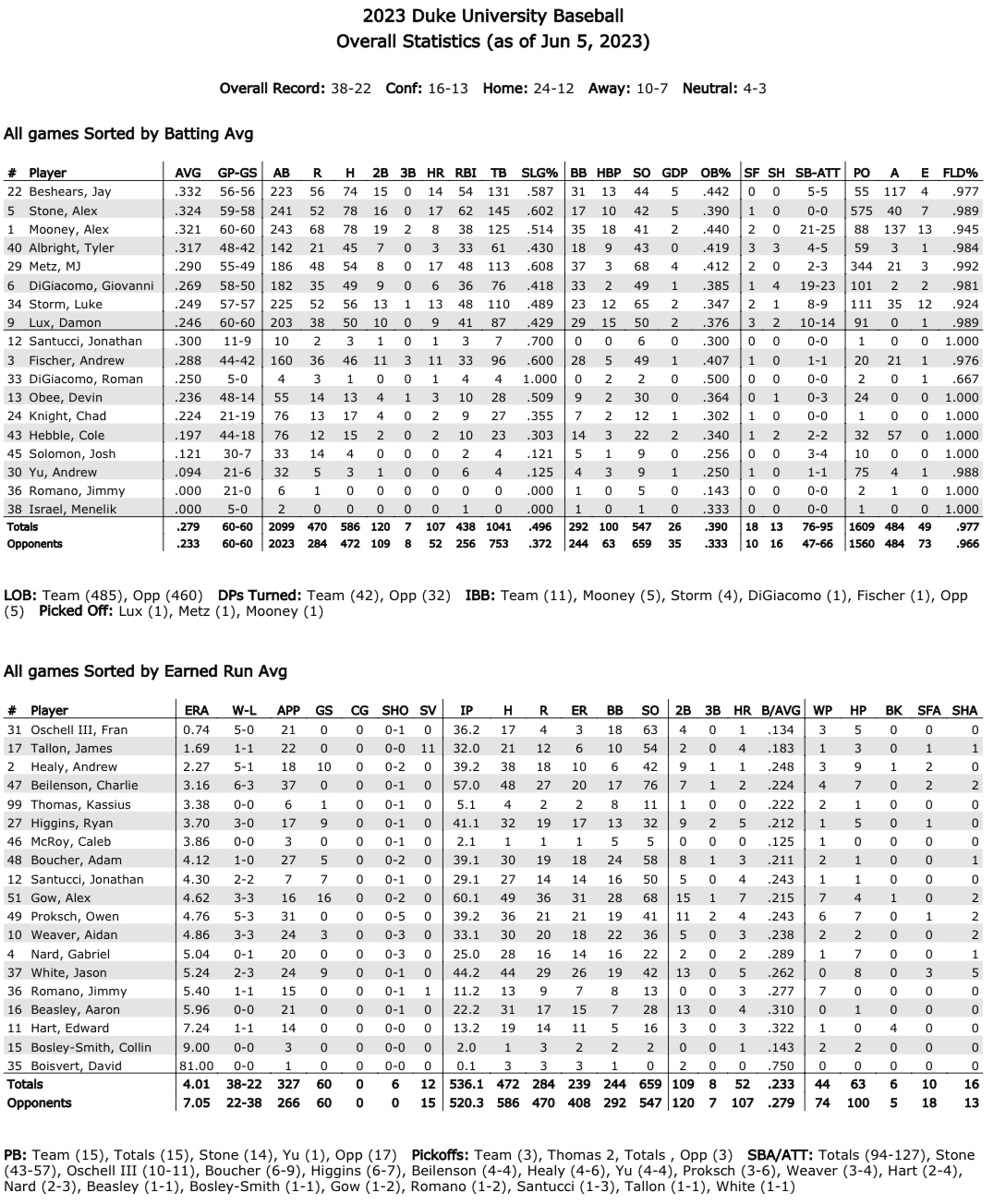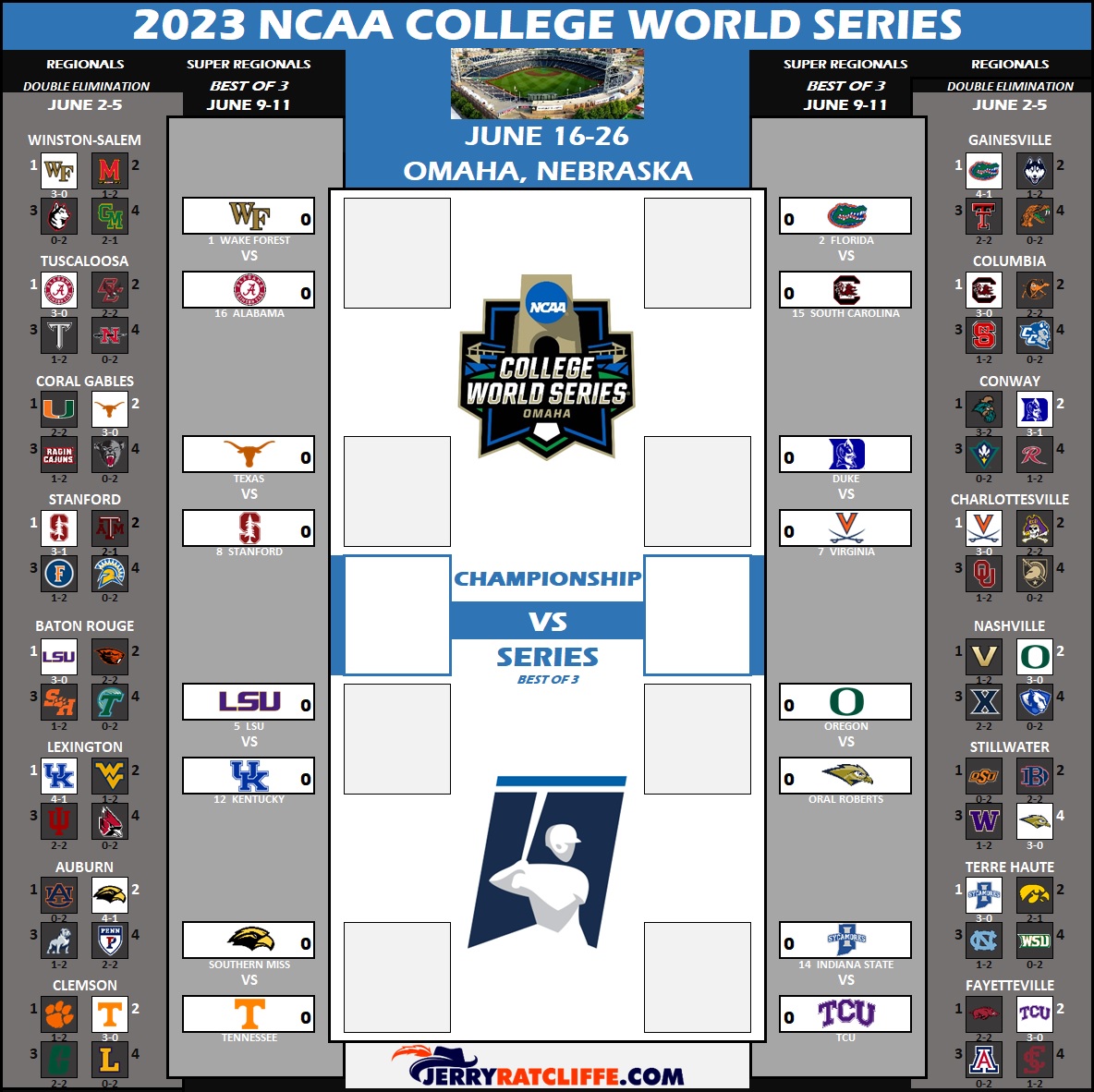 NCAA DIVISION I BASEBALL CHAMPIONSHIP
SUPER REGIONALS
Best of 3
Friday, June 9-Monday, June 12
No. 1 Wake Forest (50-10) vs No. 16 Alabama (43-19)
Game 1: Saturday, Noon (ESPN)
Game 2: Sunday, TBD
Game 3: Monday, TBD (if necessary)
Texas (41-20) vs No. 8 Stanford (41-17)
Game 1: Saturday, 6 p.m. (ESPN2)
Game 2: Sunday, TBD
Game 3: Monday, TBD (if necessary)
No. 5 LSU (46-15) vs No. 12 Kentucky (40-19)
Game 1: Saturday, 3 p.m. (ESPN)
Game 2: Sunday, TBD
Game 3: Monday, TBD (if necessary)
Southern Miss (45-18) vs Tennessee (41-19)
Game 1: Saturday, 3 p.m. (ESPNU)
Game 2: Sunday, TBD
Game 3: Monday, TBD (if necessary)
No. 2 Florida (48-15) vs No. 15 South Carolina (42-19)
Game 1: Friday, 6 p.m. (ESPN2)
Game 2: Saturday, 3 p.m. (ESPN2)
Game 3: Sunday, TBD (if necessary)
No. 7 Virginia (48-12) vs Duke (38-22)
Game 1: Friday, Noon (ESPN2)
Game 2: Saturday, Noon (ESPN2)
Game 3: Sunday, TBD (if necessary)
Oregon (40-20) vs Oral Roberts (49-11)
Game 1: Friday, 8 p.m. (ESPN)
Game 2: Saturday, 9 p.m. (ESPNU)
Game 3: Sunday, TBD (if necessary)
No. 14 Indiana State (45-15) vs TCU (40-22)
Game 1: Friday, 5 p.m. (ESPNU)
Game 2: Saturday, 6 p.m. (ESPNU)
Game 3: Sunday, TBD (if necessary)
😀 we have postseason baseball tomorrow at The Dish! #GoHoos pic.twitter.com/cjHTQ8TqwW

— Virginia Baseball (@UVABaseball) June 8, 2023