Virginia defeats Stony Brook, 56-44
By Jerry Ratcliffe
Wednesday night was one of those kind of nights, the kind that highly-favored teams lose during the silent December stretch when nobody is paying attention.
A 10-day, no-game exam break, students missing for Christmas break, a hungry non-conference team hoping to make its season by shocking the college basketball world. It's not always an easy proposition, as No. 9-ranked Virginia will attest.
The Cavaliers led visiting Stony Brook by only five points (43-38) with a little more than six minutes remaining in a sluggish restart to the season. Then 7-foot-1 Jay Huff came crashing through the door like John Wayne in an old western movie, saving the day and leading Virginia to a 56-44 win.
Huff scored back-to-back baskets, one on a stickback of a Kihei Clark miss, another on a pump-fake and drive to the basket, then blocked a Stony Brook shot, resulting in a Kody Stattmann alley-oop from Clark on the other end as the Cavaliers iced away their ninth win of the season in 10 games.
In a typical low-scoring, intense-defense game, the Wahoos were prime for an upset, which teams are susceptible to at this time of year — ask Duke (vs. Stephen F. Austin at Cameron) or UNC (vs. Wofford at Carmichael). Tony Bennett's team had to rely on the little things and a couple of big things in Huff and Mamadi Diakite.
Some might mistake the little things as 5-9 point guard Kihei Clark, and while Clark was certainly a key, that's not the little things Stony Brook coach Geno Ford was referring to in his insightful postgame media chat.
"[Virginia] does all of the little things well and they're honestly what teams around the country want to emulate and who they want to be," Ford said. "You see a team that does all of the little things right all the time. They play hard on defense, even when they're not making shots. You can talk about that all you want, but there are not many teams in the country that can consistently do that."
When all else fails, Bennett knows he can rely on suffocating defense and that's what he got against Stony Brook. The Seawolves shot 38 percent (17 of 45) and 5 of 21 from beyond the arc. 
UVA didn't shoot particularly well until when it had to, but did make 9 of 12 free throws, and got 20 points from its bench, mainly in the form of Huff, who did not start, but contributed 12 points and seven rebounds in 23 minutes.
While Diakite (13 points, six rebounds) and Clark (14 points, six assists) kept the Cavaliers uncomfortably ahead for most of the game, it was Huff who worried Ford the most coming in.
"It's funny, watching film, to me he looks like an NBA prospect. He's big, he has good touch, he has a decent jump hook and can shoot from the perimeter," Ford said. "He was a big concern coming in. We didn't block him out in the zone, which hurt us."
Huff, who was replaced in the starting lineup by 7-foot redshirt freshman Francisco Caffaro, said that "You have to be ready for whatever you're given."
"I was concerned that we needed to make sure that [Stony Brook] didn't come back," Huff said of his brief point flurry down the homestretch. He knew that while the lead might be smaller than usual in the final minutes, that in reality it seemed bigger because of UVA's style of play, a point to which Ford agreed.
The Seawolves' coach said that Tomas Woldetensae's banked 3-pointer at the 7:24 mark, elevating Virginia from a four-point lead to a seven-point lead, was a killer for his team, particularly with Huff following that with two baskets.
"Because when you're playing them, they're so great on defense that the 3 banks in and it almost feels like it's worth nine because you just don't have that many possessions to make up for it," Ford said.
After bolting to a 14-2 lead, Virginia's shooting percentage dropped considerably but the 'Hoos still led 28-18 at the half. In the second half, the Seawolves (now 7-6) slowly fought their way back into it and all of a sudden the Cavaliers were in a dogfight until the Woldetensae 3-pointer and Huff's heroics.
"Stony Brook is very capable," Bennett said. "Watching them play against Providence (an 82-78 loss), and some other teams, they have experienced guards that will pull up off the dribble, they can shoot the ball. We responded well enough and we just keep fighting to be as good as we can."
For senior Diakite, he wasn't exactly shocked by the offensive letdown, and having to fight to win.
"That is something we knew this year we would have to face, so we just keep working at it and keep taking steps to figure it out," Diakite said. "It's always a night where veterans have to step up. It's a matter of the younger guys following their lead.
"That's the only question that really matters, and I thought they responded well. That's the reason we are here with a win tonight."
Virginia returns to action on Sunday at 3 p.m. with a home game against South Carolina.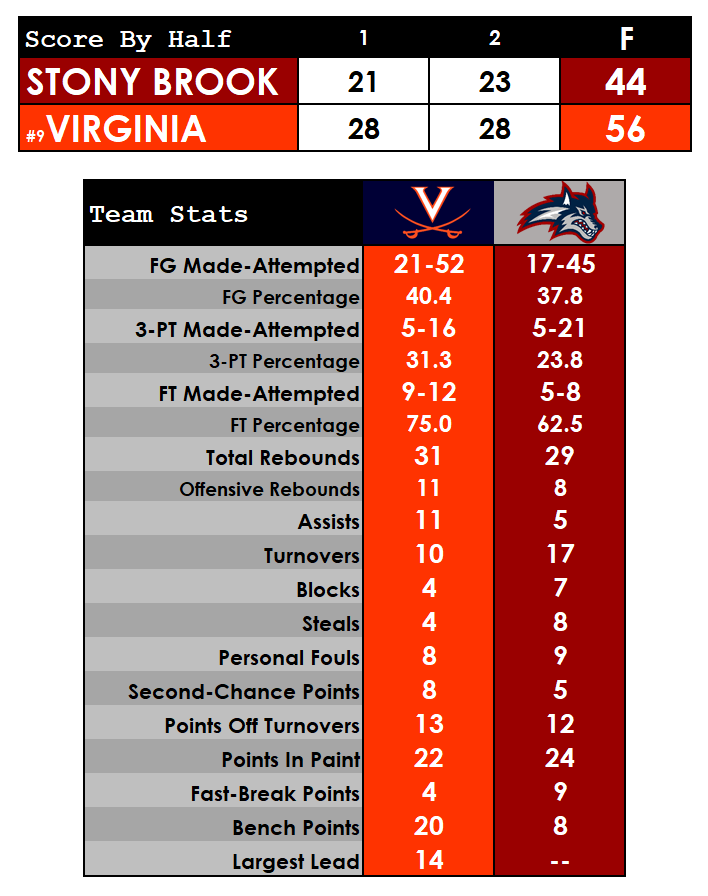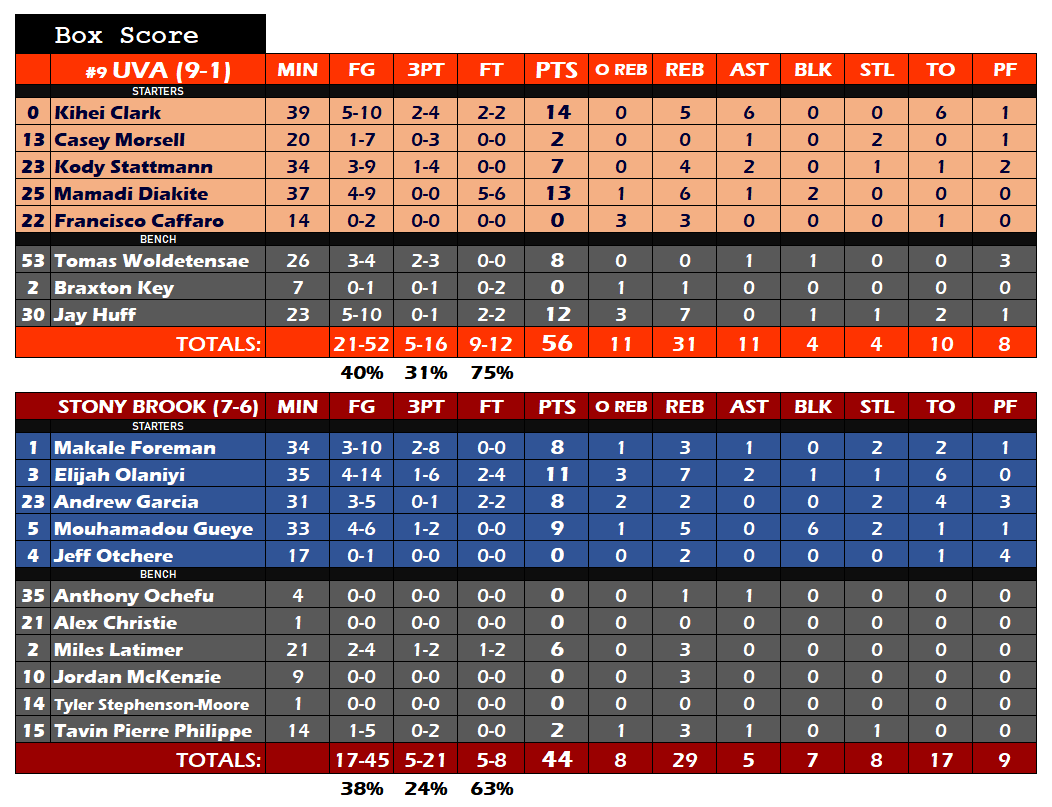 Courtesy UVA Media Relations:
Team Notes
UVA is 8-0 when limiting opponents to fewer than 50 points
UVA is 95-2 when achieving the mark in the Tony Bennett era
Bennett-coached teams are 120-3 when holding opponents to fewer than 50 points (25-1 in three years at Washington State)
Series Notes
UVA and Stony Brook met for the first time
Player Notes
Double-figure scorers: Kihei Clark (14), Mamadi Diakite (13), Jay Huff (12)
Francisco Caffaro make his first career start
Braxton Key played seven minutes after missing three games with a wrist injury
Clark tallied 14 points, five rebounds and six assists for his third 10-5-5 game of the season
Clark matched a career high with six turnovers
Casey Morsell matched a season high with two steals

Comments