Virginia Faces South Carolina in Belk Bowl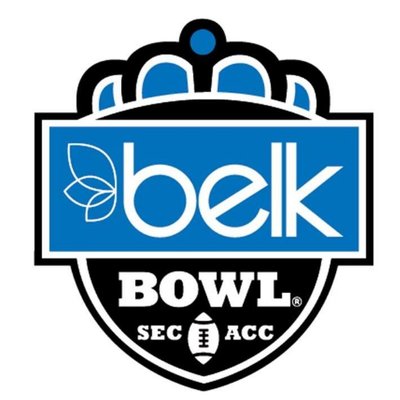 By Jerry Ratcliffe
Bronco Mendenhall would have been happy with any of the bowls Virginia was under consideration for, but was fired up Sunday night when he talked about facing South Carolina in the Belk Bowl.
If you followed this website over the past couple of weeks, we predicted the Cavaliers would play in the Belk Bowl, and initially predicted South Carolina would be the opponent until rumors out of Columbia insisted the Gamecocks were going elsewhere. Alas, our original prediction was spot on.
Mendenhall couldn't be happier about the game.
Virginia and South Carolina will face off at noon on Dec. 29 in Charlotte at Bank of America Stadium, home of the NFL's Carolina Panthers. The Gamecocks opened as a 3-½ point favorites.
"I love the matchup, I love the game and I love the draw for so many reasons," Mendenhall said. "The proximity of the game and the location of the stadium that the game is in is exceptional. I love the quality of the game, I love the messaging that sends, that we've qualified for a high-tier bowl game and it reflects progress and I love the chance to match up against an SEC opponent.
"That adds a nice ACC-SEC intrigue element and gives our players an experience they haven't had, at least as long as I've been a coach here, to match their skills and to measure our program against another league."
UVa finished 7-5 overall and 4-4 in the ACC, losing its last two games of the regular season in overtime at Georgia Tech and Virginia Tech. South Carolina is also 7-5 and was 4-4 in the SEC's East Division.
The two teams have a long history that began in 1912 and have met 34 times since, although they haven't faced off since 2002 and 2003. The Cavaliers won the '02 game at Scott Stadium by a 34-21 score in an Al Groh vs. Lou Holtz matchup. The Gamecocks won the following season in Columbia by a 31-17 score.
Virginia played in the Belk Bowl (then the Continental Tire Bowl) in both of those seasons 2002 and 2003, defeating West Virginia and Pittsburgh, respectively. This will be South Carolina's first appearance in the bowl.
Mendenhall said he likes measuring his program against a team from another Power Five conference, particularly the SEC.
"Mostly just the reputation of what I see and how generally the [SEC] is acknowledged as one of the most competitive on a yearly basis," Mendenhall said. "I like having our team measuring ourselves against the SEC. I would have felt just as strongly if it was Big 12 or Big 10 or Pac 12.
"There's regional flavor but differences. I like that for our program in year three to get another gauge as what I mentioned as a measuring stick to see what that looks like with a team that finished similarly in their league, what differences there are if any and what I can learn from that to help our program move forward."
Mendenhall was asked if he had much experience playing against the SEC during his years as a head coach at BYU and Virginia. The Cavaliers have not played an SEC team in his three years in Charlottesville. Mendenhall couldn't remember the last time he faced an SEC opponent.
Some easy research showed that he was 1-1 vs. the SEC while at BYU. His Cougars lost to Missouri in 2015, and defeated Mississippi (by a 14-13 result) in 2011.
Mendenhall and South Carolina coach Will Muschamp don't know one another, but Muschamp said he has a lot of respect for what Mendenhall did at BYU and, "certainly the way he's turned around Virginia."
While the Gamecocks have not played in a bowl game in Charlotte, they are familiar with the stadium. They are 3-0 all-time in Charlotte, will play in the Belk Bowl later this month, and then open the 2019 season there against North Carolina.
South Carolina averages 440.8 yards of total offense per game, 277 through the air, 163 on the ground, but are primarily considered a passing team. The Gamecocks shredded No. 2 Clemson's secondary with precision passing in the final game of the season before losing for the fifth straight time in that rivalry.
The Gamecocks are not so prolific on the other side of the ball. They are ranked No. 101 in the FBS out of 129 teams in total defense, surrendering 440 yards per game, and are No. 105 in rushing defense (204.7).
Mendenhall said he saw a little of the South Carolina game with Clemson because wife, Holly, is a big college football fan and was watching the game.
"I saw enough to see a lot of points scored," Mendenhall said of Clemson's 56-35 win. "I saw the ball going down the field a lot."
He also pointed out that one of Virginia's strengths is its secondary. The Cavaliers rank No. 16 nationally in passing yards allowed (180 per game).
Mendenhall said that he and his team are eager to get a shot to end the season on a good note and how difficult it was to bounce back after ending the regular season with a 15th consecutive loss to rival Virginia Tech, a game in which the Cavaliers surrendered the lead late in the game.
"When I met with [the team] the Monday after the VIrginia Tech game I had not bounced back nor had they, which I think was a good thing," Mendenhall said. "It was as disappointed as maybe I have been in my coaching career, and certainly they felt the same way, which I viewed as a positive because we did put a lot into that game, we realized its importance, we tried very hard, and we were one or two plays short.
"What we framed as by the time we get back to practice we would all be ready," Mendenhall said. "There is also mental recovery to then be ready and be encouraged and ready to play the game again. We will be there. We gave them a little extra time to recover."

Comments