Virginia Football Announces George Welsh Tribute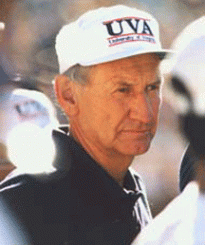 Virginia announced Monday that it will host a celebration of life to commemorate George Welsh on Saturday, April 27, (10 a.m.) at John Paul Jones Arena. The tribute is open to the public.
Welsh, UVA's Hall of Fame football coach from 1982-2000, passed away unexpectedly in January.
During that 19-year span, Welsh posted a record of 134 wins, 86 losses, 3 ties, and retired as the winningest coach in ACC history. In 1991, he was awarded the Bobby Dodd Award as national coach of the year. Welsh was named ACC Coach of the Year four times.
He passed away on Jan. 2 in Charlottesville at the age of 85.
Best-selling author John Feinstein will serve as master of ceremonies for the event, which will feature a variety of speakers sharing personal memories of Welsh from his career that spanned Penn State, Navy and Virginia.
UVA's spring game will be conducted later that day (1 p.m.) at Scott Stadium.
At JerryRatcliffe.com, we have archived the first six parts in a 10-part series on Welsh's career, covering virtually every aspect from start to finish. We decided to complete the series following basketball season, leading up to the April commemoration.
All six previous stories can be found in our archives at the top of the page. Click on archives, then scroll down to football and all the stories are ready for you.

Comments