Virginia football offers 8th grade running back from Lynchburg Christian Academy
By Jerry Ratcliffe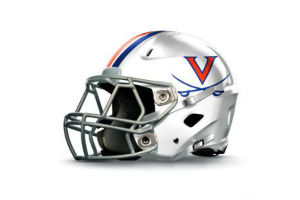 As far back as I can remember, and I've been covering UVA athletics since 1982, Bronco Mendenhall made Wahoo history recently when he offered a scholarship to an 8th grader.
The Cavaliers made a brilliant move in becoming the first school to offer Gideon Davidson, an 8th grade running back at Liberty Christian Academy (he played for the Bulldogs' junior varsity team). Davidson is already 5-foot-11, 171 pounds, and physically ripped.
I can't help but quote Mary Rice, whose son, Zach, is one of the most highly recruited players in the country out of LCA.
"Trust me, if you don't know [Davidson's] name, you will," Mary Rice said.
After watching video highlights of Davidson, I can easily understand why she made that comment. This kid is so advanced for an 8th grader, both physically and in talent. It's easy to see he already has great field vision, nice moves, good speed and a sense for the game.
Davidson tweeted Friday:
"UVA. You only receive ONE first football scholarship offer, that's why it is so SPECIAL. I'm feeling very honored and grateful to so many people – thank you to all those in my village. #THEStandard @UVACoachAtuaia (we are praying for you today) @LCA_Football_#kidfit @VHSL_434"
Davidson was referencing Virginia running backs coach Mark Atuaia, who lost his father this week. Atuaia is the highly personable coach that many enjoy watching his freelance raps on Twitter.
Davidson is one of three brothers, originally from Ghana, who were adopted in the U.S., and settled in the Lynchburg area. His oldest brother, Josh, played soccer at LCA.
One of the photos of Gideon displays what appears to already be an NFL or at the least, a college football physique.
Hats off to UVA's recruiting research department for discovering Davidson early and to Mendenhall and Atuaia for being the first on the bandwagon. Certainly there will be many more soon in pursuit.
Mary Rice's son, Zach, recently announced his five finalists for his 5-Star services as a big-time offensive lineman: Virginia, Alabama, Notre Dame, Ohio State and North Carolina.
Known as "Big Nasty," Rice is the No. 1 rated offensive tackle in the nation at 6-6, 295.