Virginia football recruiting strikes again in SEC territory for its 15th commitment in Burke
By Jerry Ratcliffe
Coaches will readily tell you that their players are their best recruiters.
While Javin Burke likely had his mind set on committing to Virginia's football program, a conversation with present Cavalier cornerback Jaylon Baker on Tuesday night certainly didn't hurt UVA's chances.
Burke and Baker are both from Chattanooga, Tenn., and were working out back in their hometown, talking about football. Baker was in a mentor's role and never pushed Burke's decision about where to commit.
However, when Burke, a rising senior at Bradley Central High School (just outside of Chattanooga) asked Baker about Virginia, the Cavalier redshirt sophomore didn't hold back.
"We talked about Virginia, but I was asking him about how college life was," Burke told Gene Henley of the Chattanooga Times Free Press. "I asked him about the transition from high school to college and he told me it was high school times 10, with workouts, games, film, school work, all of that stuff. Virginia will help you stay on top of that. They're not going to kill you, but they're going to push you beyond your limits."
Burke became UVA's 15th commitment for the Class of 2021, choosing the Cavaliers over 14 other offers, including Tennessee, South Carolina, Mississippi State, Baylor, Indiana, Kansas, Vanderbilt and others.
110% committed ⚔️🔶🔷 @UVAFootball @BradleyBearsFB pic.twitter.com/pmPPmk9itu

— Javin Burke (@JavinBurke) June 17, 2020
Originally recruited as a quarterback, Virginia offered Burke as a defensive back. He will likely play cornerback (just like mentor Baker).
At 6-foot, 202 pounds, Burke is a 3-star by both 247 Sports and Rivals. 247 Sports rates him the 49th-best "athlete" in the country and the No. 19 prospect in the state of Tennessee.
As a junior at Bradley Central, Burke passed for 2,152 yards, rushed for 738 and was responsible for 32 touchdowns.
He is scheduled to graduate in December, which would make him eligible for an early enrollment at UVA. He has been described as a strong student.
In fact, Bradley coach Damon Floyd said: "Javin has got it all. He's smart, he's athletic, he's a hard worker. We're very proud of him."
While the conversation and mentorship of Baker only helped Virginia, Burke said the Cavaliers' recruiters had laid a strong foundation in swaying him toward Charlottesville.
"Virginia built a relationship that no one else built," Burke said. "They built a relationship with my parents. They built a relationship with me. I feel real comfortable there and when I went to visit I felt like it was my next home."
Baker, by the way, played at Chattanooga's Baylor School.
Burke is the fifth defensive back commitment for the '21 class, including Micah Gaffney of Spanish Fort, Ala., Langston Long of Arden, N.C., Aidan Ryan of Fredericksburg, Va., and William Simpkins III of Gaithersburg, Md.
He is the sixth commitment from states in SEC territory, which means the Cavaliers are making a stronger statement in the fertile recruiting grounds of the South.
See below for UVA's complete list of commitments.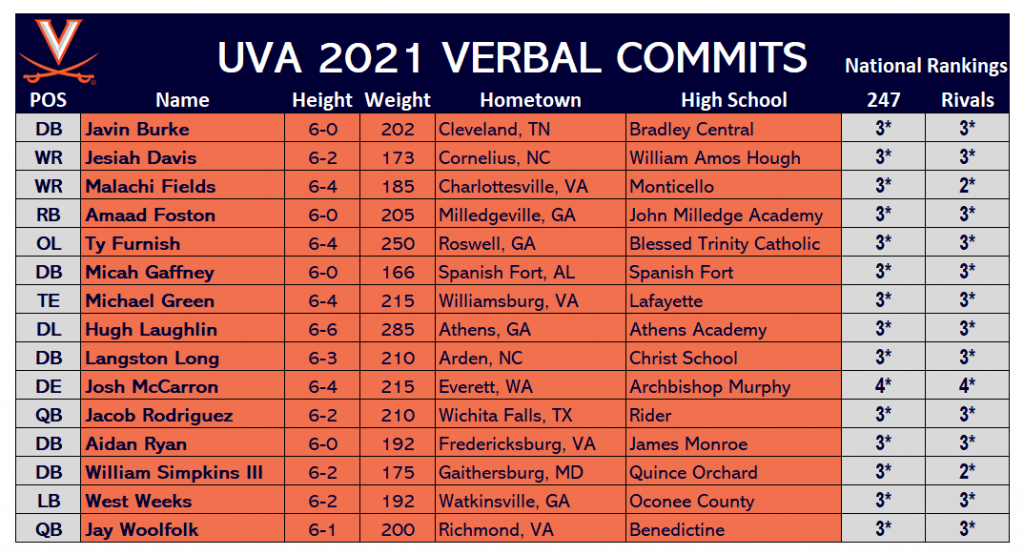 Comments